Explore ideas and options for colonial kitchen design, and get ready to add a traditional and attractive design to your kitchen.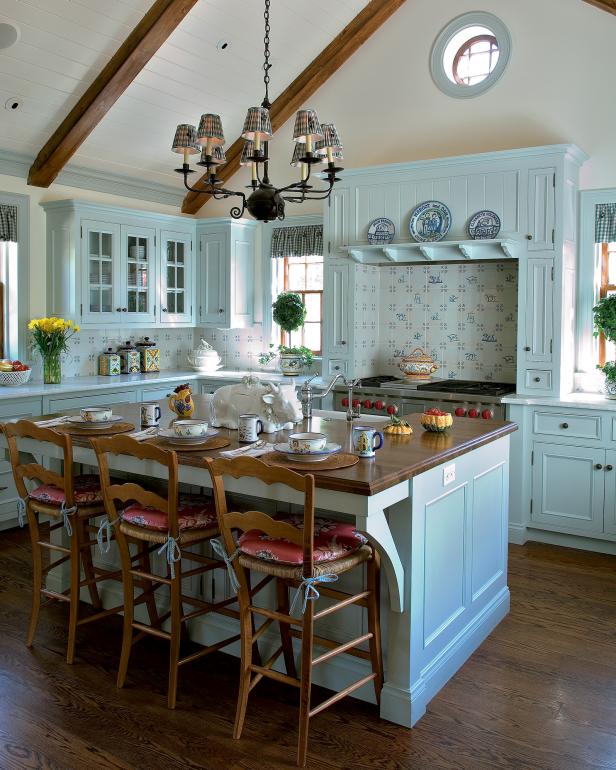 Pale Blue French Country Kitchen
The kitchen, has a cheerful and airy French Provencal appeal with woodwork treated in a combination of pale blue and wood stain. A rustic metal chandelier over the kitchen island and wide-plank wood floors complete the feel of the countryside.
Photo Credit: Edward Addeo, Gibbs Smith, Farrow and Ball, Brian D Coleman, Edward Addeo (photographer)
If your tastes generally tend more towards the traditional and you find incorporating historically inspired styles into your kitchen design appealing, you may want to consider a colonial kitchen design.
Kitchen Chronicles: I'm in Love With My Kitchen Makeover
See All Photos
Colonial kitchen designs take inspiration from the kitchens of the American Colonial era of the 17th and 18th centuries. Spanning roughly two centuries from the 1600s to the 1800s, this historical period was a time of radical change. This evolution of thought was subtly reflected in the design of colonial kitchens. Characterized by a fairly straightforward and unadorned approach to design, colonial kitchens often feature muted, traditional colors, cabinets and furniture constructed from high-quality woods, and fixtures and hardware in metals like oil-rubbed bronze.
Cabinet styles are an important consideration for any colonial kitchen design. A range of traditional cabinet options can be a great addition to a colonial kitchen. Relatively straightforward and unadorned, but often boasting a hand-crafted look and expertly carved molding, colonial cabinets may be left in their natural state, stained in a range of colors, or painted. Light stains or colors like white, cream and beige are common choices for colonial cabinets, complementing an overall design that's often simple, unadorned and functional. Colonial kitchen cabinets are often constructed from the high-quality hardwoods that were commonly available in the original American colonies. Maple, oak, pine and cherry are examples of woods often used for colonial cabinets.
Furniture for colonial kitchens follows the same examples as cabinets, boasting quality hardwood construction, intricate, expert carving and natural or light colors. Throw pillows or cushions in gingham, toile or plaids can help add color to the design, featuring traditional colonial colors like reds, blues and greens.
Countertop design for colonial kitchens also reflects a straightforward, efficient but elegant approach, often featuring high-quality, durable materials like granite and marble. For backsplashes and walls in colonial kitchens, some homeowners choose to featuring tiling or wallpaper featuring toile designs or stenciling, each popular during the colonial era.
Floors in colonial kitchens often feature hardwood or other natural materials like slate, grounding a high-quality but efficient and straightforward design. Pairing darker floors with an overall design that boasts light colors for cabinets and other furniture can be a great way to add contrast and depth to your colonial kitchen design.
More Kitchen Design Styles