Mediterranean Kitchen Design
Gather information and ideas on Mediterranean kitchen design, and prepare to add a bright and lively style to your kitchen space.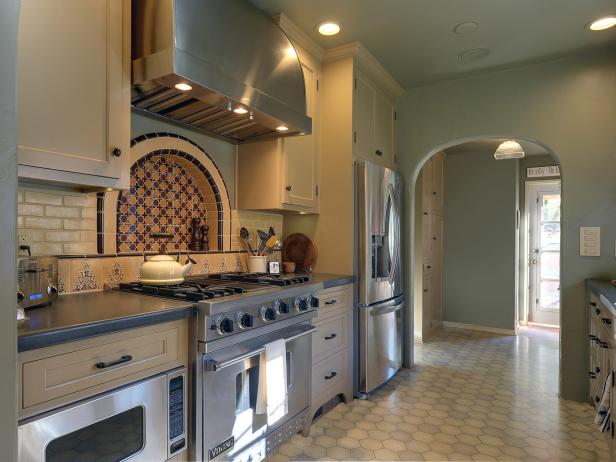 Gray Mediterranean Kitchen Featuring Mosaic Backsplash
Designer Melissa Salamoff gave this galley kitchen Moroccan tile features that are reflective of the overall Spanish-style home. The arched mosaic tile backsplash over the stove echoes the arched doorway leading into this kitchen.
Mediterranean kitchen design appeals to many homeowners, particularly those interested in adding a bright, sunny and relaxing style to their kitchen space.
From rich wood textures to ornate accents, these timeless, European details are ideal in Mediterranean kitchens.
This timeless style is defined by lively colors often used as accents or main themes. Artistic tile work is common, and floors and walls often feature soothing, natural colors and textures that hint at the elegant and unhurried aspects of Mediterranean culture.
Features of Mediterranean Style
As with Tuscan kitchen design, one of the most important features of any Mediterranean kitchen design is color. Bold, teal blues and greens reflect the spectacular colors of the Mediterranean waters and are common for walls, accents or even larger elements like cabinets or kitchen islands. Walls, countertops and floors often feature beach-like sandy tans and beiges, setting the stage for the design to be infused with more impactful colors elsewhere. Rich reds, yellows and greens can be added as wall or accent cabinet colors or used in smaller design elements like rugs, curtains, storage containers and glassware.
When it comes to materials, Mediterranean kitchens tend toward natural ones, including tile, stone and wood. Hardwood floors are common, usually in lighter shades to continue a light, bright and welcoming feel. Cabinets are often constructed from high-quality darker woods like cherry; they can be left in their natural state, stained or painted to add a colorful element to the design.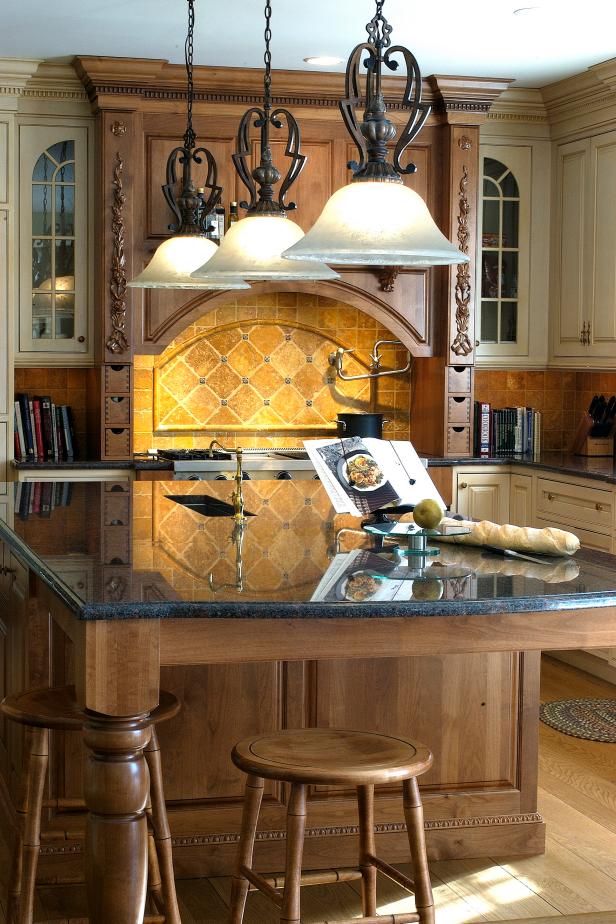 Traditional Kitchen Oozes Mediterranean Influence
An Italian-inspired backsplash defines this Mediterranean kitchen.
An Italian-inspired backsplash defines this Mediterranean kitchen.
Backsplashes may be terra cotta or mosaic tile, and present a great opportunity to add color, visual interest and even an artistic element to the kitchen design. In particular, mosaics may show off intricate designs displaying scenes redolent of the cultures of the Mediterranean, with seascapes, fishing scenes or sea life often depicted.
Furniture in Mediterranean kitchen designs is often constructed from quality hardwood, but many homeowners who feature this relaxed, stress-free design choose to either leave the wood in its natural, unfinished state or to add some weathering to the surface. The option to paint chairs, tables and stools in characteristic Mediterranean colors is also available and can be a great way to brighten up the space.
Wrought iron light fixtures and pot racks
Wood beam ceilings
Terra-cotta tile floors
Stone walls, archways and hearths
Textured walls
Dramatic wood, marble or stone range hoods
When it comes to accessories and decor for your Mediterranean kitchen design, you'll have plenty of options to continue building on a theme of relaxed enjoyment. Small appliances like coffee makers, mixers and toasters are now available in a wide array of colors, many of which can pair nicely with a Mediterranean design.
Cookware, cutlery and large utensils are similarly manufactured to provide color and some visual interest in your design, so you may want to explore incorporating these throughout your Mediterranean kitchen, whether on countertops, hanging from a storage rack or otherwise displayed.
More Kitchen Design Styles