Staining Kitchen Cabinets
Check out these easy tips for transforming your kitchen cabinets into beautiful showpieces through the process of staining.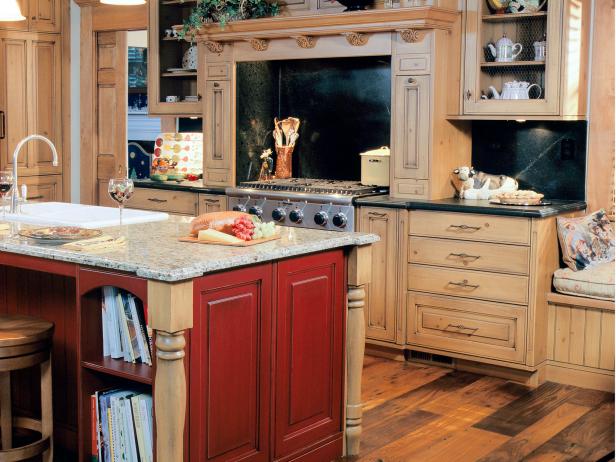 Traditional Neutral Kitchen With Red Kitchen Island
Rustic wood floors, pine cabinetry and a red kitchen island give this kitchen a country look without being too literal. Traditional features like the stone backsplash, granite countertop and drawer pulls balance out the country elements.
Staining kitchen cabinets is an easy, inexpensive method for turning a worn, outdated kitchen into something beautiful and warm and modern. With the right stain, a sander and a rag, your kitchen cabinets can be transformed in days.
The first thing you'll need to do is gather your supplies. Once you've got the supplies, remove the cabinet doors, drawer faces, handles and other hardware. Make sure you label each item in accordance with its location on the cabinet boxes; that way, you'll know where everything goes when it comes time to reassemble. A Post-it note on an inconspicuous back corner works really well for this. Place the hardware in labeled plastic baggies and place the cabinet doors up in a pre-established work area to stain last.
And then you sand. Sanding off the existing finish thoroughly is the difference between a clean, beautiful, professional look and a messy finish full of drips and bubbles you'll have to refinish again later. Use an electric hand sander with a heavier grit sandpaper for the first sanding. Wipe all the dust particles off, and then sand again with a finer sandpaper, about 220 grit. This will prepare the wood for the stain.
To apply the stain, use a rag and rub the stain into the wood going along with the grain. Rubbing the stain into the wood permeates the pores and allows for a much deeper saturation. Keep in mind, the stain will darken as it dries. Also, the more coats of stain you use, the darker it will appear on the wood. This will help you determine how much or how little to use based on the results you want. You can buy blends that combine the stain with a polyurethane finish to protect the wood, or you can buy the stain and polyurethane finish separately. Just be sure to get a stain and finish that are compatible and work well together. The labels on the stain will help you determine this. If you're not overly picky about the exact color stain you want, there are many blends available for amateurs. You won't be able to totally control the results, but it is the easiest and most convenient option.
Staining is a great way to get a fresh, new, real-wood look to your kitchen cabinets you just can't get with paint. It's easy and convenient and almost fool-proof as a DIY project. All it takes is a little elbow grease and you'll have a whole new look for your kitchen.
More on Updating Kitchen Cabinets
Kitchen Cabinet Inspiration