Contemporary Backsplash Ideas
Explore contemporary backsplash ideas, and get ready to install an updated and attractive backsplash in your home.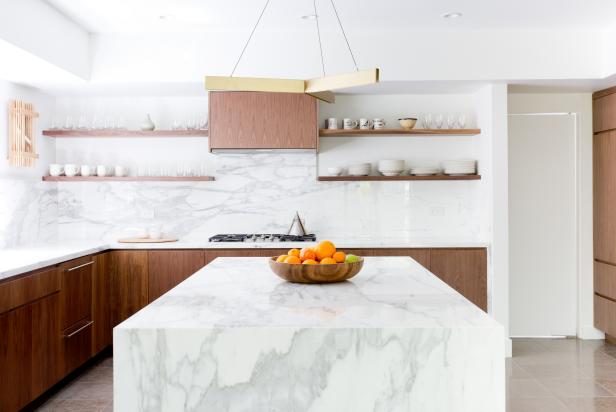 Marble Kitchen Island in Contemporary Kitchen
The key feature of this Santa Monica kitchen is a stunning marble monolithic island that acts as a modern sculptural piece. Marble continues in the countertops and backsplash over contemporary cabinets, while open shelves provide easy access to dishes.
If you're planning to install a new backsplash or update an existing one in your contemporary kitchen design, you'll want to peruse the full range of contemporary backsplash ideas first.
See the latest and greatest in contemporary kitchen design, including kitchens that incorporate rustic, modern and traditional features while keeping everything definitively up to date.
Featuring understated elegance and the clean lines and sleek style familiar in contemporary design, contemporary backsplashes are popular in many types of kitchens.
1. How to Select a Complementary Kitchen Backsplash
It should be noted that if your kitchen design is distinctly contemporary or even modern, the design for your backsplash doesn't always need to match the overall design precisely (or at all, depending on your tolerance for a bit of style dissonance). You can maintain a contemporary feel in your kitchen with a backsplash design that's somewhat understated—think simple, rectangular subway tile, for example—but that doesn't mean the tile itself can't feature textures and colors that add visual diversity to the space. Contemporary design is generally defined as featuring styles and materials that have only recently become available—so with that in mind, you'll still have an opportunity to put plenty of your own style imprint on any contemporary backsplash design you choose.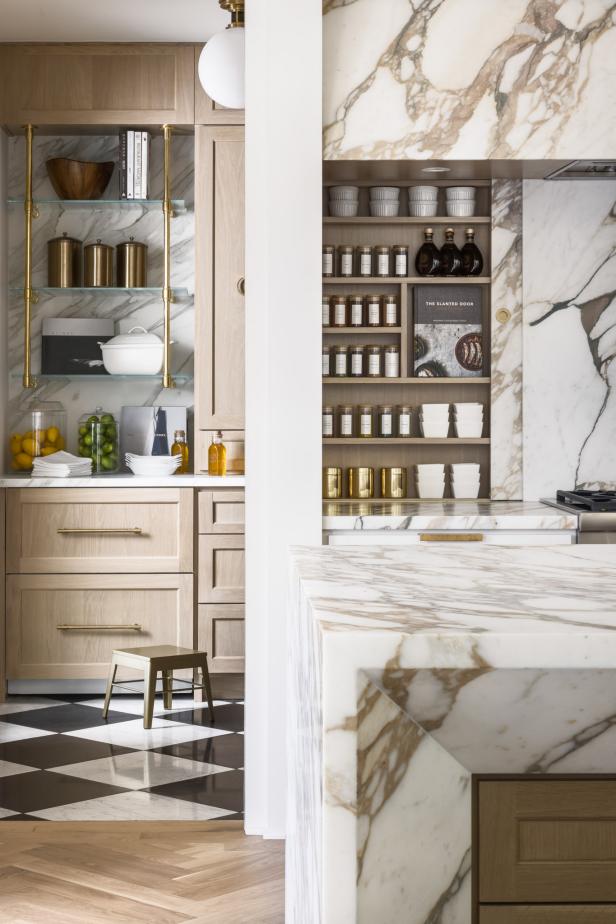 White Kitchen With Sliding Door Storage Shelf
Sliding marble panels behind the range conceal shelving for spices, oils and other stovetop needs, a genius way to provide storage without a cluttered look.
2. Tips for Choosing the Right Size
The first decision you'll need to make when planning a contemporary backsplash for your kitchen is exactly how much backsplash you'll need. Do you want the backsplash to cover the entire wall area above your countertops, or simply a portion thereof? This is an important consideration both in terms of the project's budget and the amount of materials you'll need. Many backsplash designs only cover 25% to 75% of the wall above the countertops—this amount of coverage can generally keep walls clean of cooking splash and provide enough surface area for an attractive, contemporary backsplash.
Explore dozens of beautiful kitchen backsplash ideas comprising all different materials, colors and designs.
3. Contemporary Backsplash Materials
When you've decided on the scope of your contemporary backsplash project, it's time to think about materials. This is where the "contemporary" label can drift into a bit of a gray area. For example, if you were to adhere strictly to the "modern materials" rule for contemporary design, you'd have to rule out most types of tile, save for a few synthetics. You may choose to do so, but it's also possible to follow a slightly less stringent rule-set, one that's more focused on the aesthetic for a contemporary design, which generally also follows an updated, current-era look and feel, as opposed to anything vintage or bygone-era-specific. Clean lines, angular designs and monochromatic color schemes are all hallmarks of contemporary design that you might wish to borrow for your backsplash.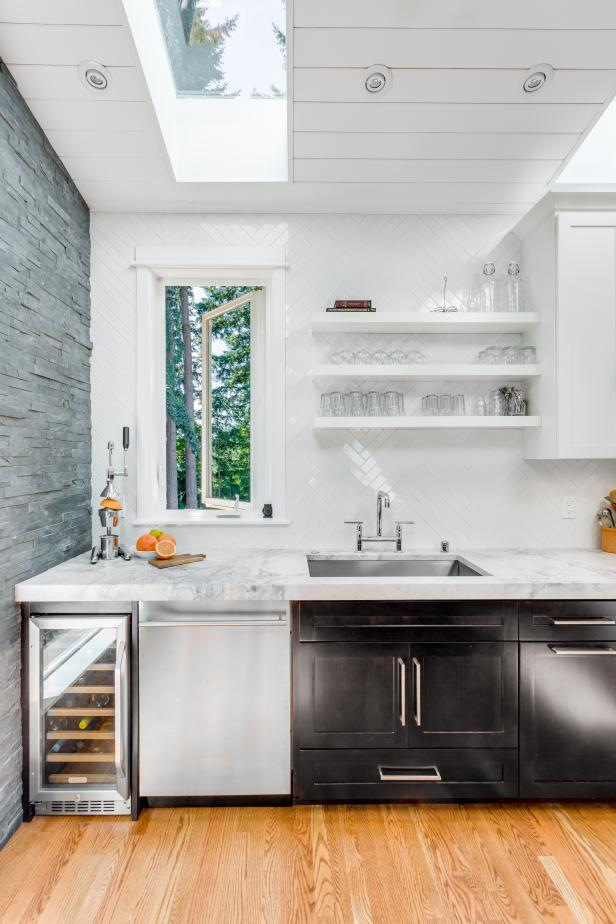 White Contemporary Kitchen With Floating Shelves
A crisp white palette and lots of natural light give this contemporary kitchen an open, airy feeling. A white tile backsplash is laid out in a herringbone pattern, while floating shelves keep glasses organized and easily at hand. A small wine fridge keeps favorites chilled and at the ready.
4. Tile Types to Consider
If you're open to all materials, any of the popular tile styles can suit your contemporary backsplash design. Ceramic tile is widely available in an almost infinite range of colors and styles. Mosaic and penny-style tile are less often used in contemporary designs, but depending on your implementation, these could add significant visual interest. Finally, simple subway tile is an extremely popular choice for contemporary designs because of its simple, clean appearance and the ability to configure the rectangular tiles in any pattern imaginable.