Kitchen Countertop Prices
What should you expect to pay when upgrading and installing new kitchen counters? HGTV uncovers the most cost-effective materials.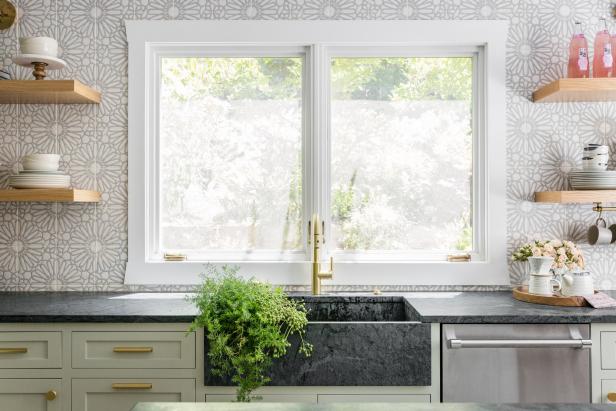 Contemporary Kitchen With Floral Backsplash
The kitchen was updated with backsplash tile features a dainty floral pattern. Countertops are soapstone and paired with gorgeous seafoam green lower cabinets.
Choosing a kitchen countertop material that's not only the best surface for your kitchen but also easy on the wallet may seem like an impossible task.
Kitchen Countertops
Set the tone of your kitchen design with the right countertop.
Whether you're upgrading your current countertops, making improvements to increase the sales value of your home (and return on your investment) or starting from square one, you'll want to consider the wide range of kitchen countertop prices before making any major purchasing decisions.
While granite surfaces may be the gold standard in your neighborhood, there are plenty of more affordable countertop options that mimic natural stone — and appear equally as stylish.
Solid surfaces like Corian, engineered stone surfaces like quartz, and even tiled surfaces (whether ceramic, porcelain or stone) are all cost-effective materials that are both durable and beautiful. Also, don't overlook materials like concrete, which can be dyed, or easy-to-install butcher block.
According to HomeAdvisor, the general range for countertop materials is as follows. Be advised that these costs do not factor in labor costs which can greatly increase costs due to the difficult of installing certain materials. In some cases you can cut costs by using granite or marble tiles rather than full slabs.
Granite: $40 to $100 per square foot
Quartz: $50-$200
Marble: $40-100 per square foot
Slate: $20-$70 per square foot for tile/$100 and up per square foot for slab
Soapstone: $20-$70
Travertine: $5-$50
Concrete: $50-$150
Stainless steel: $70-$215
Recycled glass: $50-$125
Butcher block: $20-$70
Reclaimed wood: $115-$300
Wood: $20-$140
Porcelain: $1-$100
Tile: $18-$35
Laminate: $10-$40
Limestone: $10-$70
Copper: $70-$100
Other Cost Considerations
The number of cutouts for sinks or a stovetop will increase cost.
Removing and disposing of your old countertop should be factored into your total costs.
Labor costs in cutting and honing a slab to your specific needs make custom far more expensive.