Granite Vs. Quartz: Is One Really Better Than the Other?
We break down the two most controversial countertop materials.
There are few design elements that spark heated debate and divide homeowners as much as granite and quartz. Don't believe me? Tune into any episode of House Hunters and you'll likely hear the prospective buyer/renter wax poetic about their preferred countertop material and shun the other vehemently. But is one really better than the other or is it merely a matter of aesthetics?
More Options
Perk up your kitchen without draining the bank with these kitchen countertop ideas.
Granite is a very hard stone and 100 percent natural. It's mined from quarries all around the world, cut down to a manageable size, and then polished to a fine finish.
Quartz is slightly different in that it is not 100 percent natural. Instead, countertops are manufactured using 95 percent ground natural quartz and 5 percent polymer resins.
Now that you know the basics, let's see how they compare against each other.
Granite comes in many different colors and patterns due to the way it's formed (cooling and solidifying of molten materials). Whether you're looking for a subtle complement to your kitchen or a standout slab with unique mineral inclusions, there is an almost limitless selection to choose from and no two granite countertops are the same.
One of the main reasons quartz has exploded in popularity is due to appearance. Quartz has the look of stone while also allowing homeowners to customize the design. While granite offers many options in terms of appearance, you may have to search for the right piece that matches your color scheme. With quartz, the selection process is much easier.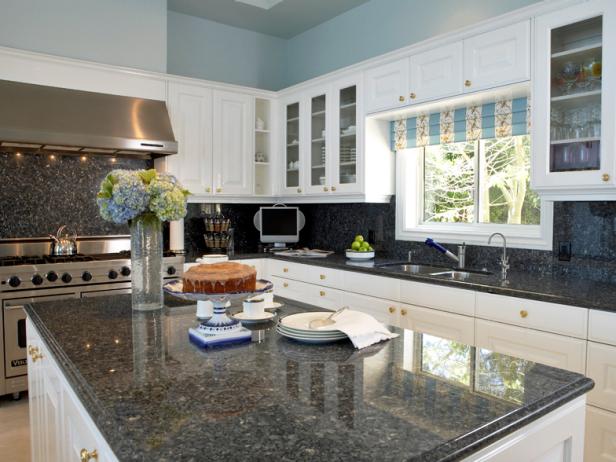 Oversized Kitchen Island with Plenty of Space
This kitchen has plenty of white cabinets for storage, a white kitchen island, granite countertops, and stainless steel appliances.
How Much Does Granite Cost?
According to HomeAdviser.com, the average cost to purchase granite and have it installed can cost between $2,000 and $4,500. You can save money by purchasing the material from a wholesaler and doing some of the preliminary work yourself but the actual fabrication and installation of the countertops should be left to a professional.
How Much Does Quartz Cost?
Depending on the quality of quartz and style of edging, HomeAdvisor.com places the average cost to install quartz countertops in a kitchen at between $3,000 to $7,500. You can do some of the preliminary work to save money, but because engineered quartz is heavier than other stone surfaces, a professional installer needs to make sure the space is structurally sound.
3: Environmentally-Friendly
The only way granite ends up in your kitchen is if it's quarried and that uses a lot of energy. If you opt for a high-end slab from Italy, for example, there will be considerable transportation involved. Try using indigenous stone when possible or visit salvage shops for pieces that can be cut to fit your needs.
Since quartz is engineered, it can be more environmentally-friendly than granite if you use regionally manufactured stone and local fabricators. This cuts down on the distance the material needs to be transported.
DKCR305H_Outdoor-Kitchen-Granite-Countertop_4x3
The Keller's new rooftop kitchen features a state of the art grilling area, a bar with a granite countertop and fridge and a dining table under a pergola with retractable canopies, after transformation by the crew of DIY Network's original series, Kitchen Crashers.
Granite countertops should be cleaned daily with soap and water or a mild household cleaner. Some oils and acids can stain so do your homework first to avoid stains. To ensure the longevity of your investment, consider having your countertops resealed once a year.
Like granite, you'll want to clean any spills on quartz countertops with soap and water or a household cleaner, but that's about it in terms of maintenance. The solid surface means that there is no need to have your countertops resealed.
Granite is a durable material that's resistant to heat and many other kitchen elements. Due to its porous nature though, there can be some staining if spilled liquids are left sitting and damage can be done if your counter receives a high impact blow.
Quartz is actually harder than granite and thus, more durable. In fact, quartz is nearly indestructible, and because it isn't porous like granite, it's easy to keep your countertops relatively bacteria-free. Be careful with cooking pans though: Quartz can be damaged by excessive heat, so use heating pads at all times.
Discover inspiration in these examples of granite kitchen countertop ideas.
Discover inspiration in these examples of quartz kitchen countertop ideas.
On the surface (pun intended), quartz appears to be the winner. It's easier to maintain, longer-lasting, more environmentally friendly and easy to customize. However, it can be pricey depending on the options you choose and the uniqueness of granite remains appealing to many. Consider your budget and specific needs before making a decision but you really can't go wrong with either one.