Get tips for figuring out how much you can spend on your decking project.
There are many factors to consider when determining your budget for your new deck. The more elaborate your deck design and the choice of materials will increase the cost of the deck, so keep those factors in mind.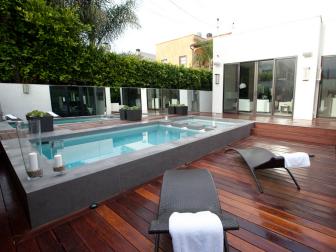 Whether seeking solitude or a great place for entertaining, find inspiration in these outdoor spaces.
The cost of a professionally built pressured-treated wood deck starts at about $15 per square foot, including materials. The cost for an elaborately built deck using costly hardwoods or composite materials can run about $35 per square foot. As with any remodeling or building project, it's best to get several estimates and to discuss your ideas with an architect or designer — or several — so you can get a range of prices and find one that suits what you can afford.
Take into consideration what your house is worth and how long you plan to live in it. You don't want to overspend on an oversize deck that does not suit the scale of your home nor do you want to skimp on the size of the deck if you have a large home. If you plan to sell your home shortly after the deck is complete, you might not want a deck that costs too much and that you will not get to enjoy for long.
Generally, gathering three good estimates may be enough; pick the one in the middle. Be open and honest with your designer. He or she may be able to suggest ways to save you money but still get the deck you want.
A new deck can expand the outdoor living space to your home and can also increase your home's value. Decks are consistently one of the improvements you can add to your home that will increase its value, according to Hanley Wood's Remodeling magazine's annual 2011-12 Cost vs. Value Report.
The magazine's survey indicates that a midrange wood deck addition that costs $10,350 in the Mid-Atlantic region of the U.S. will recoup about 70 percent of its value at resale on the national average. In the same study, a composite deck addition that cost $15,579 recouped 62.8 percent on the national average. Even in a down housing market, a deck upgrade can mean more money in your pocket when you sell your home.
Estimating Deck Materials
02:06
Learn how to estimate materials for any deck building project.
It's possible to incur a property tax increase after adding a new deck or remodeling an existing deck. It may undergo repeated inspections by your town's building department during the construction process. After the deck meets all codes and restrictions and is completed, you will receive notification in writing that the deck has passed the inspections.
A tax assessor from your town will then contact you a do a visual inspection. "They will notify you of any increase (in your property taxes) and what that cost will be," says Gordon Whittaker, owner of Alter Eagle. It's hard to say how much your taxes will increase, as they typically vary by where you live. You can check with your local tax assessor's office in the deck-planning stages for more information.
Be sure that your new deck is covered by your homeowners' insurance. Before construction on the new deck begins, you should ask the contractor for a Certificate of Insurance so there is proof the workers building the deck are covered by the contractor's insurance, should a worker get injured on the job. If the contractor does not have a Certificate of Insurance, hire a contractor who has one. You do not want to be held liable for a claim against you, should something happen.
Once the deck is completed and you get a Certificate of Occupancy issued by the town building department, and arranged for by your contractor, call your homeowners' insurance provider. Tell your provider how much the new deck cost to build so that insurance coverage can be added to your policy.
If the replacement value for your home is $200,000 and the deck cost $3,000, the policy will be increased to reflect the replacement cost of the new deck. The same holds true for any addition you make to your house whether it be a new garage, dormers or an additional room built on to your home.
Generally, the cost per year is a percentage per $1,000 of the amount you spent on the addition. Of course this amount varies widely according to the area where you live. Check with your insurance agent for specifics.
Deck Planning: What You Should Know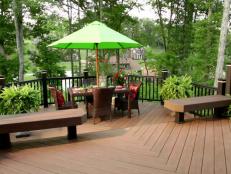 Once you've built a deck, make sure you keep it as good as new by learning how to make repairs.