Average Cost to Install Tile Floor
Flooring tiles can be relatively inexpensive, but pro installation boosts costs considerably.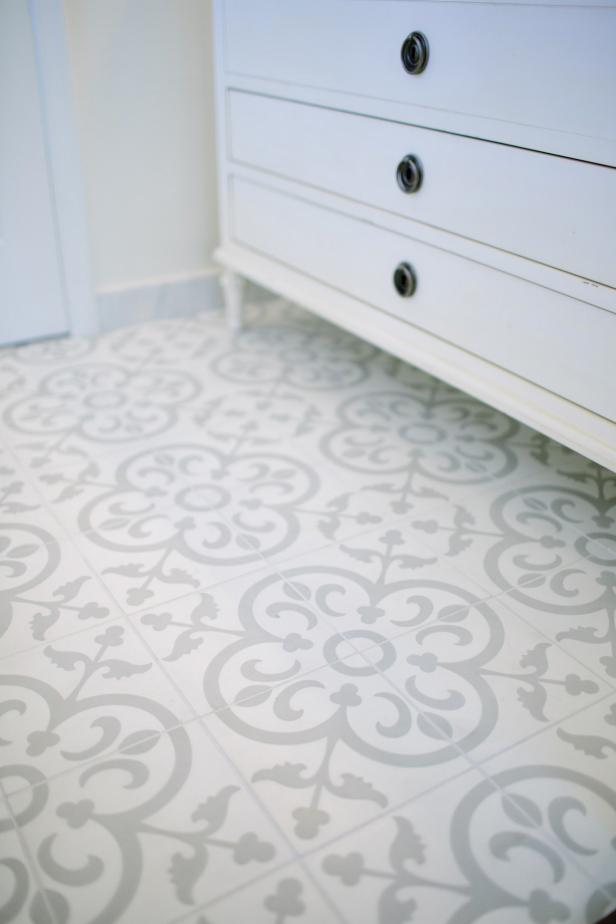 Gray and White Patterned Floor
Gray-and-white tiles gracefully bring pattern into this white bathroom. It's a subtle way to make the room more visually compelling.
Tile makes a beautiful flooring that's durable, stain-resistant and virtually maintenance-free. Before you buy, it's helpful to know the average cost to install tile so you can manage your remodeling budget accurately. Flooring tile comes in a huge variety of sizes, shapes, colors and textures. Cost varies, and you'll find tiles priced anywhere from $1 to $20 per square foot. Most homeowners opt for durable glazed ceramic tile in the $2 to $4 per square foot price range. It's readily available, and the hard surface glazing comes in a nearly unlimited variety of hues.
Professional installation adds $5 to $10 per square foot, depending on the amount of prep work required, putting the total average cost to install a tile floor at $7 to $14 per square foot. Expect to pay $1,050 to $2,100 to install a tile floor in a 10x15-foot room (150 square feet). Decorative trim pieces and complex patterns can hike the cost considerably, both for the materials and for the labor to install them.
Other popular types of flooring tiles include:
Quarry tile is unglazed ceramic tile. Pigments added to the clay body of the tile before firing give it rich, earthy colors. An average material-only price is $2 per square foot.

Porcelain tile is extremely hard and durable. It comes either glazed or unglazed and is a good choice for outside installations. Prices average $2 to $4 per square foot.

Terra-cotta is an unglazed tile and is one of the least-durable flooring tiles but needs periodic sealing to prevent stains. An average price is $1 to $3 per square foot. Be sure to buy terra-cotta tile rated for use on floors.

Stone tiles include granite, slate and marble, and are prized for their natural beauty. Most stone tiles require periodic maintenance to prevent staining. Prices start at $2 per square foot.
The DIYer and Backer Board
If you'd like to save on installation costs, DIYing it might be a tempting option. Setting your own floor tile isn't complicated, but it does require good preparation and some specialty products and tools. A good tile job starts with properly preparing the subfloor. To create a smooth, level surface for the tile, first install cement backer board. Backer board comes as 3x5-foot sheets and in various thicknesses. The boards are made of sand and cement that's reinforced with fiberglass mesh. They're strong, rot-resistant and very stable — they won't shrink or expand with changes in humidity. Backer board costs about $10 per sheet.
With the exception of carpeting, you can install backer board directly over old flooring surfaces that are clean and free of defects. On concrete floors and existing ceramic tile floors, there's no need for backer board — you can install the tile directly onto concrete and undamaged ceramic tile.
Cement backer board is glued and screwed to the subfloor. Cut backer board by scoring it with several passes of a utility knife, then apply pressure from the back of the cut to snap the board. Use a 1/4-inch notched trowel to spread thinset mortar according to the manufacturer's instructions. Place a board onto the mortar bed and apply even hand pressure, then secure the board with special backer board screws driven with an electric drill-driver. Keep adjacent sheets about 1/4 inch apart, and tape the seams using special cement board self-adhesive mesh tape. Finish the joints by smoothing thinset over the tape.
We're sorry, there seems to be an issue playing this video. Please refresh the page or try again in a moment. If you continue to have issues, please contact us here.