Rustic Bathroom Decor Ideas
Gather rustic bathroom decor ideas, and prepare to bring the outdoors inside with a relaxed and rough hewn theme.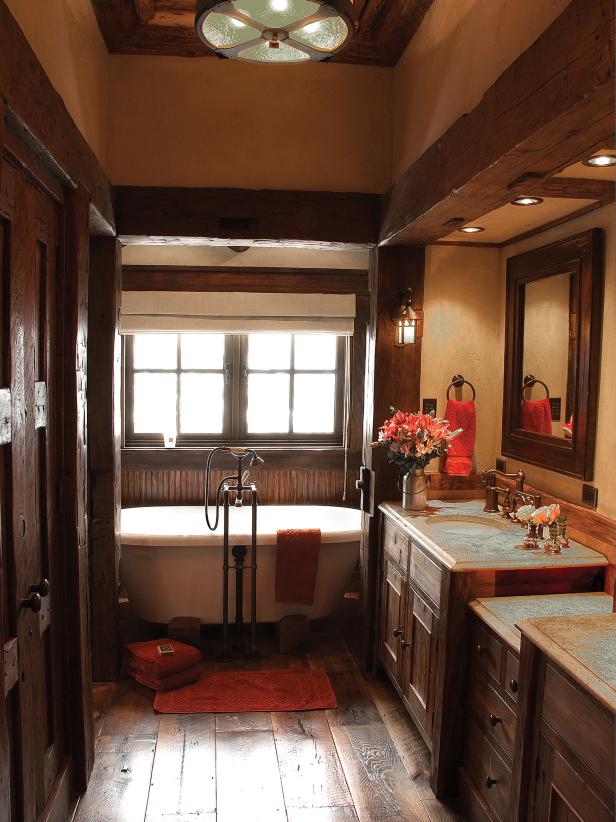 Rustic Bathroom with Clawfoot Soaking Tub
This rustic master bathroom offers a luxurious soaking tub with lots of natural light. The dual vanities are surfaced in a light marble, offering contrast in the space. The hardwood floors are recycled barn boards creating continuity throughout.
Ralph Kylloe, 2013 Gibbs Smith, Rustic Elegance, Ralph Kylloe
If you're thinking of a bathroom overhaul and your personal style leans toward laid-back country comforts, you might want to peruse rustic bathroom decor ideas. Focusing on natural materials in an effort to "bring the outdoors in" to any space, rustic design and decor is popular for its warm, welcoming feel.
Rustic bathroom decor is particularly common in areas where the outdoors are, well, just a step outside. But whether that step is into burgeoning wilderness or onto a city stoop for you, rustic bathroom decor can be a soothing and distinctive style flourish to add to any home.
Before you begin your bathroom project, you'll first want to decide on the scope of your rustic bathroom decor theme. How much or how little rustic decor you implement in your bathroom design may be driven by the size of the bathroom space. Smaller bathrooms generally need less decor to carry a theme — a few strategically placed items can unite the design simply and effectively. For larger spaces, the decor may incorporate more elements, or even constitute a full takeover of the space, with everything from wallpaper to bath linens displaying a rustic touch.
Once you've decided how many elements of your bathroom decor you want to feature in your rustic theme, it's time to start exploring your decor options. Rustic themed elements are available for just about any facet of bathroom design, so you should have no shortage of items to browse. A good place to start is often with the bath linens, shower curtain and window coverings in the space. In a rustic design, these may feature earth-toned colors like browns and greens, patterns with designs that incorporate flora and fauna, or country-style patterns like gingham and plaid. Shower curtains may even feature nature scenes displaying fish or animals, for a look that feels directly connected to nature.
Wall coverings and wall art provide more opportunities to continue a rustic theme. Wallpaper is widely available featuring floral prints, rustic or pastoral scenes, or wildlife imagery. Similarly, when it comes to wall art, you might consider featuring paintings or photographs of local animals, birds and fish to further unite the natural theme and provide great visual interest for the space.
Accessories in a rustic bathroom design are another way to extend the decor theme. Unfinished natural wood is a great choice for toiletry and bathroom supply storage bins, furniture or cabinets. Soap dishes and dispensers are available in natural or faux wood, real or synthetic stone, or hand-distressed metals like bronze and copper, which can also pair well with a rustic theme.
Lastly, consider incorporating real plants and flowers into your rustic bathroom decor theme. They can help brighten the space, and it will provide a tangible connection to the outdoors.
More Bathroom Decorating Ideas
More Bathroom Styles for Your Home