Design a Bath That Grows With You
Learn how adding grab bars or a shower seat can increase your room's lifespan.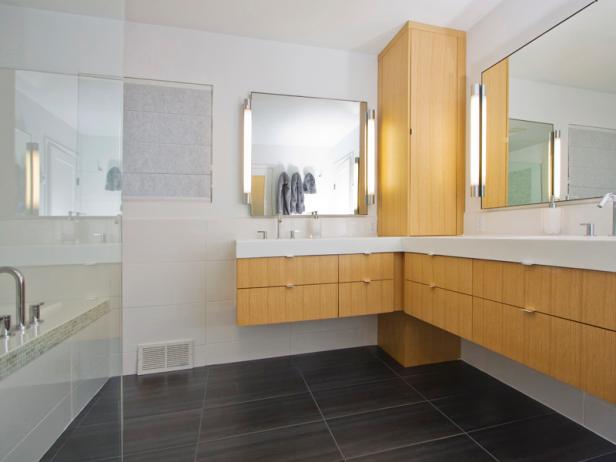 White Contemporary Bathroom
When designing a bathroom, the key is to look beyond this space. Does the style blend with the rest of your house? Now, keep in mind, you don't have to be matchy-matchy and blending doesn't have to be boring. But if your door knobs and hardware throughout the home are oil-rubbed bronze and you choose nickel for a hall bathroom, the change in finish could be distracting to the eye.
A bathroom remodel should last for many years. While you may update the decor (paint, shower curtain, towels and other accessories), you don't want to rework the floor plan for five or even 10 years after you invest in a renovation.
The bathroom design should grow with you and adapt to your needs as you grow older. That's why incorporating principles of universal design will result in a long-lasting bathroom with features that accommodate the young, old and everyone in between.
There are designers and contractors who specialize in aging-in-place designs, and they might be Certified Aging-in-Place Specialists (CAPS) through the National Association of Home Builders (NAHB). Ken Perrin, president, Artistic Renovations, Cleveland, Ohio, is one of those designers. "We plan all of our remodels to make doorways wider and more accessible, even in 5-foot bathrooms," he says, explaining that this allowance ensures that someone who needs assistance entering the bathroom has the room for a helper.
Aside from the wider doors Perrin mentioned, today's Universal Design in the bathroom includes some of these essential elements:
Ample clearance. For a wheelchair to make a 180-degree turn in a bathroom, there must be at least 5 feet of open space.
Curbless shower. The Roman shower without a rim to step over is the best design for people of all ages, and especially those who use walkers or wheelchairs. The shower has no lip at the floor, which slopes down toward the drain (in some designs, an infinity drain.
Grab bars. Forget the tubular, obvious bars that scream "senior." Who couldn't use the security of a grab bar in the shower, after all? This feature is suitable for all ages, and sleek grab bars can double as towel holders until the homeowner needs the extra support, Perrin says.
Slip-resistant floor. You can maintain the cohesive look of using a single tile design in your shower for the wall and floor while improving traction by increasing grout lines on the floor for slip resistance, suggests Diana Schrage, senior designer for Kohler.
Hand-held shower. A hand-held shower is a necessity for those who have physical limitations, and the fixture is convenient because it can be used for a quick spray-off (even replacing a bidet). But where the fixture is positioned makes all the difference. "Most of the time, the water supply is positioned too high," Perrin says. "The hand-held reaches down to your knees and that's it. It's too short." Be sure the hand-held sprayer reaches your feet when you sit on the shower bench.
Shower seat. A bench in the shower gives you a place to sit and bathe. You can use it for storage or to prop your leg up while shaving if you don't need the seat. A triangular bench or seat that runs along the length of a shower are two configurations.
No barriers. Rather than soap dishes and shower shelves that protrude, Schrader designs niches so people aren't tempted to grab on to these features for support if they accidentally slip. Even consider water tile shower heads that are flat. "I try to design as few items projecting into a showering space as possible," she says.
Tall toilets. Opt for a commode that is 16 to 18 inches high compared to standard 14- or 15-inch high seats. Once referred to as handicap toilets, these "comfort height" or chair height seats, as they're not marketed, are ideal for most everyone in a household.
Wall-mounted sinks. Wheelchairs and walkers can easily slide under sinks that are mounted to the wall. There are no cabinets or pedestal which translates to more leg room.
Learn how to shop for everything from vanities and fixtures to countertops and lighting