Country Western Bathroom Decor
Get info and ideas on country western bathroom decor, and prepare to add an entertaining theme to your bathroom.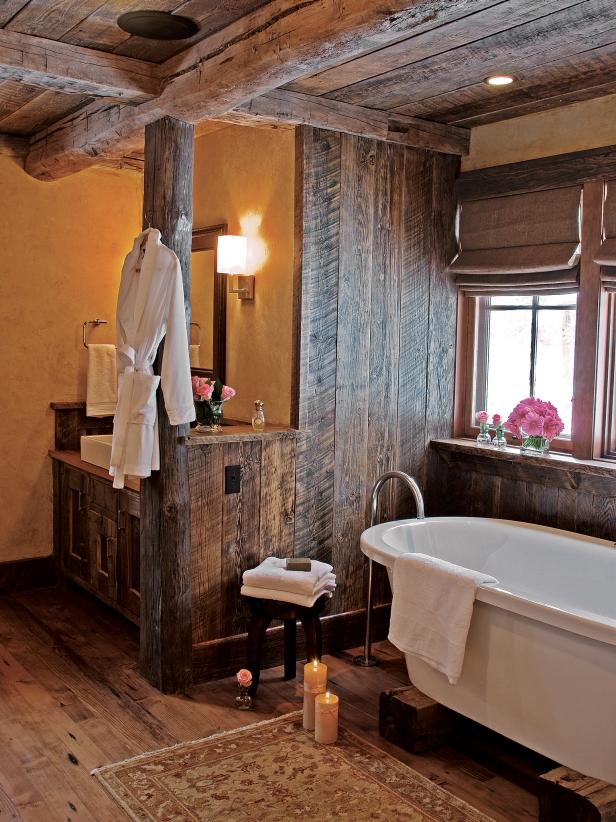 Rustic Bathroom With Wood Ceiling and Walls Plus Soaking Tub
Weathered wood panels and barn-style additions, make this bathroom's appearance simulate an old western outhouse. One of several bathrooms in the home that contains this soaking tub, which rests on old barn beams instead of the typical iron claw feet.
Ralph Kylloe, 2013 Gibbs Smith, Rustic Elegance, Ralph Kylloe
Whether you're a fan of wide-open spaces who loves songs about pickup trucks and broken hearts, or just somebody who enjoys rustic, down home design, you may want to explore country western bathroom decor. This popular relaxed theme adds great personality and visual interest to your bathroom space.
Country western decor originated in areas where farming and ranching were historically (and in some cases, still are) prevalent. That area spans the south, midwest, southwest and mountain west, and each of those individual regions has its own take on country western decor. In the west and mountain west, for example, this style might be more commonly known as "cowboy decor" or "ranch style."
"Country western" can encompass just about any style that incorporates the traditional farming and ranching elements that have been the fabric of so many communities throughout the country from the time of western expansion to the present day. During the pre-Civil War years, traditional American folk music laid the roots for the country and western music to come — another key cultural element that has carried the flag for rural traditions of lifestyle, dress and decor.
One of the most important aspects of country western bathroom decor is the use of natural materials. Widely available and often locally sourced, rustic woods like knotty pine, oak and maple are commonly used for furniture in country western bathrooms. Pine is extremely popular for its natural, knotty appearance, but it should be noted that it's a soft wood that can dent and damage easily, so it may require more care and maintenance than harder woods. Rustic wood furniture can be paired with cloth or leather seat cushions in a country western design, and patterns like gingham and plaid are commonly used for cloth.
Bathroom accessories are a great way to express a country western style in your home. Soap dishes, moisturizer dispensers, containers for toiletries, and bath supplies like linens, bath mats and shower curtains all provide opportunities to build on a country western theme. All of these items are widely available in rustic, country western themes, featuring sculptures or images of flora and fauna, ranchscapes, cowboys and other iconic symbols of country life.
Finally, a simple and effective way to incorporate country western decor into your bathroom design is via artwork. Framed wall art featuring traditional cowboy culture, rustic or pastoral ranch scenes, or western wildlife like coyotes, wolves, bears and horses can be a great addition to any bathroom. Windowsills and shelving can make a great home for wrought iron sculptures or small collectibles with a western theme, from flora and fauna to wagon wheels and spurs.
Other Bathroom Design Styles and Ideas
More Bathroom Styles for Your Home