Outfit the space with right-sized features that will function as they grow.
A children's bathroom isn't all fun and whimsy—though you certainly can take a light-hearted approach to the décor you choose. A lot happens in the family bathroom: bathing, washing, brushing teeth, playing in the tub. It's a multi-purpose space that must include plenty of storage, easy-care surfaces, durable fixtures and accommodations for the little people.
"It's easy to get focused on designing a bathroom for little kids, and then in a couple of years, they're eight inches taller," says Barrie Spang, interior designer of Lee Meier Interiors in Westlake, Ohio. "You can have fun with the design, but think about the fact that your kids will grow up fast, and you might not get back to the bathroom to renovate it when they're older."
So choose durable, low-maintenance materials and neutral fixtures. Include conveniences that make the bathroom work for children (step stools), but think beyond potty training years.
Consider these features when designing a children's bathroom:
A right-height work area. Consider lowering the vanity countertop height so children will stay off their tippy toes when reaching for the faucet. Or, for a longer-term solution, maintain the standard countertop height and include a lift-out step in a bottom vanity drawer. "When children are younger, they can pull out the step to stand on it instead of having a cumbersome stool in the bathroom, and the step lifts out of the drawer for more storage when children no longer need it," Spang says.
A toilet that transitions. Look for a loo with a seat that takes a child from potty training to adulthood. Also, quiet-close toilet seats take the bang out of closing the lid (which parents will appreciate), says Diana Schrage, senior designer for Kohler.
Plenty of stow-away space. Kids have lots of stuff, and their bathroom belongings can take over the tub and countertops. The more storage, the better. Opt for oversized, deep tub niches where toys and bottles can be stored on shelves. If there's room, consider a decorative toy box to stash towels (and more toys). Built-in vanity cabinets hide clutter rather than open-shelf storage (though bins can contain overflow). "To keep the bathroom looking neat and clean, you have to make sure there are places to keep everything," Spang says.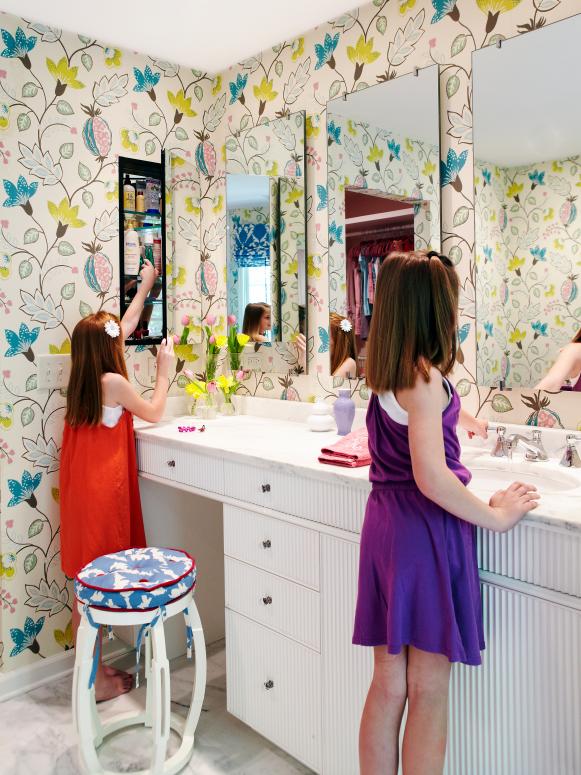 Tween Girls' Bathroom With Graphic Wallpaper
Designer Rebecca Hawkins gave this bathroom, shared by two young sisters, a happy new look featuring colorful wallpaper and fluted custom cabinets.
Designer Rebecca Hawkins
gave this bathroom, shared by two young sisters, a happy new look featuring colorful wallpaper and fluted custom cabinets.
An easy-access tub. Improve access to your tub by including a graduated step down into the basin, or check out undermount models. Also, spring for an extra hand-held shower head positioned on a working bar. "This makes it easier to get shampoo out of children's hair and easier to keep your tub clean," Spang says.
Also, faucets with anti-scald valves will prevent hot-water burns and adjustable shower bars will keep children safe as they grow, Schrage says. "You want to make a room that is a chameleon that can change and grow as the child ages," she adds.
Non-slip, easy-clean surfaces. Test tile before buying it to determine if it will be slippery when wet. Porcelain is extra durable, and textured surfaces are best for avoiding falls. Bryce Jacob, senior vice president of Dave Fox Remodeling in Columbus, Ohio, likes larger tiles for children's bathrooms—that means fewer grout lines to keep clean.
Hardware that's easy to handle. D-handle drawer pulls and levers are easier to grab and pull than knobs. "Little hands can't grab around round knobs well," Jacob says, and adding soapy to the equation makes these pulls even more challenging for young ones. Also, towel rings and hooks for washcloths and robes are easier to manage than towel bars. And when hanging a towel isn't easy, it will end up on the floor. "As children get older, a towel bar can replace hooks," Spang says.