Assessing Needs for a Bath Remodel
Use these worksheets to figure out what you want and what you need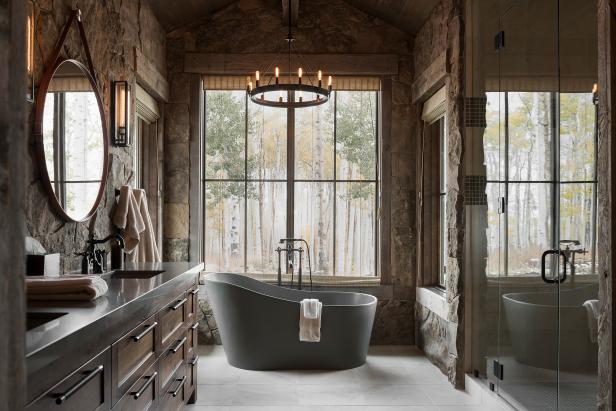 Dreamy Master Bathroom With Freestanding Tub
This tub has an in-line heater and sits in a river-rock-filled, drained fiberglass pan. A wood-textured porcelain tile floor follows the gentle curve of the tub and rock path.
We need more space. That's one thing most everyone can agree on when evaluating their current bathroom. And if the home is older, there likely is very little elbow room in the 'ole water closet. "The typical shower in the typical house built 20 years ago was probably a 3x3 foot or 3x3.5 foot size, and it's just not large enough," says Ken Perrin, president, Artistic Renovations, Cleveland, Ohio.
Another point most people identify as a key driver for remodeling the bathroom is the desire to update. The old bathroom looks—well, old. "Ninety percent of the time the bathroom is outdated," says Brian Johnson, principal, Collaborative Design Architects, Billings, Mt., referring to his clients' impetus for remodeling. "The fixtures are outdated. The tub is too small. They say, 'We've put up with this for 15 years.'" Chances are, how you are using that bathroom now and the way you'd like to use it after the remodeling is done are different. Sure, the basic activities will still take place there, but there's probably something missing in the current design or layout that is bugging you.
Unlike a kitchen remodel, where you have one room to focus all your design efforts, your bathroom renovation depends on which bathroom you are remodeling. The space layout and appliances/fixtures you choose for a master bath will be very different from what you want for a powder room.
As you start planning your project, identify the bathroom you want to remodel and take some time to consider your lifestyle and how the bathroom fits into the picture. Consider how you're using it now and what you want this remodel to accomplish. The Day in the Life of Your Bathroom Questionnaire will help you assess the activities that take place in your bathroom and how the room is stacking up to your needs.
After completing the Day in the Life of Your Bathroom Questionnaire, consider what bathroom features you need and want, your priorities and the life expectancy for the bathroom. Will you grow old in the home, or is this an update to freshen up the space? Think about what you want the bathroom remodel to accomplish and fill out the Bathroom Goals Worksheet. You'll use these exercises to create a roadmap to a successful bathroom renovation.
Once you get a better idea of your remodeling plan, explore bathroom designs that suit your needs and lifestyle. Whether you're remodeling a master bath into a spa retreat or punching up a powder room to impress guests, find inspiration in these common bathroom types: