Make Your Own Foaming Hand Soap
Save money and reduce waste by creating your own foaming soap. It's one of the easiest ways to create a greener and healthier you.
Keep in mind: Price and stock could change after publish date, and we may make money from these affiliate links.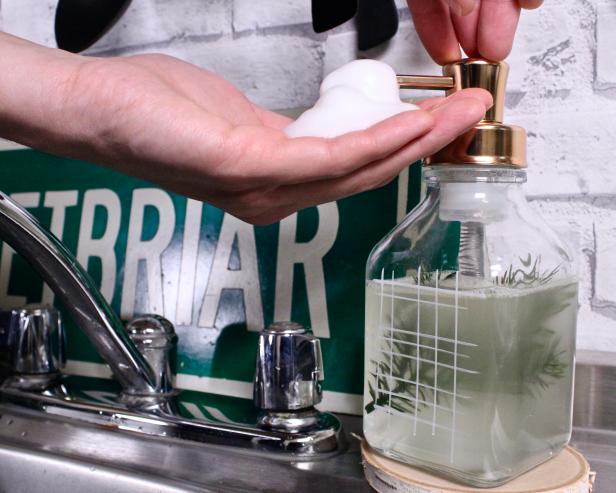 DIY Foaming Hand Soap
The Crafty Lumberjacks show you how to make your own foaming hand soap to cut down on single-use plastic.
essential oil blend (see suggestions below)
water
Create Essential Oil Blend
cedar - 10 drops
pine - 5 drops
apple - 10 drops
clove - 3 drops
Start by blending a mix of essential oils in a small glass. You can use the measurements above to match the scents we created or mix your own. Remember that essential oils are extremely concentrated and that some oils can be more harsh on skin than others — always use fewer than 10 drops per oil and test any product you create with them for sensitivities. Cinnamon, orange, clove, eucalyptus and peppermint all have antibacterial properties.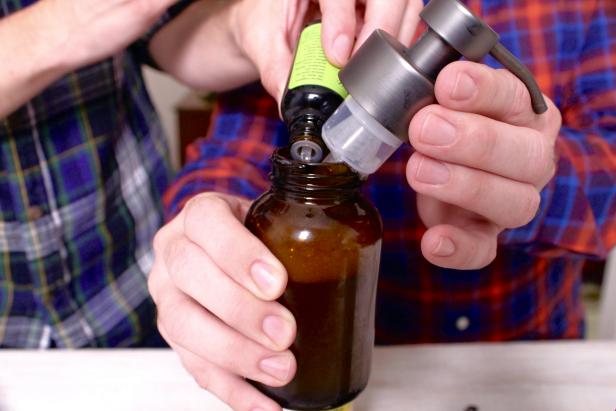 DIY Foaming Hand Soap: Combine Ingredients
Combine all the ingredients into the foaming soap dispenser.
Fill your empty soap dispenser with about 20 percent castile soap, the essential oil blend, 1/2 teaspoon of Jojoba oil, 60 percent distilled water and leave about 20 percent of the dispenser with air.
Tip: Jojoba oil is a carrier oil. Adding a carrier oil is important because it dilutes the essential oils and "carries" them onto the skin so they can be applied with minimal, if any, side effects. Other carrier oils include olive oil, coconut oil and grapeseed oil.
Close bottle and shake to help distribute the oils for the best fragrance.
DIY Foaming Soap Dispenser Up-Dos
Slide a soap dispenser inside a cute sock. With fabric scissors, cut the sock to the size of the dispenser and tuck the cut ends around the base. It's a great way to use a sock that has lost its mate.
Removable Plaid Paint Marker Doodle
Create a design on the outside of the soap dispenser. Lay your soap dispenser on a table, create horizontal lines with a ruler and a white paint marker, repeat with vertical lines. This works best on dispensers with flat sides. If you mess up, it easily washes off with rubbing alcohol.
Keep your house smelling oh-so-fresh all season long by crafting an incense-burning house out of oven-bake clay.
Scrub-a-dub-dub, this soap is totally perfect for an at-home spa day.
Make your own all-natural soap with fresh ingredients from your garden.