Upgrade a Bookshelf With Cane Webbing
Cane furniture is hot in home design, but it can be pricy. Give your basic, open-back bookshelf a trendy new look with this easy how-to.
We're sorry, there seems to be an issue playing this video. Please refresh the page or try again in a moment. If you continue to have issues, please contact us here.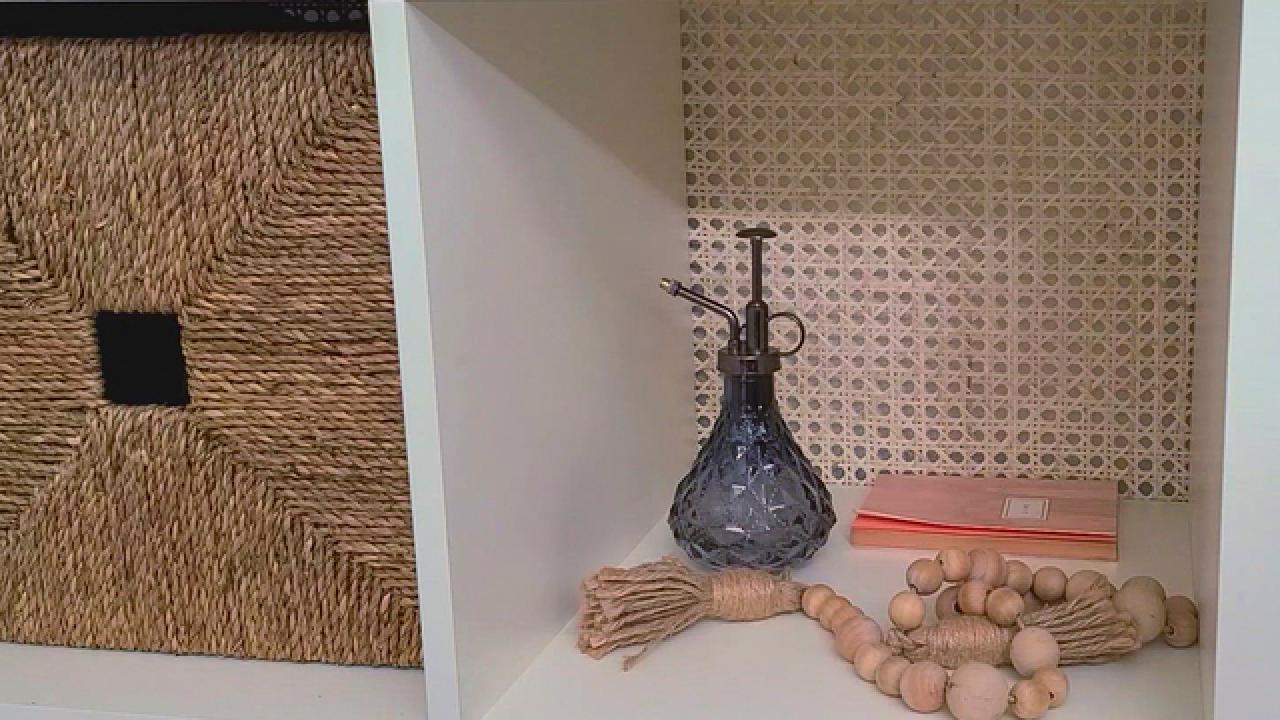 (2) tarps
electric staple gun
1/4" staples
scissors
wood glue
ribbon
Prepare Bookshelf and Workspace
Clear off and clean the cubby bookshelf. Put a tarp on the floor and lay the bookshelf so the front side is facing down and the back side is facing up.
Roll out the cane webbing over the entire back of bookshelf. If it tries to roll itself back up as you work, place small hand weights on the corners to hold everything in place.
Leave a few inches overhang on the sides to give you some wiggle room. Cut the cane webbing with scissors.
Fill the bathtub with warm water and submerge your cut piece of cane webbing for one hour. This will soften it up and make it more pliable.
Shake excess water off the cane webbing as you remove it from the tub. Place a tarp on the bookshelf. Lay the damp webbing flat on the bookshelf to dry some, but not fully.
Staple Webbing to Bookshelf
Remove the tarp. Make sure the cane webbing looks even and still has overhang. Use a staple gun to secure one end of the webbing to the bookshelf (Image 1). Pull taught as you work your way down, stapling in small sections at a time. Use a clothespin to clip the webbing if it's still rolling back up as you work (Image 2).
The cane webbing will tighten up as it dries. Once it's completely dry, hammer down any staples that aren't flat.
Use scissors to cut away the excess overhang on all sides.
The edges of cut cane webbing can be sharp. Add a thin layer of wood glue along the cut edges (Image 1). Place a ribbon over the glue and let dry (Image 2). This will cover those edges and give the piece a finished look.
Style your upgraded bookshelf with baskets, books and decorative accents.