Make an Origami Paper Wreath
Add a burst of color year-round with this simple paper wreath project.
DIY Paper Wreath
04:37
Karen Kavett demonstrates how to easily make a wreath with origami paper.
origami paper
cardstock
bone folder
poster board
large bowls
scissors
hot glue gun
Trace two bowls into poster board to get a large ring. Cut it out and set aside.
Cut green origami paper into 2" and 2.5" squares. Fold in half diagonally and use a bone folder to make your fold crisp. Cut off the tip of the triangle.
Fold your triangle in a diagonal accordion fold, using your bone folder to keep your folds sharp.
Unfold the paper and cut the edges into a leaf shape.
Make additional leaves by scoring a line down a piece of cardstock. Fold it in half and cut half of a leaf shape down the fold. Open them up to reveal your leaves.
Use hot glue to paste your leaves all the way around the wreath.
Make a flower by cutting a spiral into another piece of origami paper. Cut a wave into the outside edge of the spiral. Roll it up to get a flower shape. Put down a dollop of hot glue onto a piece of cardstock and press the flower down onto it. Once it dries, cut it out from the cardstock.
Hot glue your flowers to the wreath.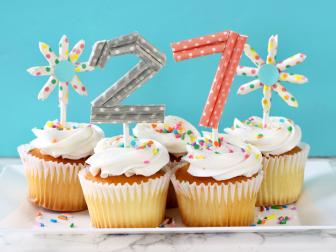 Put those leftover party straws to good use as cupcake toppers, picture frames and faux cactus decor that couldn't be easier to make.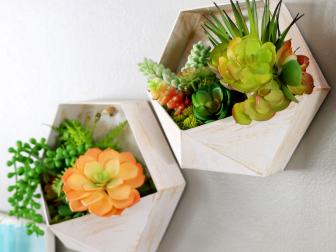 Save major money on wall decor by getting creative and crafty with common items from your recycling bin.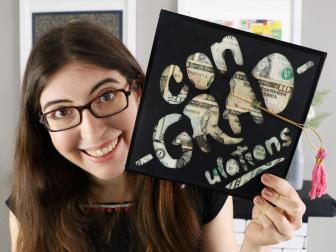 Gift money to your favorite grad with one of our fun and clever DIYs. Because who doesn't love money, right?