How to Make DIY Bracelet Planters
Follow the steps below to make this blogger DIY project featured in HGTV Magazine.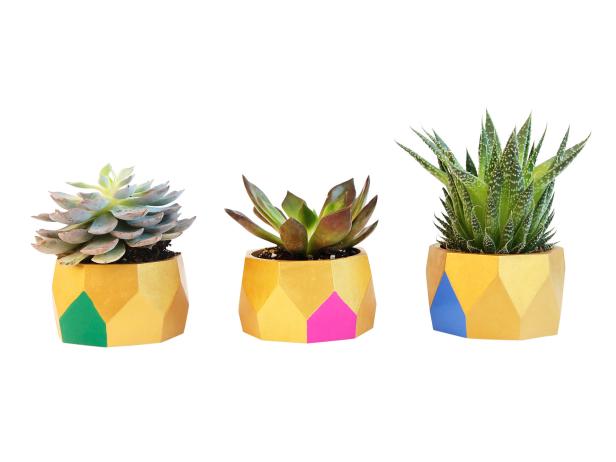 Blogger DIY Bracelet Planters
HGTV Magazine shares inspiring (and easy!) DIY projects from beloved design blogs. Gold metallic wax dries fast and gives the planters a rich luster.
1. Roll out a piece of polymer clay until about  1/4 inch thick using a mini rolling pin.
2. Press a wood bangle bracelet into the clay as you would a cookie cutter. Use a drinking straw to poke a small hole in the center of the clay circle for drainage. Bake the clay, following the package instructions.
3. Rub gold-color metallic wax onto the bracelet, following the package instructions. Color in some of the bracelet's facets with a paint pen. Let dry.
4. Insert the baked circle into the bracelet as a base. Use a hot-glue gun to run a bead of glue around the inside seam where the bracelet meets the base.