How to Make a DIY Wallpaper-Decal Nightstand
Follow the steps below to make this blogger DIY project featured in HGTV Magazine.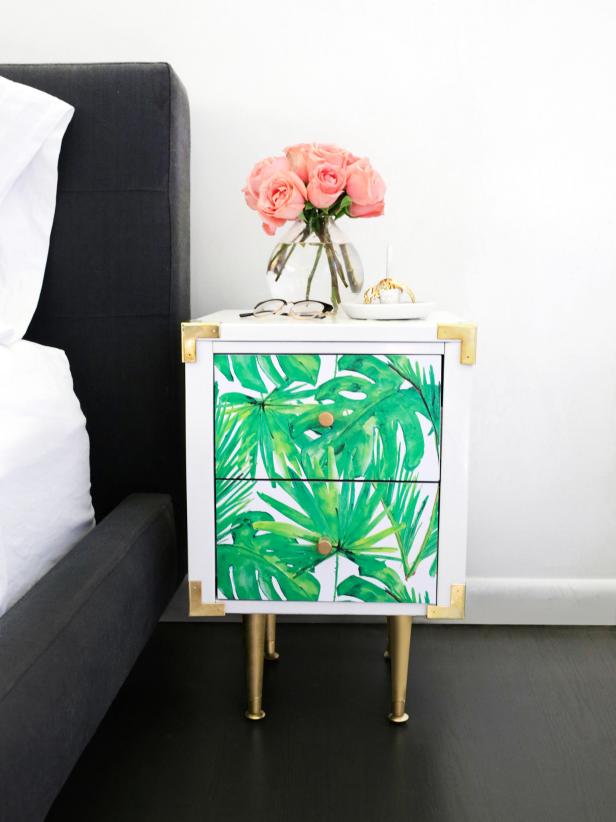 Blogger DIY Wallpaper-Decal Nightstand
HGTV Magazine shares inspiring (and easy!) DIY projects from beloved design blogs. Pick a bold wallpaper decal. You don't use much, so it can be really daring.
1. Remove the knobs from a nightstand, and spray-paint them gold. Let dry.
2. Remove the drawers. Flip the nightstand upside down, and use a jigsaw or a handsaw to cut off the legs (or have a hardware store do it for you).
3. Paint the nightstand and the drawer fronts glossy white. Let dry. Spray-paint new legs gold. Let dry.
4. Screw leg-mounting plates to the bottom of the nightstand. Screw the new legs into the mounting plates.
5. Cut a wallpaper decal to the size of each drawer front, and apply. Attach campaign-style corner trim to the corners of the nightstand's frame.
6. Reattach the knobs and replace the drawers.