The Art of Arranging: Design That Doesn't Cost a Thing
Feeling uninspired by your space? Designer Ryan Brown reveals how to rearrange and refresh your home using what you already own. 
While it's tempting to purchase a trendy piece of furniture for your home, you don't necessarily have to spend money to create a new look. Rather, if you've grown tired of a space, you can rearrange your favorite possessions to make your home feel fresh and exciting.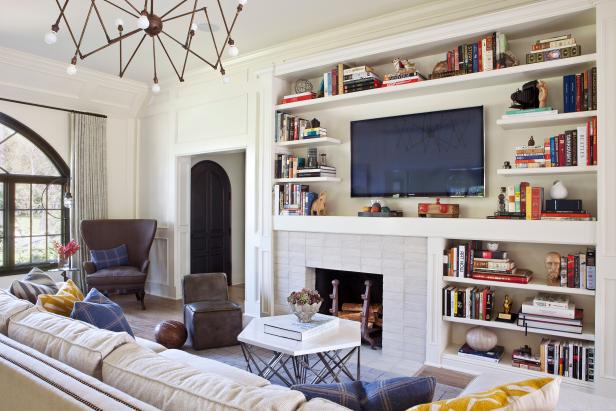 Cozy Living Room With Built-in Bookshelves and Fireplace
Built-in shelves, doubling as an entertainment center, nearly take up the entire wall in this living room. The bottom half of the wall includes a fireplace and more shelving to store media and/or personal treasures.
Los Angeles-based designer and vintage collector Ryan Brown (left) and his partner, Diego Monchamp (right), are the experts when it comes to accessorizing interiors. "It's actually the most fun part of the project for me," Ryan says. "I feel like that's when the whole project locks and comes together."
To breathe excitement into an overlooked setting, Ryan starts by finding new ways to showcase his clients' favorite possessions. Here are his tips for accessorizing your home using what you already own.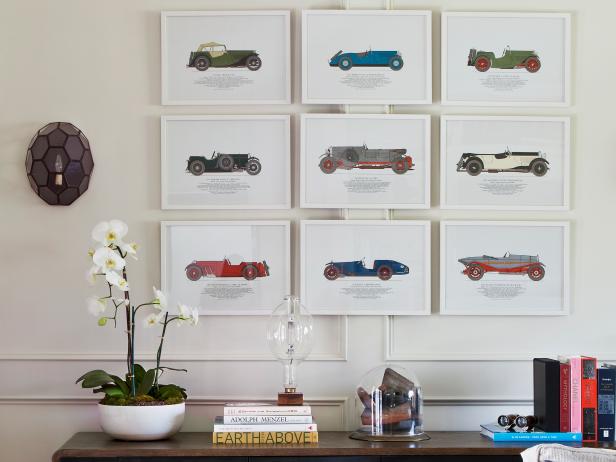 Antique Car Artwork
Adding a punch of color to the palette, nine contemporary white frames feature portraits of colorful, old-fashioned cars above the console table.
For Ryan, a stack of books can easily bring warmth and character into a space. Though many people tuck their books away from view, he encourages his clients to display their collections on side tables, nightstands and shelves wherever possible.
"They really do bring a space to life," he explains. "You can tell a lot about somebody by peeking at what books they have; they reflect your individual personality."
Don't Take Things Too Seriously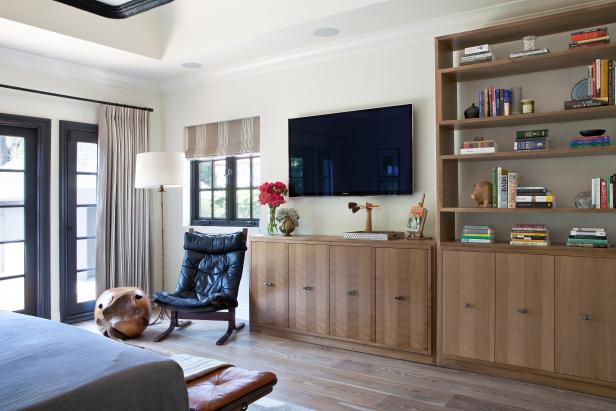 Master Bedroom Offers Ample Storage
Storage is plentiful in the master bedroom, with a wall of cabinets and bookshelves to accommodate all of your personal treasures.
That said, it's important not to take the idea of a bookshelf too literally. To revitalize your space, avoid displaying books in compact rows and instead mix them with unexpected objects for visual interest.
"Mix in some ceramic, some steel," Ryan recommends. "(Having) a mix of books, a vase, a few photographs, an item here and there, it just creates more interest for the eye, ultimately."
Rearrange + Refresh As Needed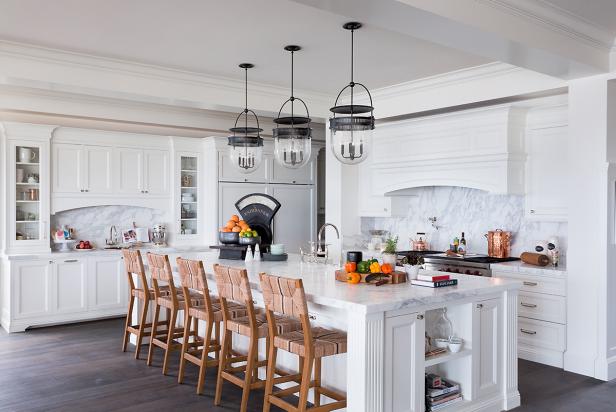 White Coastal Kitchen with Large Island
This white kitchen is a stunning feature of a beachfront home. The white marble and cabinetry gives it a relaxing ocean feel.
Of course, when things start to feel too settled, Ryan suggests beginning the process over again. "Take all of the accessories from the living room, the bedroom, the family room, anywhere you have them, and put them all together in one spot," he says. "Then give it a whole mix up and just have fun with it."
By repeating this process, you'll not only see your home from many new perspectives, but you'll also begin to understand how your favorite objects work together.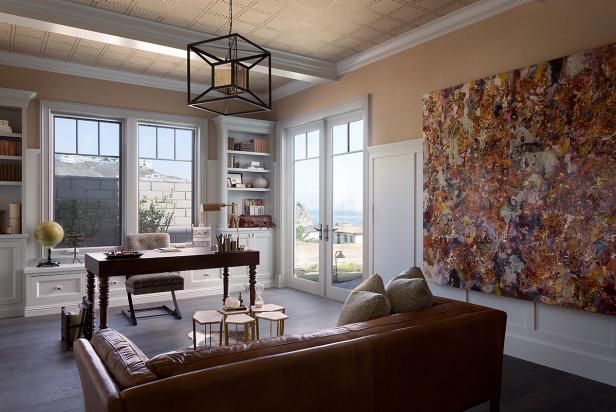 Eclectic Home Office With Burnt Orange Sofa
Many styles and textures flow throughout this eclectic home office. A leather burnt orange sofa pairs well with the dark wood office desk.
"The great thing is that you really can't get it wrong," Ryan notes. "The more you work on it, the more you perfect it."
Want to transform a room from white to WOW? Designer Kelly Sutton shows you how to introduce dark colors into your home.