It's Captain America vs. Iron Man in a Superhero Color Palette Showdown
Which superhero costume color scheme reigns supreme when it comes to design?
If you're like me, you've been counting down the days until Captain America: Civil War hits theaters. In this superhero outing, Robert Downey, Jr. (Iron Man) and Chris Evans (Captain America) lead two different teams of superheroes into battle against the other.
But it's not only the strength and shield of Captain America and the high-tech suit of Iron Man armor going at it — their costumes clash, as well. And while we won't know who wins until the flick releases (today!), you can be the real winner using some superhero-inspired color schemes for your big design ideas.
Iron Man's classic bright red and gold suit from the comics shows up as more of a muted maroon on film but still keeps that color scheme Tony Stark is known for.
The rich colors of Iron Man's suit serve as perfect inspiration for a lavish and comforting bedroom that even the billionaire playboy Stark would enjoy.
After being found frozen in ice since World War II, Steve Rogers aka Captain America is a walking American flag. And with good ol' red, white and blue, you've got plenty of options to make good design decisions.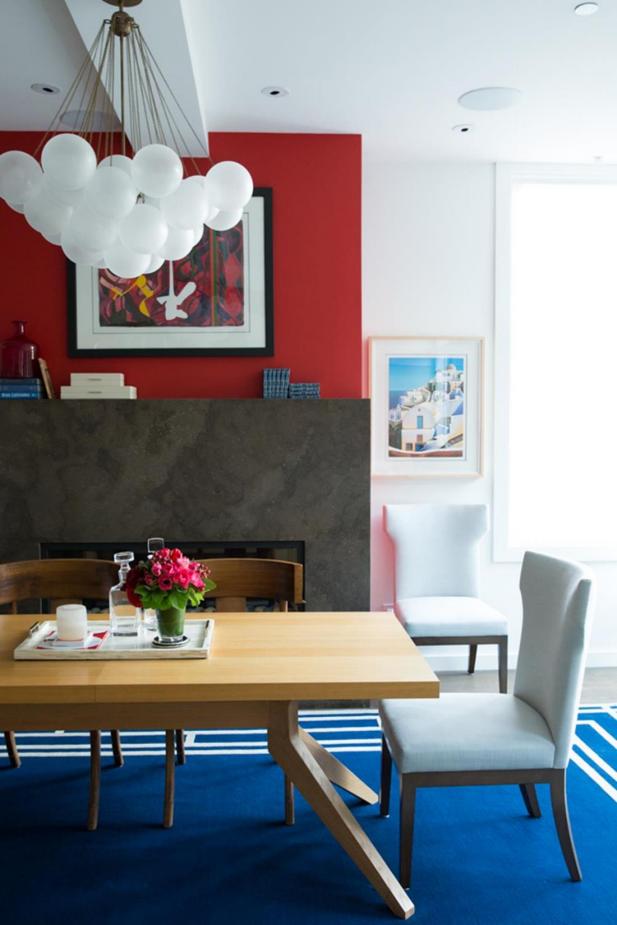 Modern & Sophisticated Dining Room
This modern dining room has a red, white and blue color scheme that gives this space a vibrant look. The chandelier adds a touch of whimsy, giving the room a fun look and feel.
A bright and beautiful dining room with Cap's signature scheme can bring an endless summertime feel to your house (juicy cheeseburgers not included).
If you want to go to sleep dreaming of the Avengers (or Captain America), this all-American bedroom may be for you.
But if you're not all in on the grand Americana, this cool, blue bedroom channels Cap in a classic, low-key way while still being super comfy.