Shelfies Are the New Selfies for Design Lovers
Sorry Kim K, but our #shelfie game will break the internet.
If you need advice on how to take the perfect #selfie, you probably want to head over to Kim Kardashian's site. But if you're looking for the scoop on how to create showstopping #shelfies, you're definitely in the right spot.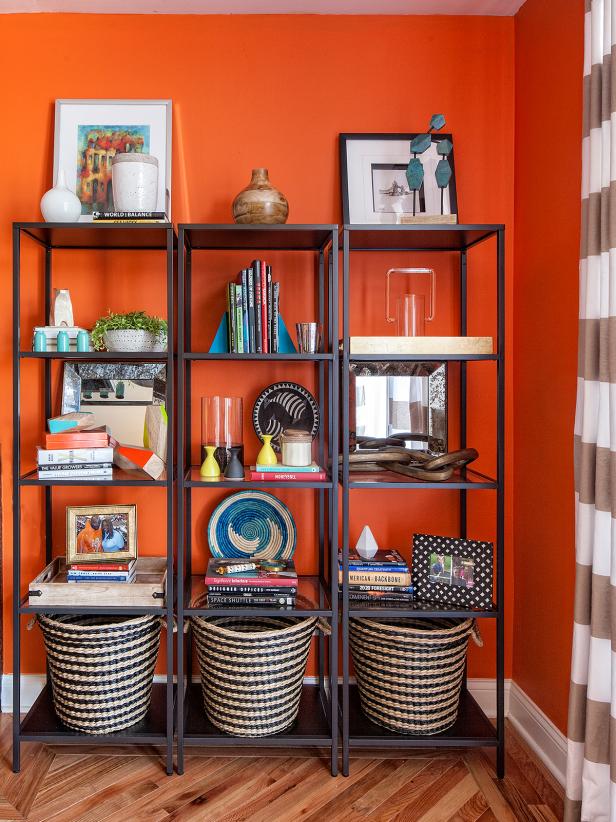 Trio of Metal Bookshelves
Woven storage baskets soften the metal bookshelves and serve as a storage catch-all. A mix of keepsakes, books and framed art keeps the shelves looking interesting and stylish.
What is a shelfie, you might be wondering? Basically, shelfies include the art of creating (and documenting!) the perfect decor arrangements on the bookcases and shelves in your space. Celebrity interior designer Windsor Smith sums them up perfectly: "I see them as curiosity cabinets, a window into what you are thinking, where you have been and where you wish to go."
Truth time: Creating the perfect Instagram-worthy shelfie is a bit of an art and does require some practice, but there are some easy guidelines I want to share to help you become the shelfie ninja I know you were truly meant to be.
It's All About the Vignette
White Modular Bookshelves for Storage and Display
"When you're working on a strict budget, cash doesn't usually extend to custom-made built-in cabinetry," says designer Anna Williams. "Instead, I've used a set of affordable and modern white bookshelves to create plenty of storage, without the expense." A bright abstract is a colorful focal point, while wicker baskets provide some hidden storage options.
Great shelfies are really about mastering one concept: the style vignette. Vignettes are really just the collective results of the decor + books + objects + [insert item] that you put together on your shelves and arrange to look snazzy.
My favorite types of vignettes usually include unexpected arrangements, a variety of textures and surfaces and a few core pieces. Some regulars in my shelfie toolkit include:
Books
Metallic objects such as animals, containers or geometric shapes
Natural objects such as branches, shells, plants or flowers
Collections of almost type
Small cups, saucers or other unusual serving pieces
Vintage magazines
Books Aren't Just for Reading
Contemporary Study Features Criss-Cross Bookshelves
Spazio Rosso, Inc. choose a dijon paint color for the walls and yellow raffia wallpaper for the ceiling in this contemporary study. The built-in shelves were redesigned in a diagonal pattern to create a unique geometry, which the area rug and drapery fabric were chosen to enhance. The desk is composed of two layers of glass, the top being black, underneath being white.
While almost anything and everything will work for a good shelfie, books can truly be your shelfie workhorses.
Try to think of your books as decor, and use their colors and covers as prominent cornerstones of your style vignettes. For big impact, you can create a look like this one pictured by covering up your books with uniform pieces of paper or gift wrap. This would also be a very simple way to bring some color or pattern into your space.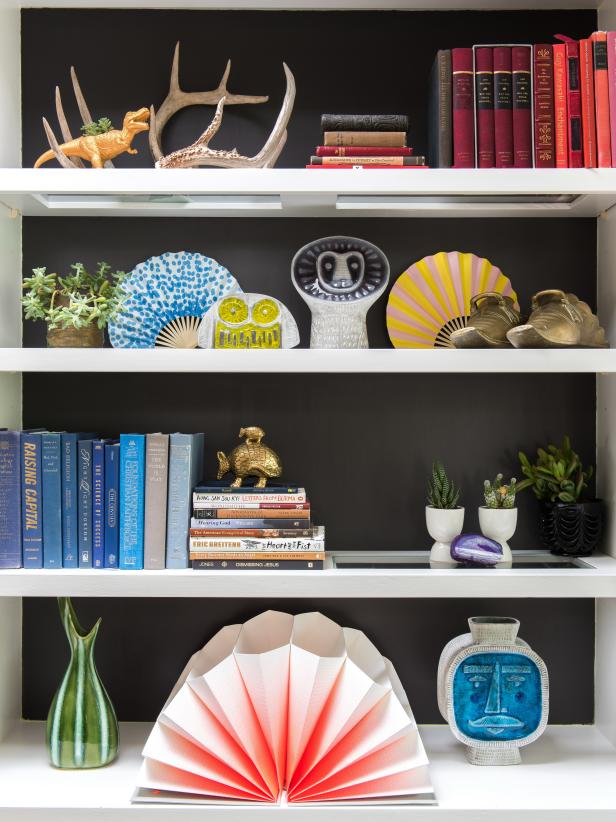 Accessories & Art on Gray Bookshelf
Built-in bookshelves in a deep shade of gray make a bold statement in this contemporary living room. Blue accessories stand out and add a punch of personality, along with rows of colorful books.
There are truly no hard and fast rules with shelfies, so don't be afraid to bring in unusual objects — even if you've never seen them on anyone else's shelf before! This shelfie manages to combine gold ethnic shoes, a dinosaur planter and a pretty paper file with more traditional objects like books and vases, and it all looks fabulous together.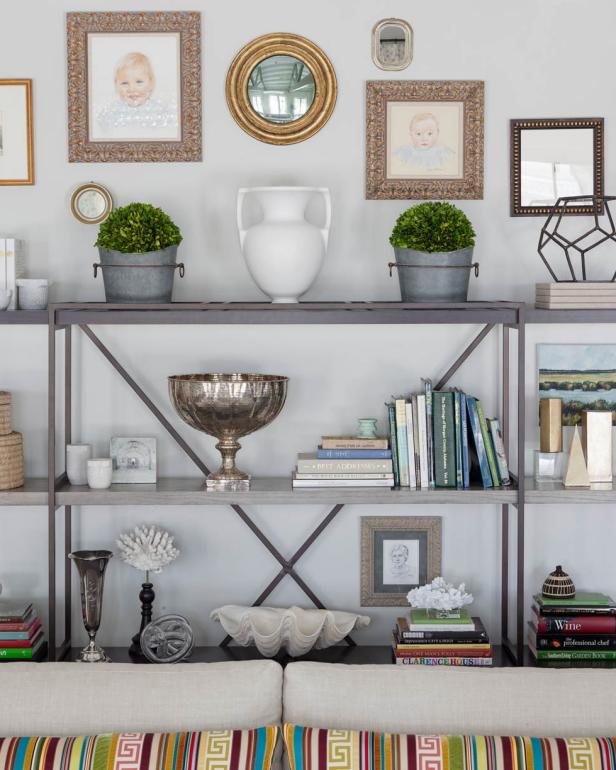 Open Shelf With Books and Topiaries
In the living room, a open shelving system offers both storage space and imaginative display potential for artwork and accessories. Adding two tabletop topiaries brings an organic, natural element.
While we're excited that you're getting serious about your shelfies, we don't want you to forget about the areas around your shelves — especially if you have smaller or low-profile shelves. You can easily use art to work in tandem with your shelf vignettes by thinking through how your art will look with the objects you're using on your shelves. When everything works together, you'll have your own beautiful decor symphony going on.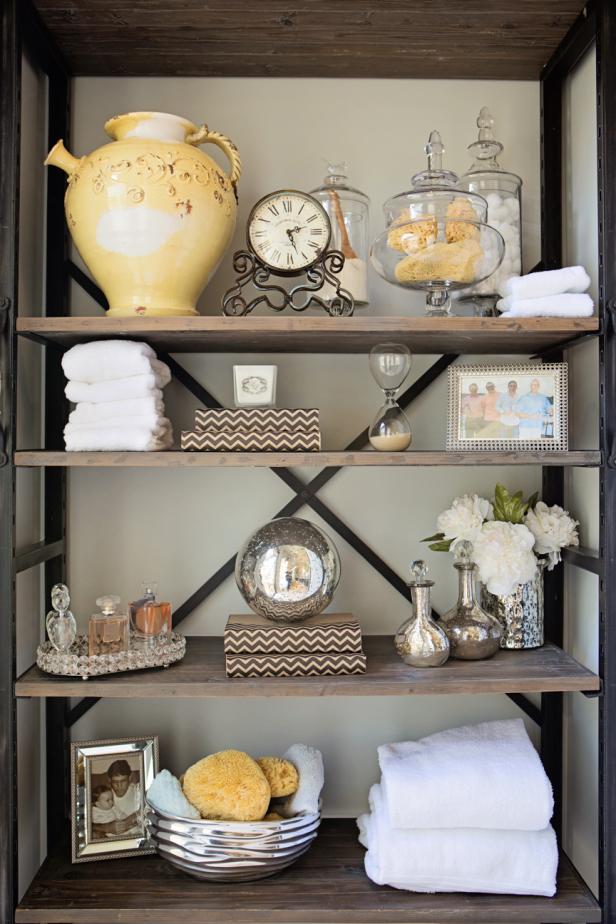 Industrial Bookshelf Features Family's Eclectic Keepsakes
Use of an industrial bookshelf in the master bathroom creates an artful space to organize hand towels, washcloths and accessories while new and vintage collectibles add a spa-like or beach inspired style.
Ana Rodriguez-Gonzalez and/or Lorenzo Gonzalez
Even your less visible shelves deserve some love. Don't forget about shelves in some of the less trafficked parts of your house including guest bathrooms, kids rooms or even a laundry room. If you've got a visible shelf in any part of your home, you've got an opportunity to turn it into a fun little shelfie.
Unusual Shelves = Sexy Shelfies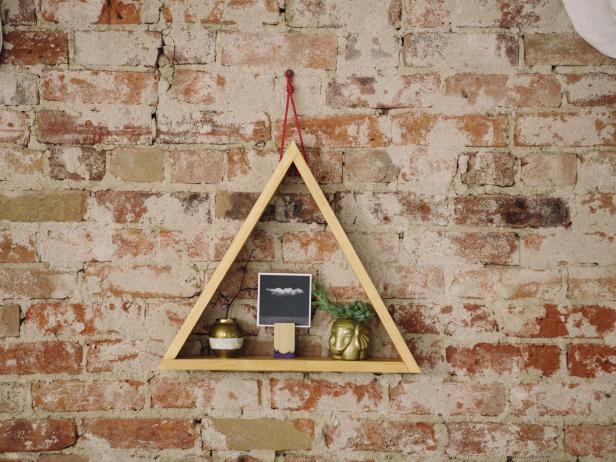 Triangle Shelf
Make a hanging triangle wood shelf using only a few materials and tools.
Great shelfies are possible on any type of bookcase or shelf, but you're sort of one step ahead the game if you choose unusually shaped shelves. This triangle shelf is a great option for small spaces or out-of-the-way corners in your space.
Storage Solutions Can Be Styled
You can even fancy up shelves that are primarily needed for various storage solutions. Baskets, like the ones pictured, are a great option. You can choose other types of storage solutions as well, like bins or boxes, but try to use the same color and shape if you want to create a more streamlined look.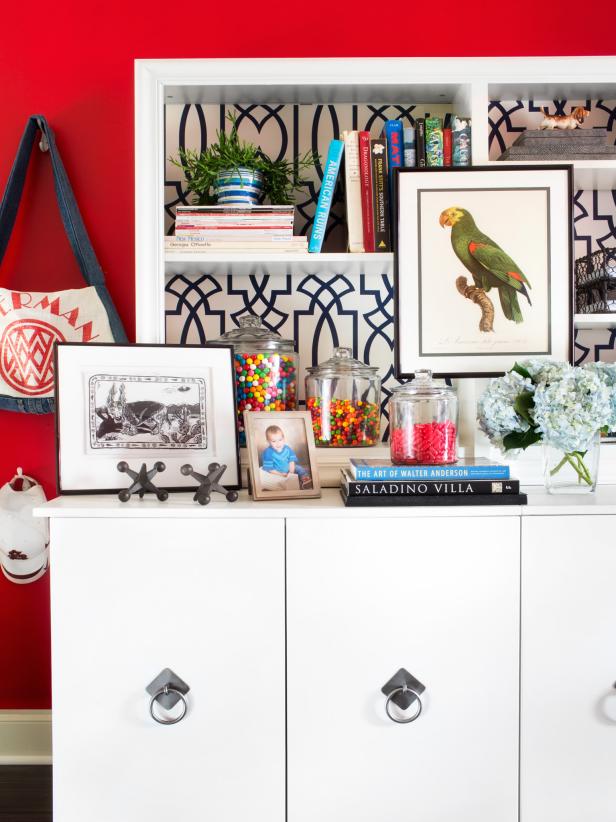 Eclectic Bookcase With Red Accent Wall
With the clever use of pre-fab bookshelves and kitchen base cabinets, this bookshelf area gets the look of a custom built-in at a fraction of the cost. A red accent wall adds a pop of vibrant color, while black and white wallpaper covers the back of the bookshelf's cubes for a touch of texture.
You can also really up your shelfie game by decorating the actual shelves that you're creating your vignettes on. Removable wallpaper in different colors and patterns is a great option for creating some interest in your room. However, you can even use real wallpaper and just attach it to your shelves with double-sided tape so you can easily remove it if you change your mind. Paint works well, but I enjoy the flexibility of using papers because I tend to enjoy mixing my shelfie game up.
Think of Your Shelfies When You Travel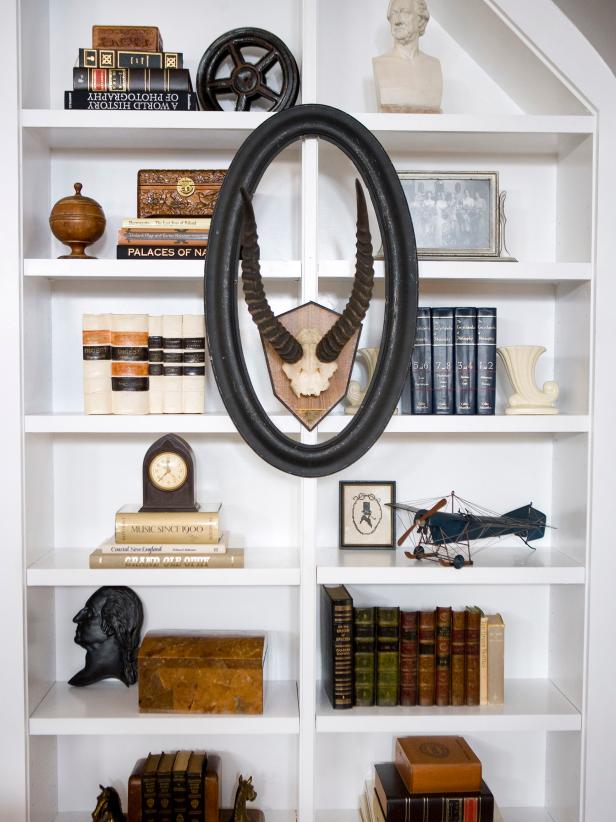 White Bookcase Display With Traditional Decor
Not sure what to showcase on shelves? First, consider what you love. Your interests and hobbies should come through in your accessory choices, says Debbie Wiener, an interior designer in Silver Spring, Md., who helps homeowners create spaces reflective of their everyday lives. "Kids' framed artwork, books, decorative plates, baseball cards or boomerang collections. Your home should look like you," Debbie says. Take stock of vacation mementos, crafts and items you're drawn to time and again when assembling accessories for a shelf arrangement. Design by Emily Henderson.
The next time you take a trip, make sure to think of your shelves. Some of the most interesting items in my shelfie vignettes are objects I've picked up in my travels. Finding unusual objects on your trips is a great way to remember your favorite vacations, as well as spice up the style in your home.