Secrets From a Party Pro: Stephanie Bradshaw
Party planning can be panic-inducing, but don't worry -- expert Stephanie Bradshaw is here to help.
Our team of editors have traveled the country to find the best designers, architects, landscape designers and stylists to create the HGTV Photo Library to give you lots of ideas for your own home. As part of our new Master Class Series, we want you to get to know some of the designers behind these jaw-dropping designs. First up: Stephanie Bradshaw. It's hard for me to sum up Stephanie's title into one or two words. She does it all — she's an interior designer, event stylist, wedding planner, creative director and one of the founders of the Baltimore Fashion Alliance. Let's just say, she's a busy woman! We just had to know how she does it. Keep reading for our exclusive interview with Stephanie: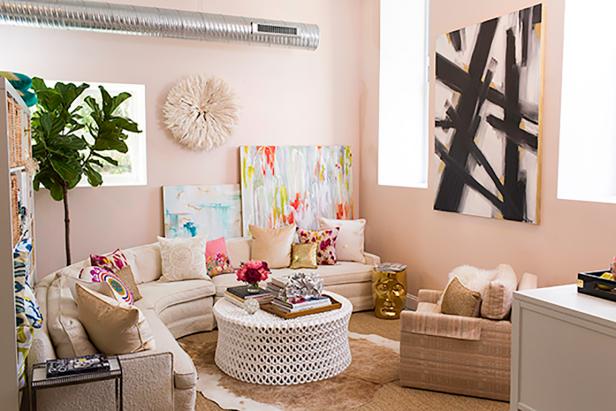 Exposed Air Duct and Abstract Artwork in Contemporary Living Room
This contemporary living room is a luxurious escape from the everyday. The abstract artwork on the wall and behind the sofa gives the space a bit of an artistic flare. The throw pillows add unique color to the space, while the neutral furniture keeps the space casual and inviting and the exposed air duct adds an industrial style to the living room
Design Happens: How did you get started as a wedding planner and event stylist?
Stephanie Bradshaw: Many years ago, I worked in business development for a large party rental company here on the East Coast. I designed parties, large and small, for years and started entering tabletop competitions to get our business name out in the community. I won a few of them and folks started to take notice in my design eye and attention to detail.
DH: How do you make sure to create a one-of-a-kind event for each client?
SB: I consider so many different perspectives when planning an event, whether it's the bride and groom, their families, guests, etc. I also then ask myself what type of experience we want to create for the guests, and how will all the details help get us to that place. I also always consider all five senses when designing any party and how we can engage them all in the experience.
DH: What is the most challenging and most rewarding when planning an event?
SB: I think for weddings, the most challenging component are family dynamics and trying to meet the expectations of the Pinterest-inspired bride. Having real-time conversations about budget and expectations are the key to a successful and rewarding experience for all parties.
DH: What was the most memorable or successful event you've planned, and what made it that way?
SB: This is such a difficult question. I think with every event there are successes as well as things that could have been tweaked just a bit to be better. There is almost always a moment at each event where I am able — for just a minute — to stand back and take a breath, looking at the space and the guests 'living' in it and to be proud that my team and I were able to create such a beautiful environment for such special and memorable life moments.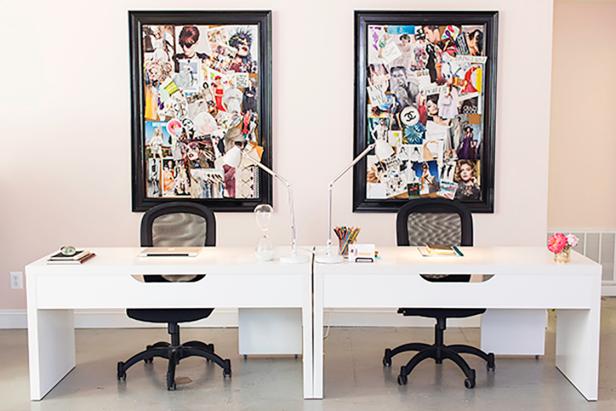 Fashion Collages Give Inspiration to Modern Office
This office space is full of chic inspiration. The modern desks and chairs give the area a clean, professional feeling, while the collages behind the desks are full of some of fashion's all-time greats. This space is the perfect place to provide any aspiring designer the inspiration she needs.
DH: You have a broad range of services, from event planning to interior design. Which is your favorite?
SB: I get asked this question all the time, and what I think I really like is business. I like helping my team learn and grow and become better problem solvers. I like that my days are completely different from one to the next, and yet it is still under this gorgeous design umbrella of events, interiors and creative/graphic services.
DH: You are all about the details. What details or items are must-haves for weddings, photo shoots, interiors, etc.
SB: For both events and interiors, I think starting with a color palette and a general theme is a great place to start. We create vibe boards for all of our design projects here and they really help us get the process started. All of the wedding details, from the floor plan to the invite to the table linen and the creative styling, is done with those things in mind. The same holds true with interiors. Floor plans, fabric selections and styling details are all a result of our initial vibe and the experience we want to create in those spaces. We talk a good deal about how we want a guest and/or homeowner to feel, and we try to move forward with that in mind as well.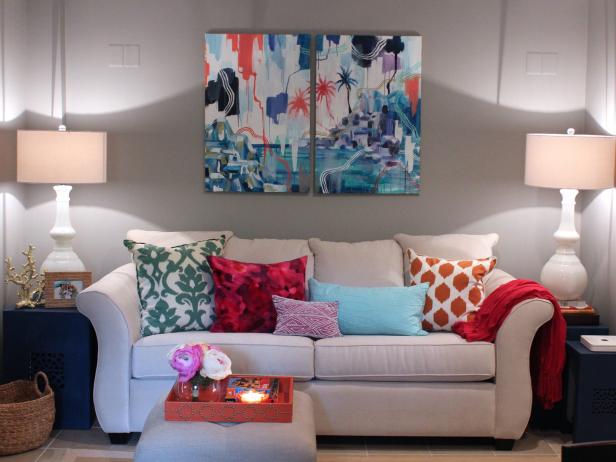 Beach painting in Tropical Inspired Living Room
A love seat in soft white echoes the sands of a beach dune. Brightly patterned pillows add pops of color, a mounted piece of coral dipped in gold paint and a seagrass basket complete this island look.
DH: How did auditioning on HGTV's Design Star help you grow as a designer. What did you learn from it?
SB: It was an interesting process for sure. I made it to the semi-finals and that in and of itself is something to be proud of. I think I learned to keep going and follow what my gut was telling me, which was to keep designing and doing what I love even after I wasn't selected for the show.
DH: You helped start the Baltimore Fashion Alliance. How do you think fashion and design influence each other?
SB: I think fashion has a huge impact on the design world in general. If you watch the runways, you will see trends that then filter down into the events we plan and the interiors we design and live in every day.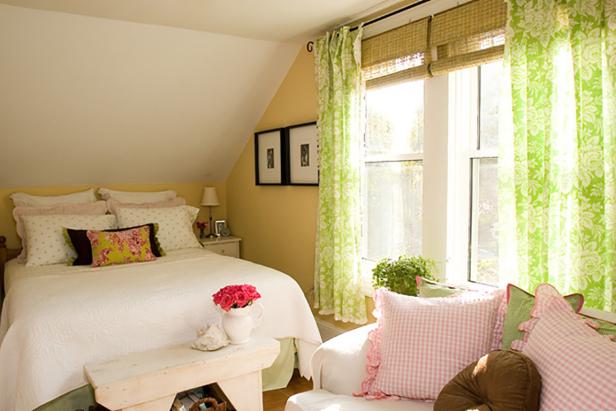 Feminine Green and Pink Cottage Style Master Bedroom
The master bedroom of this lovely cottage is a light, inviting space. The large windows allow in tons of natural light, while the neutral colors in the space-the tan walls, white bed spread and white footstool-help keep the space feeling bright. There is a feminine touch to this room, with the green, floral printed curtains and the pink frilly pillows. The fresh flowers at the foot of the bed help to maintain that cozy, feminine feel.
DH: Back to events! Do you have any advice for our readers who are planning a wedding?
SB: My tips for planning a wedding would be to hire some help! So many brides go into the experience thinking they can happily manage their jobs, family and planning a wedding all at one time. We spend all day, every day, planning these events full time, so it is definitely good to have help both physically and emotionally. Interview a few folks, and select the team that you feel best suits your needs and the vibe you want to create. Remember this person or their team will be representing you throughout the process, so select someone you think will do that in the best light possible. The same holds true for selecting an interior designer. Find someone that has a good handle on your vibe, but also someone that will challenge you to take a few risks!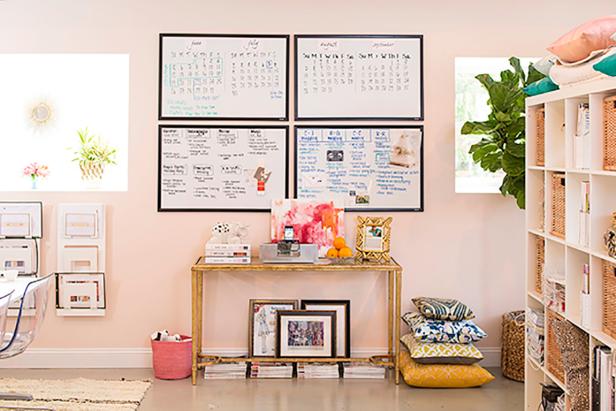 White Boards Provide Opportunity for Organization
Organization was especially important to this homeowner, so she added four white boards to her space to make sure she didn't miss anything. Below the organization station, there is a modern, gold glass-top table with modern accessories for that unique touch. Floor pillows are stacked beside the table for extra seating.