Proof That Coral + Turquoise Will Never Go Out of Style
It's almost as classic as black and white.
Few color combinitions have reached the same level of black and white in terms of sustained popularity, but it seems like a much more vibrant pairing could be a contender. The combo of turqoise and coral has been trending for a few years now, and its domination in the world of design doesn't seem to be slowing down any time soon.
The poppy pairing will instantly brighten the mood in any room, and bring a sense of levity to your design scheme. And if you're thinking it's too youthful to be used outside of the playroom, think again. Turquoise and coral can feel playful and young, yes, but the combo also has a sophisticated side that can make it feel decidedly grown up, making it a great choice for nurseries and living rooms alike.
Still on the fence about this fun color combo? These beautiful rooms just might change your mind.
A sleek, lacquered nightstand and studded turquoise headboard play off each other perfectly in this room.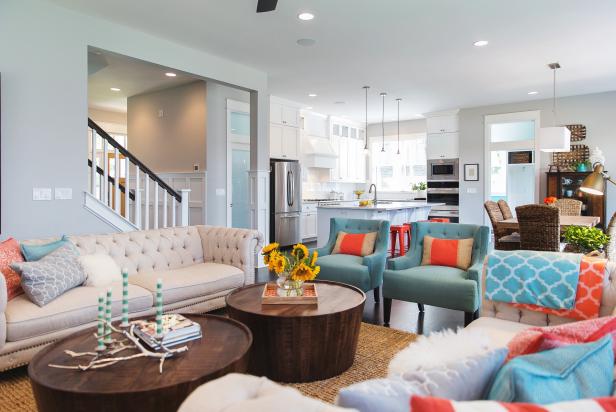 Living Room Features Beige Sofa & Turquoise Armchairs
When designed smartly, open concept floor plans can still include multiple living spaces that hold unique character while also blending into the whole. Here, neutral walls keep the background out of the picture, letting the spaces be defined by the color schemes of their furnishings and art. Pops of turquoise and coral work to tie the spaces together in a seamless manner.
While this space is mostly neutral and turquoise, the pops of coral throughout keep it from feeling one-note.
Turquoise walls are beautiful on their own, but adding in complementary coral towels makes an even stronger statement.
Using a cheery color palette makes even small spaces feel bright and welcoming, as evidenced in this chic bedroom.
These pretty shades don't feel baby-ish in this stylish nursery, meaning they won't be nixed the second toddler years hit.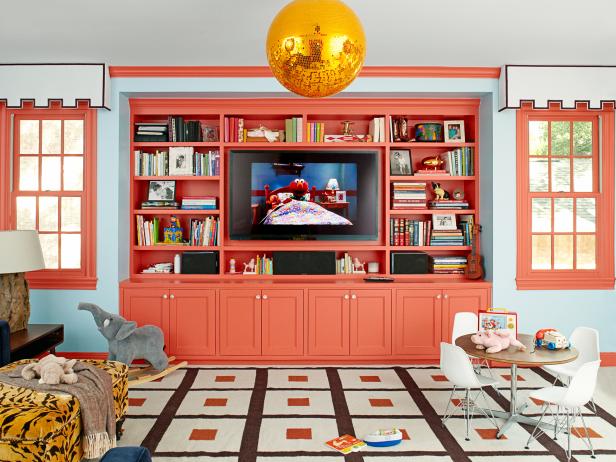 Colorful Built In Furniture
In this room, the cabinetry and trim are painted a gutsy red-orange hue (Habanero Pepper by Benjamin Moore). "It's a small space but the color has major impact," she says. Instead of curtains, the windows are framed with fabric-covered wood cornices trimmed in deep-purple ribbon.
Glam meets family friendly in this coral and turquoise living room. The addition of a gold disco ball makes the space party-ready at all times.