Master the Art of Moody Wall Colors With These Pro Tips
Want to transform a room from white to WOW? Designer Kelly Sutton shows you how to introduce dark colors into your home.
White walls and ceilings are very popular, and it's easy to understand why. They're unassuming and go with any kind of accent. Still, there's something to be said for walls and ceilings that pack a little more punch. Rooms that feature darker, moodier colors — when done well — can make even the most color-averse person say, "Wow!"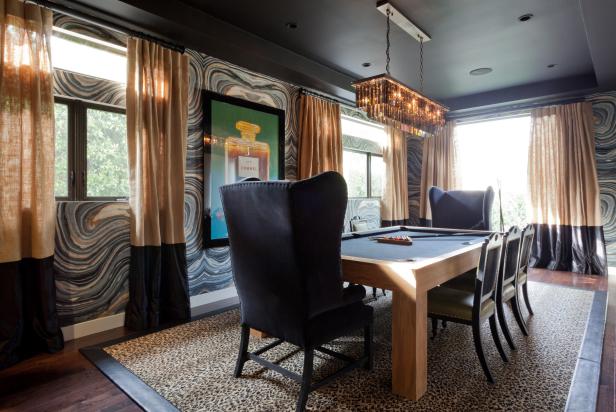 Eclectic Combination Billiards and Dining Room
This eclectic room works as a dining room or a game room with a multipurpose, black felt pool table as the centerpiece. Two large black velvet armchairs cap the ends of the table with smaller, green leather-upholstered chairs lining the sides. A neutral and black wallpaper pattern swirls throughout the room, creating a nice pattern contrast to the animal print rug.
New Orleans designer Kelly Sutton loves to work with darker colors in the spaces she designs. "I think you can do it in almost any space," she says. "There's always a detail or some element that could be done more dramatically to take it to the next level."
Bringing dark colors into your home can be a little daunting. Here are Kelly's tips on how to do it like a pro and have your friends saying, "Wow!"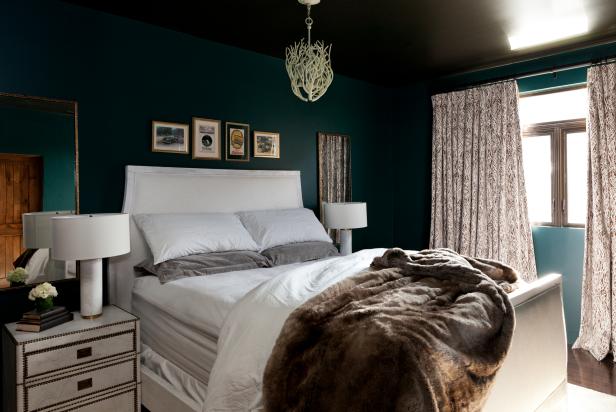 Contemporary Hunter-Green Bedroom
White furniture shines against the dark green wall coloring in this contemporary bedroom. A large white bed frame is upholstered with velvet at the head and foot of the bed for a softened feel. Nightstands with nail-head trim support matching table lamps to finish the room.
If the walls, ceiling and furniture are all dark, the room is going to feel too heavy. Balance saturated shades with lightly colored furniture and accents, metallic finishes, mirrors and natural lighting. The walls will subtly fade into the background while the contrasting furnishings and accents will pop.
Contemporary Bathroom With Wood-Look Tile Wall
Sleek and sophisticated, this bathroom is the epitome of contemporary style. Neutral tones are soothing and timeless, as is the white marble used for the sink. Having a vanity without cabinets makes the space feel larger; the medicine cabinet mirror provides storage space. Thin-striped walls are a stylistic complement to the large-tiled wall behind the sink and commode.
The powder room is a great place to take some risks. "It''s not something people can see all of the time," Kelly says. "It's like that little jewel box you can have fun with."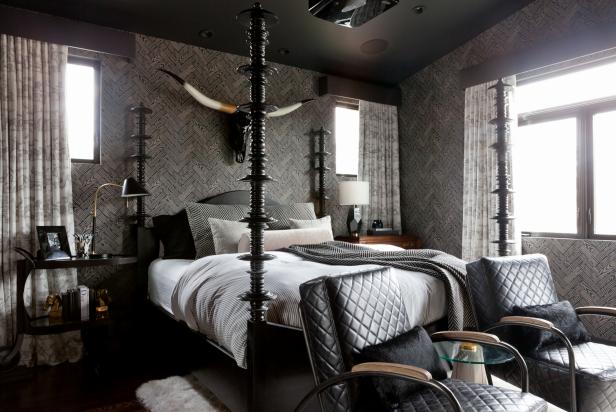 Masculine Contemporary Bedroom
A neutral wall covering and curtains balance out the dark furnishings in this masculine contemporary bedroom, which features a longhorn skull, four-poster bed and pair of black leather chairs.
"The ceiling is like a whole other wall to work with," Kelly says. "I like doing something dramatic and bold on a ceiling because I think it gives it a whole other layer, and it's one that's unexpected."
When mixed with other dark colors, a dark ceiling can make a space feel more intimate and cozy. When balanced with lighter colors, a dark ceiling will fade away and push your eye to focus on the contrasting walls or furniture.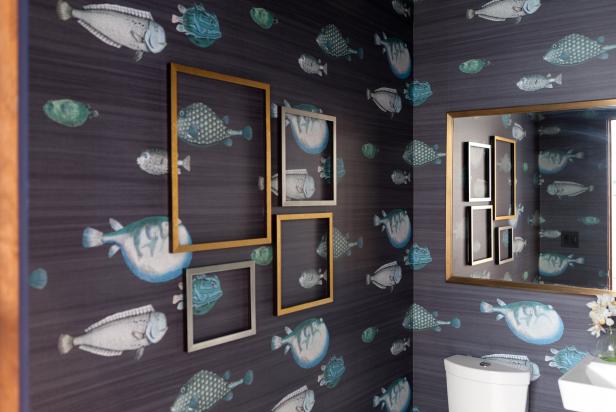 Coastal Bathroom With Fish-Patterned Gray Wallpaper
Blue and green fish swim around this bathroom on the gray striped wallpaper. Empty gold and silver frames arranged on the wall add some metallic flair and decorate the space without disrupting the wallpaper pattern. A mirror on the wall above the toilet reflects the wall design making the room appear larger.
Wallpaper is experiencing a comeback thanks to fresh patterns and playful prints. With wallcoverings, you can introduce textures that reflect light around a room and add visual depth that give a dark color extra life.