Furniture to Buy for Your Wedding (But Keep Forever)
Get your happily ever after with a strong, dark and handsome velvet sofa.
Couples come face to face with about 1.35 million rental options when selecting wedding furniture and decor. Ghost chairs, gold Chiavari or a sea of rustic x-backs? Are simple, white folding chairs even a thing anymore? What about a velvet sofa, welcome sign and the all-important cake stand?
The options are endless and overwhelming. Surprise! It becomes even more so when you realize you're facing similar decisions for your future home together. Should we splurge on this sofa? Can we sleep comfortably at night knowing we spent $300 on a mirror? Is this chandelier out of bounds?
If you feel totally overwhelmed from reading the above paragraph, welcome to the world of pre-marital bliss. The good news is this: Couples can kill two birds with one stone by purchasing quality pieces of furniture for their wedding and their home. Why spend a dime on some random rental for Uncle Ed to sit on for six hours when you can invest in a piece you'll use for the rest of your happily ever after, instead? Here's how you do it.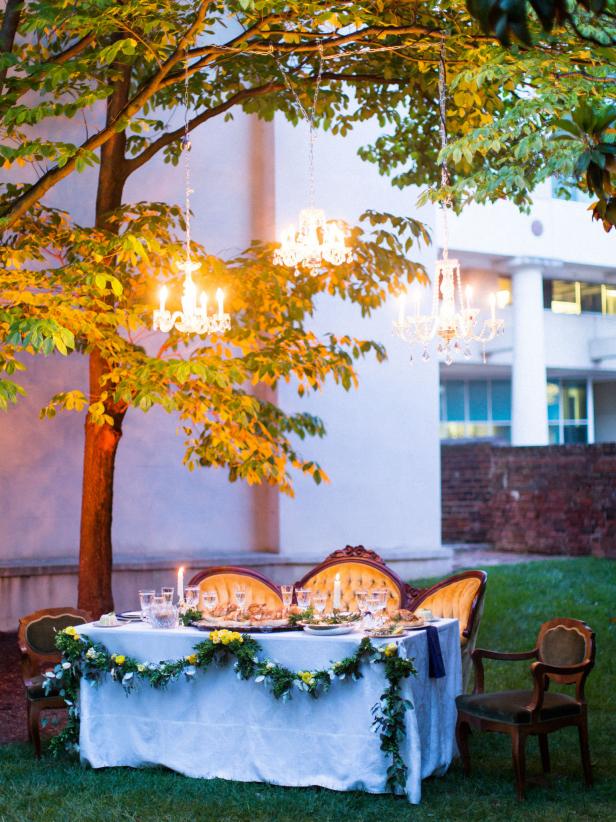 Tables and Wedding Lighting
Tables give you the opportunity to link your wedding decor, lights, and florals, says Isaac, of 100 Candles. "(Your cake table) will be a focal point, so make sure to plan for a design that complements the tablescapes to maintain a consistent look throughout the reception."
Stephanie Yonce Photography
Make your sweetheart table all the sweeter with a sophisticated sofa for two. This soft, velvet sofa with hand-carved trim brings major elegance to this summer soiree. Now, just imagine how stunning it would look (and how special it would be) in a newlyweds' home. Swoon!
Luxe lounge areas are becoming the norm for wedding cocktail hours. Your guests will need a landing place for that cocktail, yes? Bypass the rentals and, instead, consider purchasing a beautiful coffee table to use for the big day. The understated design of this mirror-top table is ideal for ultra-elegant events and everyday living alike.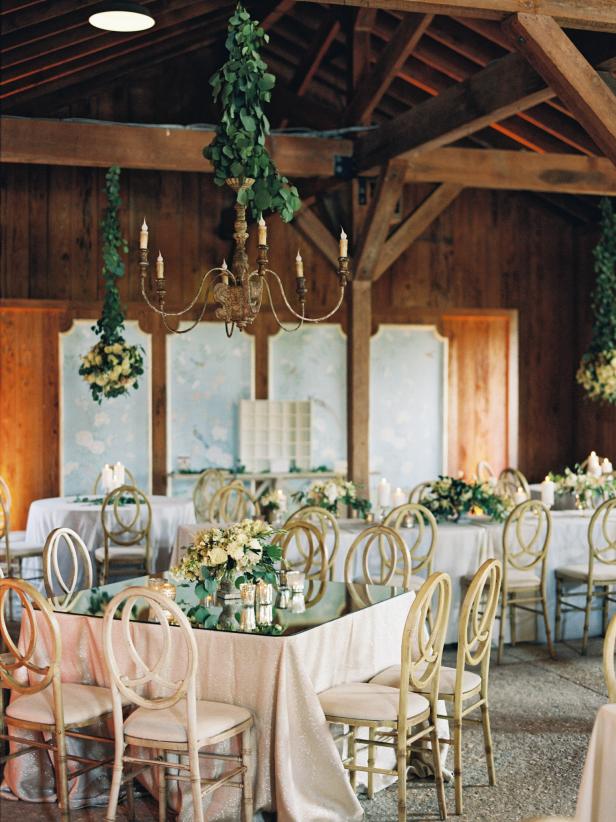 Wedding Trend: Greenery Accents
For brides wishing to achieve the lush, organic look, a touch of greenery does just the trick. It's an inexpensive addition that gives dimension and texture to tables, chair backs, arches, centerpieces and more.
Style Me Pretty/ Simply Sarah Photography
The right lighting makes all the difference. Chandeliers offer an opulence unmatched by any other fixture, really celebrating the importance of the occasion. Why not celebrate the love you have for each other every day? Use the chandelier from the reception to illuminate your dining room, formal living space or bedroom, and relive the happiest day of your life time and time again.
An ornate, gilded bar cart serves as a picturesque display stand for floral arrangements, sugary treats or big-batch libations the day-of. Even better? The newlyweds can wheel it on into their married lives and continue to use it for for many years to come.
Gussy-up a vintage folding screen with fresh (or faux!) blooms for guests to take photos during your reception. After the wedding, bring the beauty into your boudoir or bathroom for a sultry, sophisticated touch.
A wooden mantel adorned with fresh flowers and candlesticks galore makes for a breathtaking backdrop for a couple to exchange vows. It will look equally stunning serving as a statement piece in the couple's shared home.
Greet guests with hand-lettering on a luxe, large-scale mirror. Use equal parts glass cleaner and elbow grease to wipe it down to a blank slate, then style it in your foyer. What was once a welcome on your wedding day will serve as a permanent greeting for guests entering your home. Talk about special, right?
Poufs are perfect seating for laid-back, bohemian soirees. And, let's be frank here: If you're throwing a bohemian wedding, you're probably a lover of boho decor in your home. It only makes sense to purchase pretty poufs for the day-of, then bring them back for special seating in your home.
There's no question about it — rugs are expensive. If a couple plans to rent a rug for their reception or ceremony and anticipates purchasing one for their home, they should consider purchasing a rug that works double-time. Worried about spilling, ripping or other griminess? Opt to use your beloved rug in a low-traffic area of the event, such as the ceremony rather than the reception. You'll still achieve that personal touch without the dreaded destruction of your pricey Persian.
Crisp, white drapes will never go out of style and serve couples well as spectacular ceremony backdrops. Post-nuptials, simply throw the drapes in the wash or send them off for dry-cleaning and they'll be as good as new. Use drapes to frame your bedroom windows and soak up the subtle, romantic sentiment at the start and end of each day.
Tips + Tricks for Wedding Planning
Your wedding day may be gone in the blink of an eye, but the photos will last forever.
Because pretty parties are always more fun.
Know where to splurge and where to save when outfitting your first place.
Pro wedding planner Tara Guérard lists the necessary ingredients for a top-shelf celebration.