Crash the Coolest Kid's Room on the Block
Every kid's room needs its own slide and secret hideout.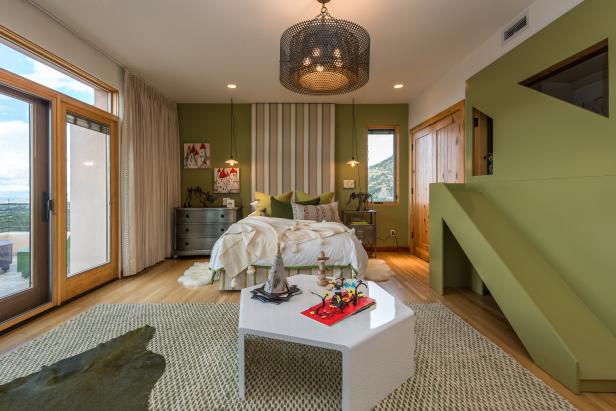 Kid's Green Bedroom Features Built-In Play Structure
A geometric play structure and modern table create an edgy vibe in this stylish kid's room. A calm color scheme of green and beige helps ground the space.
It's Spring Break week. Are your kids driving you crazy yet with, "What do we do now?" What if your kids' rooms were so cool and fun that they never wanted to leave, giving you a little "me time" this week?
I know you're laughing at me, but Santa Fe interior designers Heather and Matt French have designed a kid's room that's got my inner kid doing cartwheels. The duo behind French and French Interiors created a space with a secret staircase leading to a concealed reading nook with an escape slide. What kid wouldn't want a hideout and the best feature from the playground in their own room?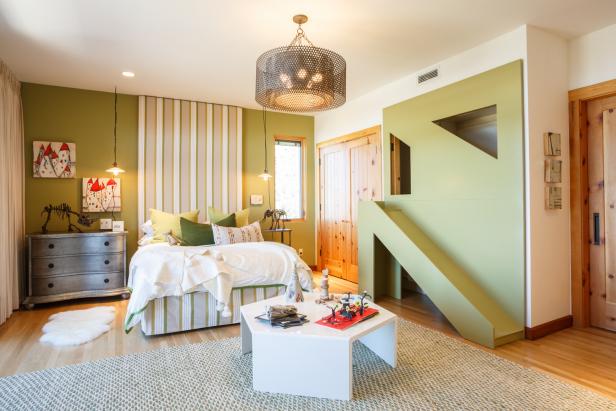 Kid's Green Bedroom Is Tasteful Yet Playful
This bedroom design is tasteful and refined enough to grow with the child, yet touches of whimsy ensure the space is appealing to a younger age range, as well. A geometric play structure provides a striking focal point and fun hideout.
The kid fort makes use of one of two large closets in the room, and the idea was a creative solution to a design challenge they encountered. The room is filled with dated yellow pine, but the Frenchs weren't allowed to paint or stain it to make it feel more current.
The Frenchs removed the wooden doors that had concealed the closet space — doors easily stored for future use when the resident kid outgrows the play area. The reading nook wall gave the designers a chance to introduce an earthy green color that feels hip for a kid while helping to temper the remaining pine trim in the space.
And if that reading nook and slide aren't enough, there's also a kid-sized table perfect for games and craft projects. The table can be moved to the side when space is needed to dance or rock out.
There's also a cushy, oversized pillow chair for when comfort is more important than hiding out and an adorable robot painting. The bed, headboard and dresser are also stylish enough to keep through the teenage years.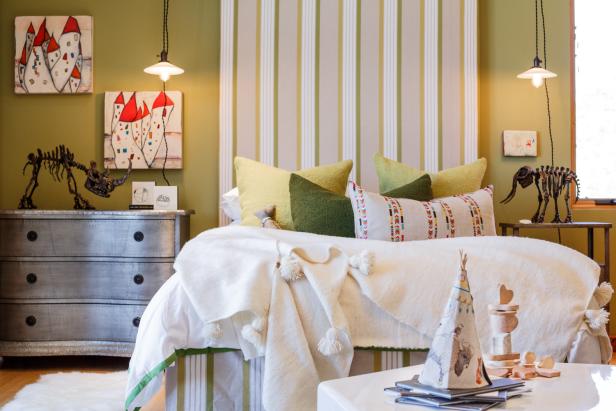 Kid's Green Bedroom With Dinosaur Skeleton Models Is Whimsically Chic
With deep green walls, crisp white bedding, playful artwork and kooky dinosaur skeleton models, this kid's bedroom is the perfect combination of whimsy and refinement. A metallic nightstand completes the tasteful design.
The Frenchs advice when it comes to kids' spaces? More is more!
"Have lots of storage, use lots of patterns and antiques and take design liberties you might not necessarily use throughout the rest of the house," they say. "Have fun, design from the heart and just go for it!"
Thanks for the peek into this cool space, Heather and Matt! Just one question: Does it come in an adult size?