6 Interior Designers Reveal the Fall Trends They Love
You'll be seeing these styles everywhere this season.
Okay, so fall doesn't officially start until September 22nd, but in my mind it starts the second August ends. (I literally wore a flannel on September 1st.) And it's not just me — interior designers have their eyes toward the season ahead, too.
So to get the autumn party started early, we reached out to a few pro designers to find out what trends they're most excited to try out this fall. Read on for their answers.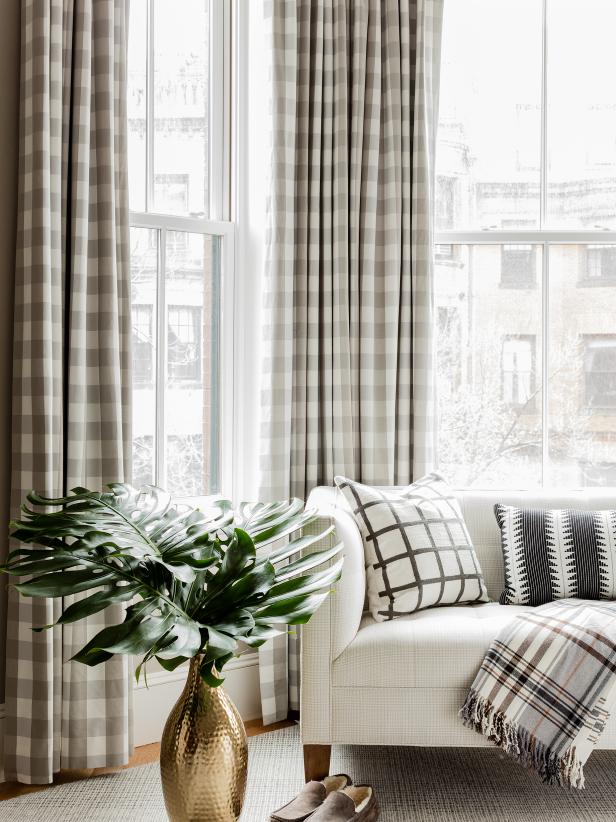 Neutral Living Room is Soothing, Eclectic
A mix of patterns in a neutral palette adds visual texture and tactile appeal to this eclectic living room. Gingham curtains dress the windows, while a contemporary sofa is paired with graphic-printed throw pillows. A gold vase adds a metallic note to the space.
"I'm looking forward to fall and seeing some of our installs come together. We're installing a home in late September that has some awesome plaid and gingham action going on. I'm particularly attracted to black-and-white plaid mixed with coral, red and brown accents. We're also doing a lot of leather in unexpected ways. I'm in love with binding chunky sisals and seagrass rugs in leather to give them a bit of edge and a cooler feel." — Susana Simonpietri, Chango & Co.
"I'm most excited about matte finishes on fixtures and appliances. Shiny metals like chrome have been popular for a long time so it's nice to see a change in this area. Matte finishes, especially in darker colors, can give your space an entirely different feel without having to renovate the whole room." — Peyton Lambton, HGTV's "Going Yard" & "My New Old House"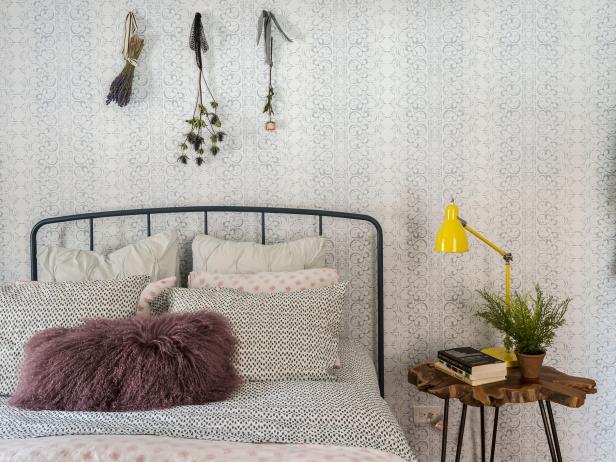 Bohemian Bedroom With Hanging Flowers, Live-Edge Table
Cozy up in this eclectic bedroom with punches of color and personality everywhere. Multiple, cool and complementary patterns give the room almost a monotone neutral feel. The eye is drawn to the perky yellow table lamp which is sitting on a slice of an old tree.
"We tend to look for inspirations in the past for ideas, and this year the relaxed, bohemian nature of the '70s era is coming back in the fashion industry and moving towards interiors as well. It's an eclectic mix of textured fabrics, exotic woods and nature-inspired materials." — Jack Menashe, Menashe Design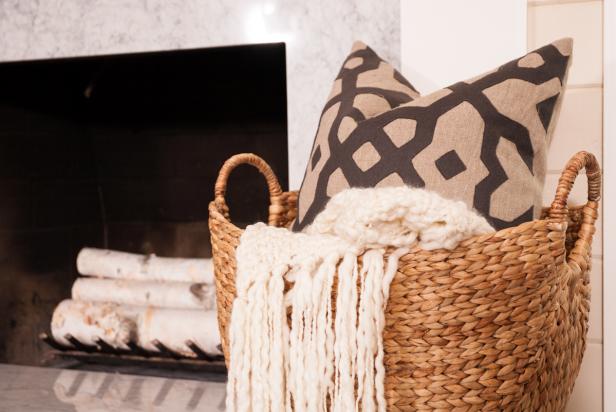 Basket With White Throw and Pillow
Corral clutter (or extra pillows) with rustic charm in a woven basket.
John Woodcock Photography
"This fall, I'm all about adding an uber-textural chunky wool knit blanket to any room. It's the perfect way to layer in a hint of the cozy winter weather ahead." — Emilie Munroe, Studio Munroe
"I am continuously inspired by people who style their flower boxes with cabbage, pumpkins, sprigs of wheat and gourds. When decorating clients' homes for fall, I like to pull in those elements of the colors and textures. I'm excited to start pulling those deeper, moodier colors that bring my designs to a really sophisticated level." — Holly Hickey Moore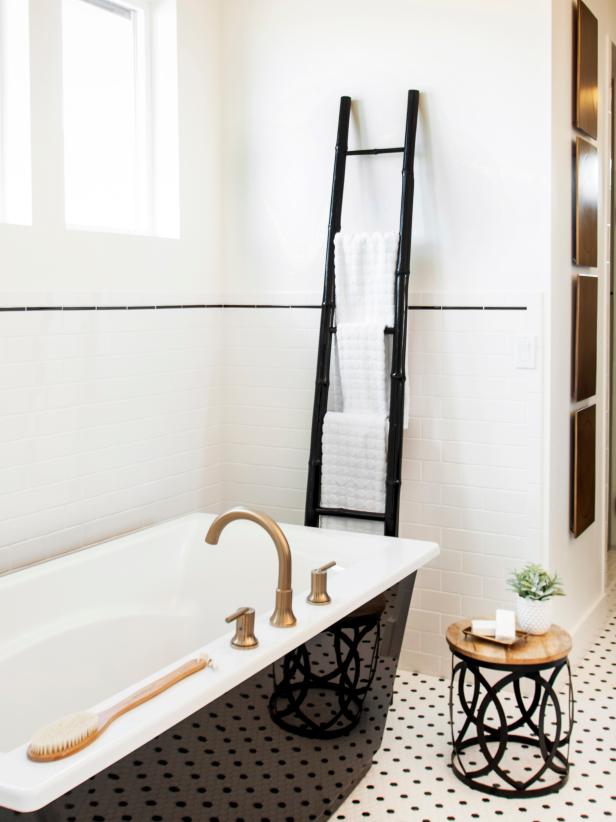 Black and White Bathroom With Chic Soaking Tub
The soaking tub is the highlight of this black and white bathroom. With its updated brass faucet, the tub feels both traditional in appeal and unique and modern in comparison with the recent chrome and silver trend. A black ladder shelf holds towels, and a nearby black stool holds soap and decorative items. Black and white floor tile rounds out the classic but contemporary feel of the space.
Allison Corona Photography, Let It Shine Photography, Doug Petersen Photography
"I'm excited to see that bathrooms are suddenly becoming more fabulous without being overly fussy. I love seeing the new stone tiles mixed with metallics in them; it gives us a chance to add a bit of shine to any bathroom. Everyone has been so obsessed with polished nickel for the past two decades that I'm happy to see brass making a comeback, but this time around it's not lacquered, giving it a more interesting and industrial feel." — Sheila Bridges