7 Ways to Spice Up Your Home With Tile
All you need is a little color.
Decorating a home can get a little repetitive. Though the process is creative, it's easy to fall into old habits and stop innovating with your design choices. Neutrals become the name of the game as unique color schemes and unexpected twists fall to the wayside in favor of the familiar. Be wary, though, it's easy to take a style you love a little too far.
One day you're loving subtle lace accents and the next day … doilies everywhere. Yikes. Maybe you prefer black in generous amounts, so you accidentally turn your home into a dark abyss. Your go-to design choices can easily cross the line from a fun proclivity into too much, so it's essential to seek out materials that let you break up the monotony, like fun, unexpected tiles.

Though their name may bring repetition to mind, tiles can actually provide a creative way to breathe life into an average room, setting your space apart. Especially if you think beyond tiles' usual spot on the bathroom floor. Strive for out-of-the-ordinary color schemes or one-of-a-kind patterns to find a look that's versatile and easy to work with.

Old habits die hard, but today, break the cycle. Here's how to shake it up and get out of your design funk with just a few tiles.

Washable Tile
The laundry room has floor-to-ceiling wall tiles with a graphic pattern that recalls antique ironwork and on first glance looks like wallpaper, but offers the benefit of a completely washable surface for this task space. A locally sourced basket offers a stylish way to transport clothes to and from the laundry room.
Robert Peterson/Rustic White Photography
Not every room has to be a solid, neutral color. Brighten things up with the help of an artsy pattern. These graphic walls from HGTV Urban Oasis 2016 give the laundry room a more bohemian vibe, which adds a fun surprise to a typically mundane utility space. Design by Brian Patrick Flynn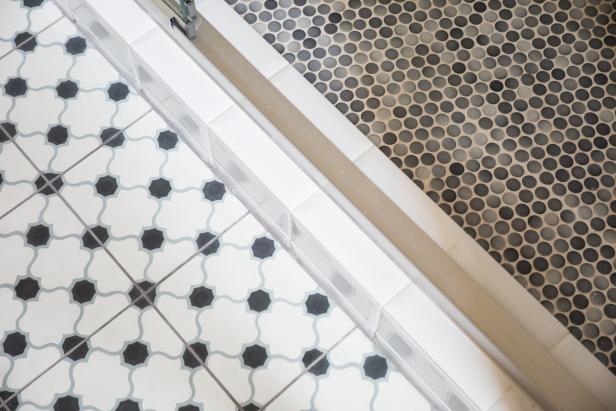 Mismatched Bathroom Floor Tile
Mismatched, patterned floor tiles work together instead of clashing thanks to their complimentary tones and similar shapes. Mixing printed tiles adds interest to a neutral bathroom.
John Woodcock Photography
Take a chance and break a few design rules while getting rebellious with mismatched tile floors. The key is to keep them complimentary, with each base belonging to the same color family. That said, don't shy away from crazy colors or weird patterns, just make sure they have a unifying detail. There are way too many choices for you to settle for just one. Design by J&J Design Group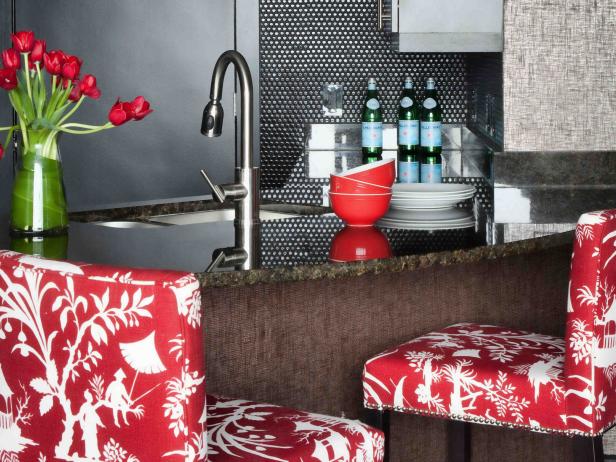 Add Texture With Tile
Pops of red stand out against the black penny-round tile wall in this contemporary kitchen. To add architectural interest to any kitchen, carry the same tile used on the backsplash up onto the rest of the walls.
Your backsplash doesn't have to play it safe. Set it free and make a splash with the help of an unexpected shape, like these penny round tiles. They're much more interesting than your typical smooth, porcelain square. Design by Brian Patrick Flynn

If you're not quite ready to commit to a full room of tiles, adding tile to one area is another way of keeping things interesting. Centralizing your tile (especially if it's this colorful) in one single corner keeps the pattern from feeling too busy and enhances the boldness of your color choice. Tile design by Vicki Morrow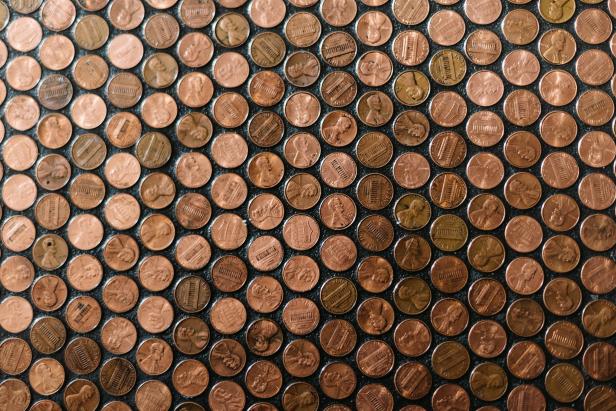 Copper Penny Tile Backsplash
Real pennies are used on this bar backsplash and floor. The eccentric detail adds a sense of interest for anyone joining the party.
Just in case you weren't quite sure what to do with all of those pennies jangling around in your pocket, cluttering the car or hiding under the couch cushions, this is one way to put them to good use. These copper penny tiles each tell a story, so adding them to your home will instantly add to its visual appeal. Design by SuzAnn Kletzien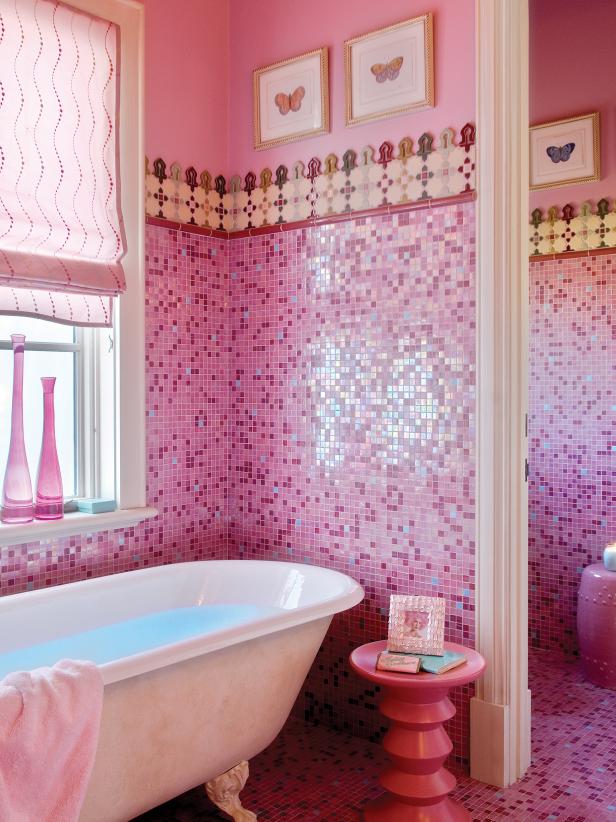 Teen Bathroom With Pink Mosaic Tile
Pink, pink, pink, everywhere in this teen's bathroom. Bizazza iridescent glass mosaic tiles on the walls and floors layer of irridescent sparkle with the matte walls. A white antique clawfoot tub adds the final feminine flourish.
Photo Credit: Edward Addeo, Gibbs Smith, Barry Dixon Interiors, Brian D Coleman, Edward Addeo (photographer)
Pick your favorite color … now keep going … and going. This Barbie Dream House recreation isn't for the faint of heart, but its varied textures and diverse shades keep it as grown up as a Malibu beach house. If pink isn't quite your speed, this style will work swimmingly with just about any hue you fancy. Design by Barry Dixon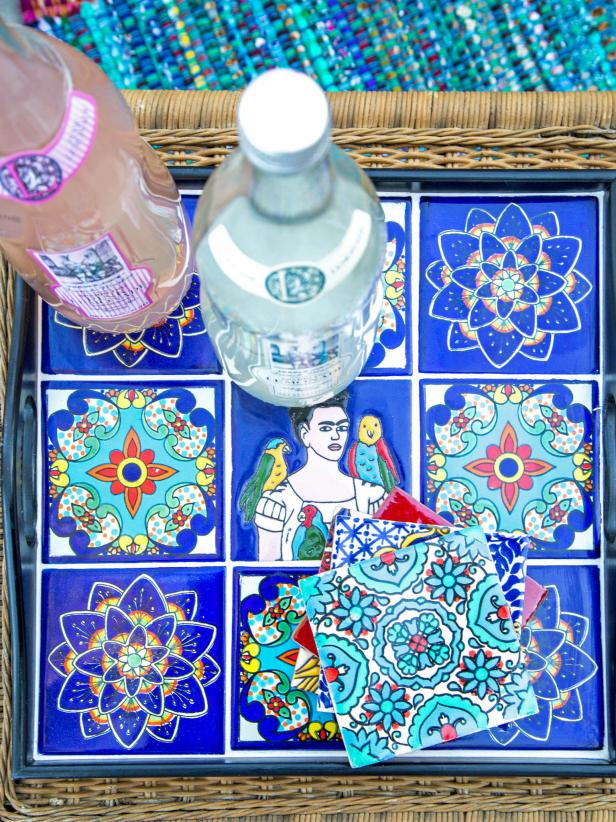 Colorful Tray Made From Mexican Tiles
Reinforce the design and style of your deck with carefully curated details like these trays, which feature unique Mexican tiles and pair perfectly with our DIY tile coasters.
Bethany Nauert; Styled By: Paige Geffen
Go off the wall and put your tile to use in innovative places, like this tray. Tiles are also easy to make into coasters or accent pieces, so excess product never needs to go to waste. Take the opportunity to create something special and unleash your inner artist. Design by Erica Reitman