12 Non-Traditional Holiday Colors to Try This Season
Trade out the traditional red-and-green color palette for a more bold and modern look.
There's certainly nothing wrong with decking out your home in red and green this season, but if you're looking for a different color palette that's chic, colorful and more modern — keep reading.
Whether you love vivid colors or prefer more subdued shades, we have a color palette sure to please every style and taste.
You can tastefully use bold colors that complement the living room's color palette. Here, a bright-pink tree is balanced with a teal sofa and graphic prints found in the armchairs and throw pillows.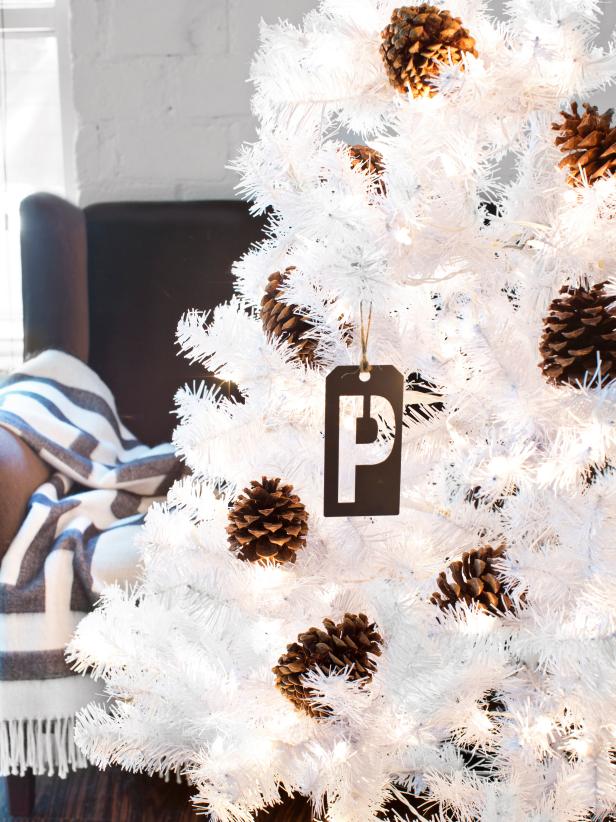 DIY Metal Stencil Christmas Tree Ornament
A metal stencil is repurposed as a personalized ornament on an artificial Christmas tree.
If loud colors aren't your style, opt for chocolate brown and snowy white. Decorate an all-white tree with pinecones found in your yard and an easy DIY ornament made with a painted metal stencil and twine.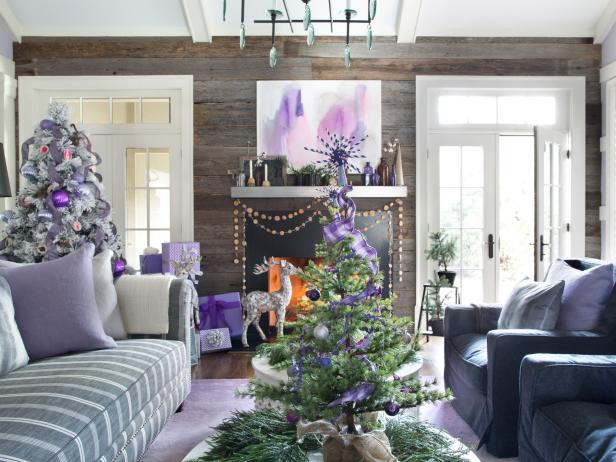 Living Room With Modern Holiday Color Palette
To evoke a feeling of romance amidst a cozy, cabin-like backdrop, this great room is layered with lavender, purple and plum along with rich, rustic textures and casual furnishings.
Bring in a sense of warmth with this modern and elegant color combo. Coordinating with your living room furniture creates a cohesive design that will last throughout the season.
Orange adds a pop of pizzazz to an otherwise neutral living space. Funky, colorful ornaments give the tree a vintage vibe. When using bold colors, it's important to balance out with neutrals to avoid a look that's too busy.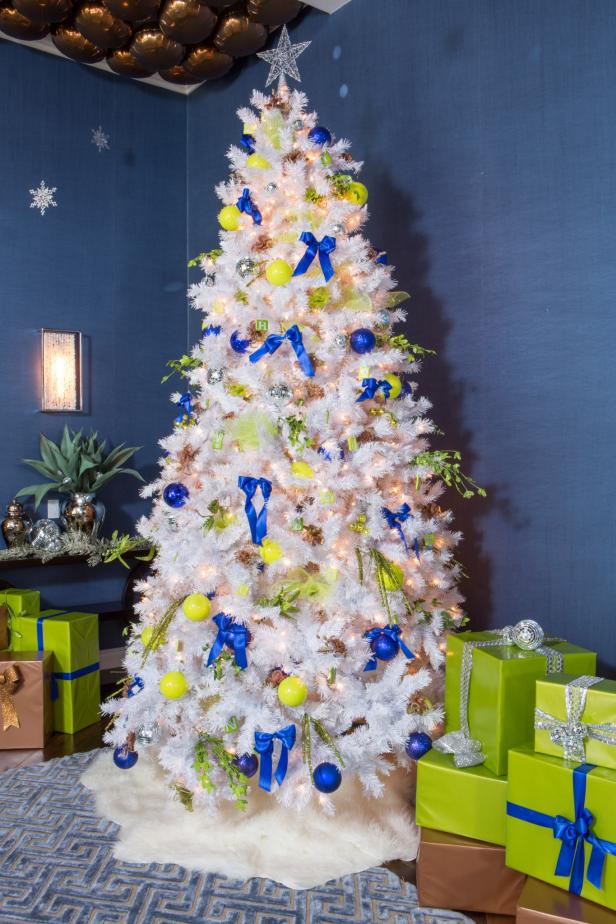 Kendra Wilkinson's Disco Ball-Themed Christmas Tree
As seen on HGTV's Celebrity Holiday Homes, designer Laurie March transformed TV personality Kendra Wilkinson and husband Hank Basketts' living room into a glittering, disco-inspired Holiday wonderland featuring a twelve-foot tall, white Christmas tree with deep blue and chartreuse ornaments, a custom mantle art piece, disco balls and copper-colored balloons on the ceiling. The tall, dramatic tree helps fill the large, empty space in Kendra's high ceiling living room.
Gilles Mingasson / Getty Images
For those who want to liven up an all-white tree, use bright, unexpected colors to decorate. Have fun with the color theme and wrap your gifts in matching paper.
Consider picking a theme for your decor. Shiny, green stockings trimmed with peacock feathers set the tone for this fireplace and add a unique twist on traditional holiday decorations.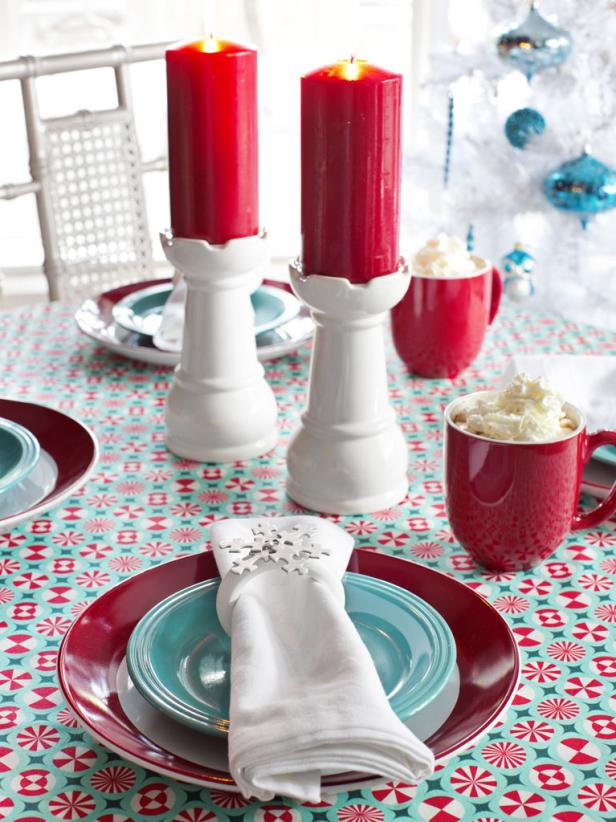 Winter Table Setting
With the sparse elegance of a white tree in the background, this colorful and playful table setting hints at winter while keeping a warm and cozy feel. Red, white, and blue dishes brighten up even the coldest of winter days.
Set the table with a lovely, wintry palette of red, white and Robin's-egg blue that midcentury modernists will adore. A fun, vintage tablecloth ties together the color scheme perfectly.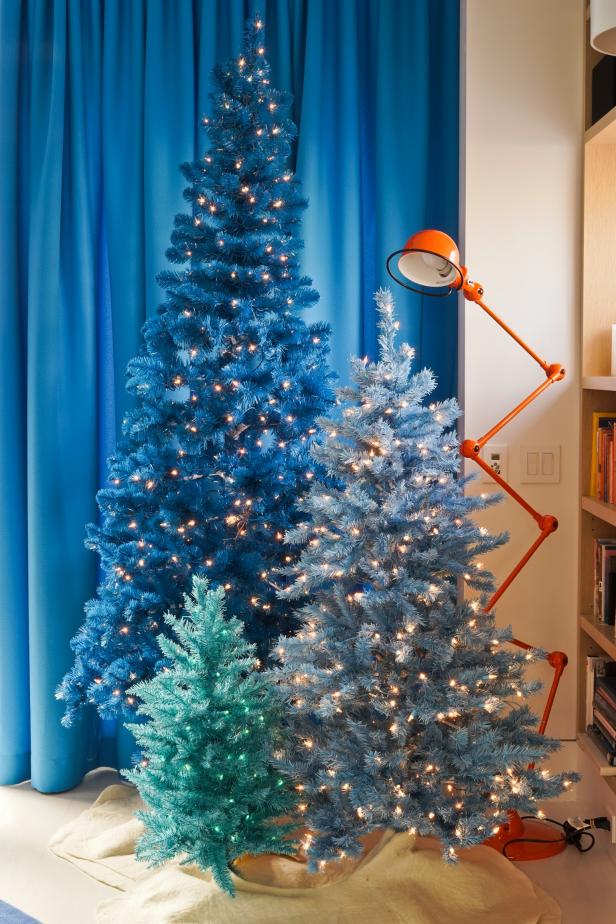 Trio of Blue Christmas Trees
You'll have a blue Christmas with these trees in shades of cobalt, sky blue and turquoise. An adjustable orange floor lamp adds a pop of unexpected contrast in both color and style.
Ghislaine Viñas Interior Design
Simplify your holiday design with shades of the same color. A trio of blue trees in varying heights turn this living room corner into a stylish and festive place to admire.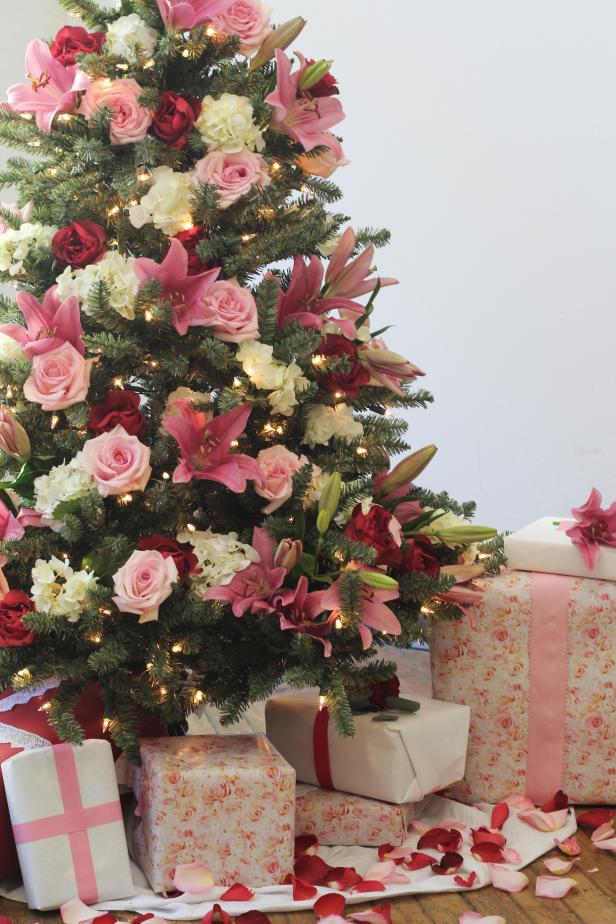 Floral Christmas Tree
Using real fresh flowers, create a true showstopper of a tree for a Christmas dinner party. You have two options when creating a floral tree: use silk flowers to have it last all season or use fresh flowers to design a dramatic Christmas tree for a special occasion. For this tree, I used non-traditional Christmas colors of pink, burgundy and mauve. Pink roses, pink lilies, white hydrangeas and red roses are inexpensive flowers that are readily available at your local grocery store or florist. Keep the color palette monochromatic and you can't go wrong with a fresh flower tree.
Create a romantic setting with a palette of pink, red and cream. Use fresh flowers in place of ordinary ornaments for a show-stopping focal point. If you want the look to last all season, choose silk flowers for an equally beautiful design.
Hot Pink, Lime Green, Turquoise + Black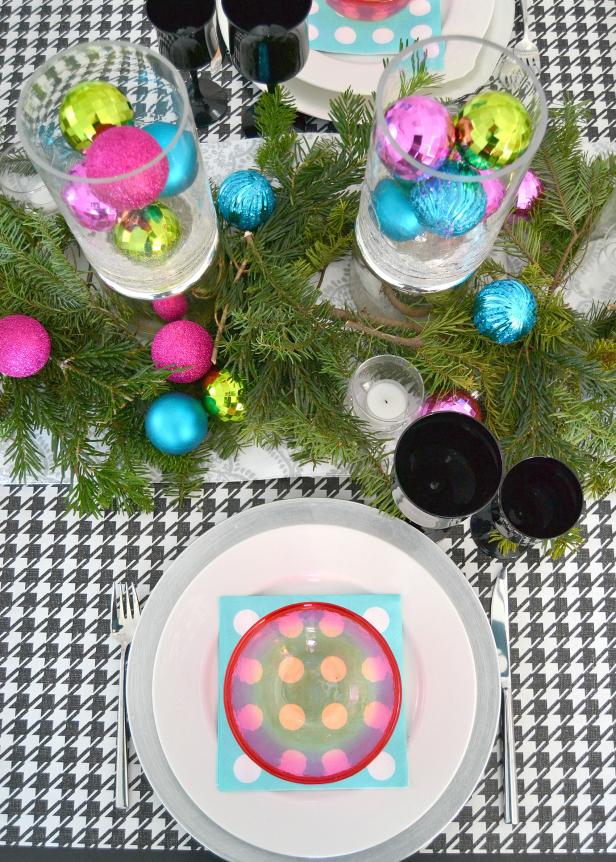 Pick Your Paper
A great way to create an impactful look for less? Says Willis, "Paper goods are a perfect way to add color!" Along with the contrasting wrapping paper "tablecloth," we love how the polka-dotted paper napkin is both decorative and functional in this design, playfully adding to and tying in the place setting.
Mix fun, bright colors with black-and-white accents to create a chic tablescape guests will adore. Simply fill clear hurricanes with colorful ornaments, surround with fresh greenery and use the remaining ornaments to decorate the table. Small candle votives and modern dinnerware help to complete the sophisticated look.
Black, White, Red + Metallics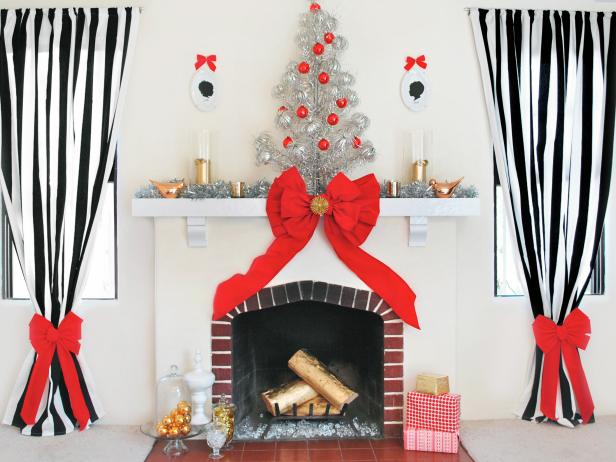 Retro Fireplace for Christmas With Silver Tree and Red Bow
It's great to be modern, but the holidays are all about tradition. So be sure to add a little retro styling to your holiday decor to celebrate all the joys of Christmas past. Don't be afraid to bring out the tinsel, your favorite red bows, and the traditional Christmas balls to deck the halls for your retro holiday. Photo courtesy of Mrs. Lilien
For an edgier take on traditional decor, try mixing red with black, white, silver and gold. Giant, velvety red bows paired with black-and-white striped curtains provide a retro vibe that's effortlessly chic.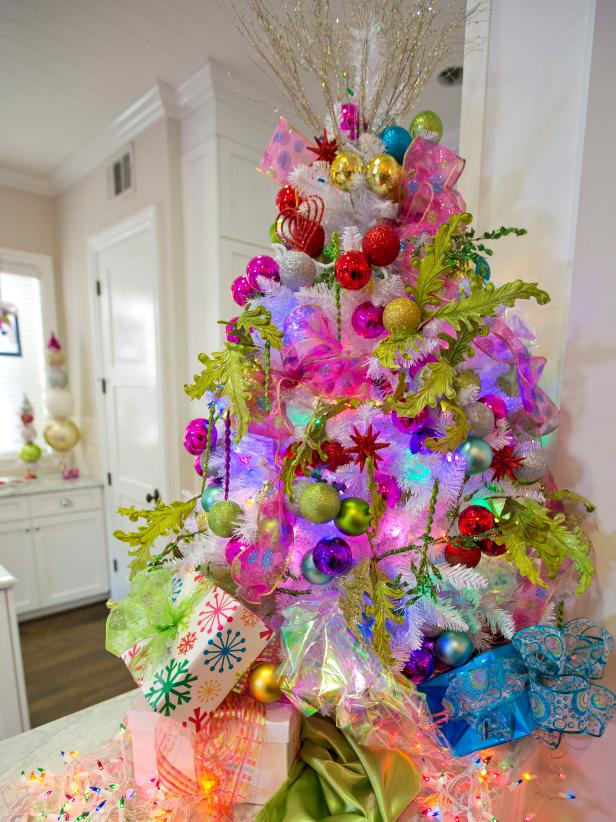 Bold and Vibrant Christmas Tree with Radiant Orchid Accents
Actress Haylie Duff knows her trends, especially the Pantone color of the year, radiant orchid, which accents her white Christmas tree so beautifully. The gold, apple green, red and turquoise ornaments also make a bold statement toward her gorgeous design.
Why stick to just a few colors when you can have the whole rainbow? In small doses, multicolored decor looks great and brings a fun, eclectic vibe to a neutral space.