The Best Inflatable Pools to Buy Right Now
Your favorite store might be out of stock, but we've found the best under-the-radar pools for babies, kids, adults and even dogs that you can still snag before summer arrives.
Keep in mind: Price and stock could change after publish date, and we may make money from these links.
Growing up, whenever I begged my dad for a pool, he would kindly and patiently explain to me that those took a lot of work. "They're expensive," he'd say. "They require regular maintenance," he'd say. And then finally, "Okay, kiddo, let's see the thousands of dollars you've been saving."
Well, the joke's on you, Dad! (Just kidding, you are wise beyond your years.) In-ground pools are a lot of work, but inflatable pools are both incredibly inexpensive and easy to set up; all you need is a pump. And though most places are out of stock right now, I've pulled together a few hidden gems — from kiddie pools to family-sized loungers — that you can still buy before summer arrives.
And if you're lucky enough to have a plunge pool? Well, I've tossed in a couple of fun floats that you'll want to grab while they're still available.
Pools for Babies & Toddlers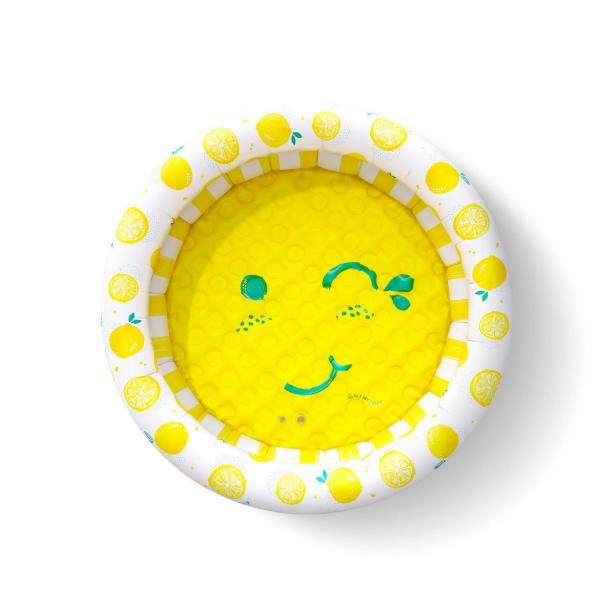 The Splash of Citrus Minni-Minni Pool brings all the fun of the original Minnidip but in a pint-sized package designed especially for little ones. At four feet wide and one foot tall, the Minni-Minni is just the right size for kids ages three and up to make a big splash.
Buy It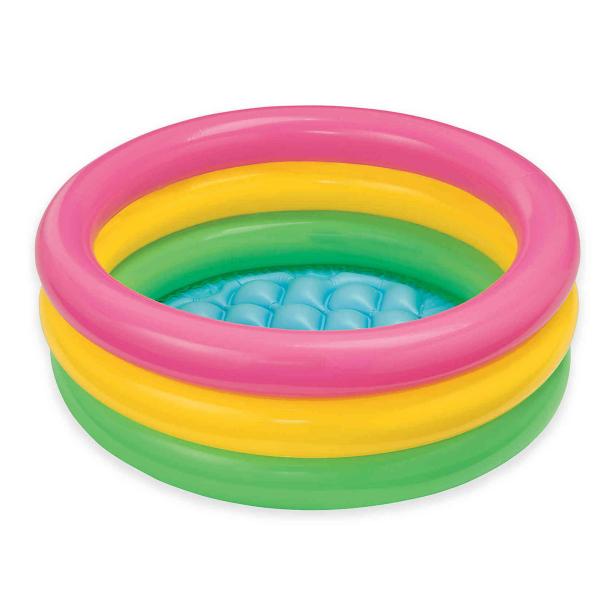 Simple and easy to set up, this Intex Sunset Glow is the perfect starter pool for infants and toddlers ages one to three. (And it should only ever be used with adult supervision, like all of the pools on this list.) Large rainbow-colored rings will capture your baby's attention while providing a safe barrier for play, and the pillowy floor will gently cushion their feet or bottom. For less than $10, you just can't beat the price.
Buy It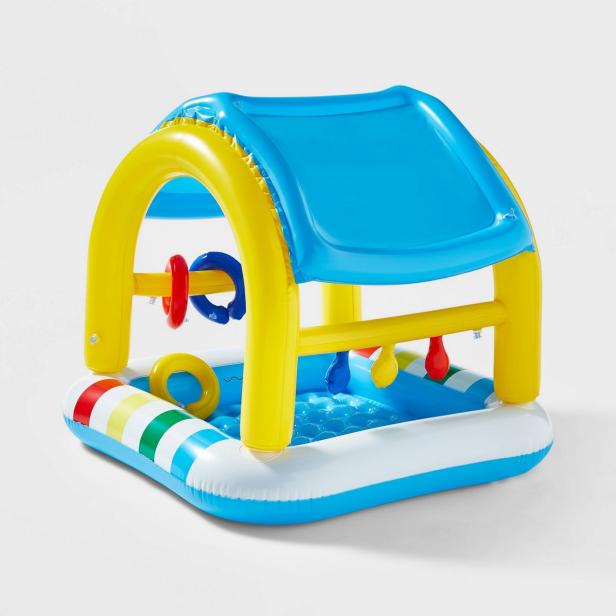 If you're looking for something even more exciting and engaging, then I suggest you check out this adorable Sunsquad Baby Cabana. Suitable for ages two and up, this pool comes with two parts: a removable canopy that offers shade from the sun and a lower basin for bouncing and splashing around. If you want to get mileage out of it year-round, you can always treat it like a play tent without any water.
Buy It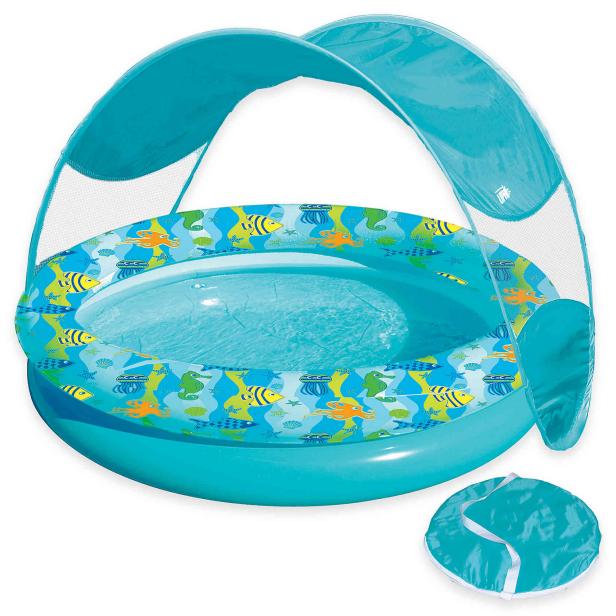 A little pricier but packed with sun-protective features, this blue baby pool is a great option for any parents worried about sensitive skin. Crafted from heavy-duty vinyl with special UPF 50, it's resistant to tears and helps block harmful UV rays. It also comes with a removable canopy, a carry bag for easy transportation and storage, and an adorable fish print that will wow your toddler and infant. It's suitable for ages two and up.
Buy It
Pools for Kids, Tweens & Teens
Pools for Families & Adults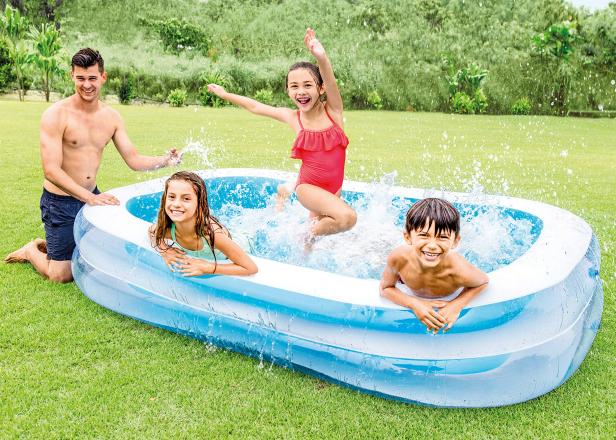 Get ready to live large, either with the kiddos or on your own, in this Intex family-size pool. At 103" x 69" x 22", it's the most spacious setup yet. It holds about 14 gallons of water and is just what you need if you want to kick back and read or keep a close eye on your littles.
Buy It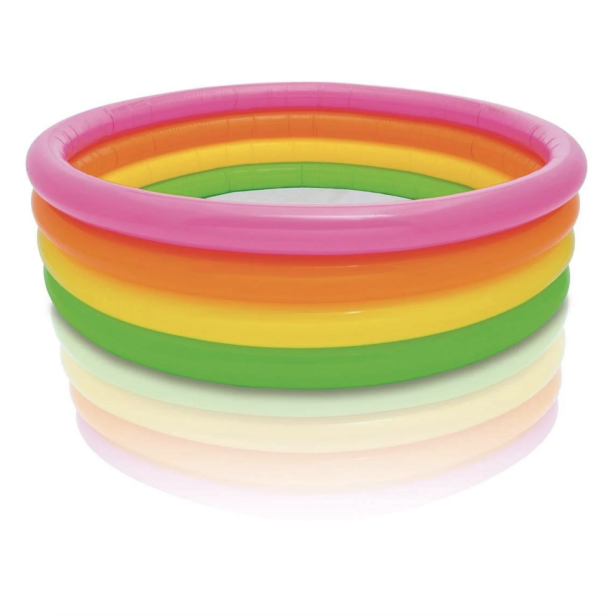 If you'd prefer to get in the water with your little one, then do yourself a favor and snag this slightly larger Summer Sunset Glow pool from Intex. It has the same rainbow-colored rings and padded floor but offers a little more room for baby and Mom or Dad. You can fill it with about 9.5 inches of water, which is perfect if you're just trying to cool off together.
Buy It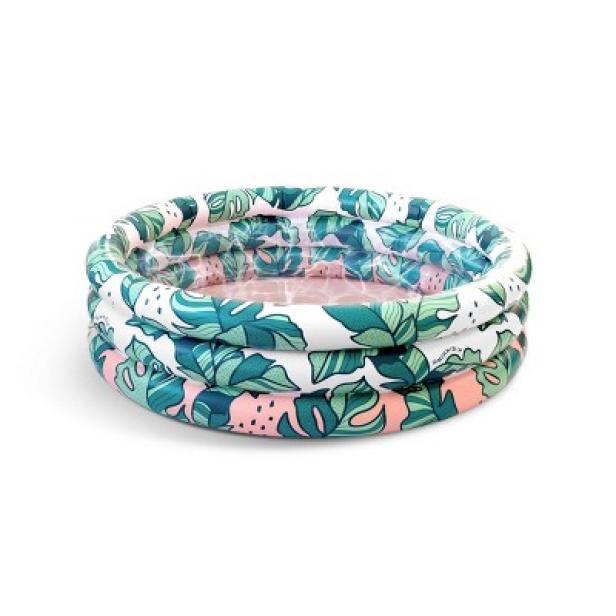 This Minnidip Luxe Inflatable Pool brings tropic vibes wherever you dip — backyards, patios and rooftops. Just bust out your pineapple tumblers and feel the palm breeze. At 5.5 feet wide and 1.5 feet tall, the Original "Adult Kiddie Pool" is perfect for adults and children ages six and up.
Buy It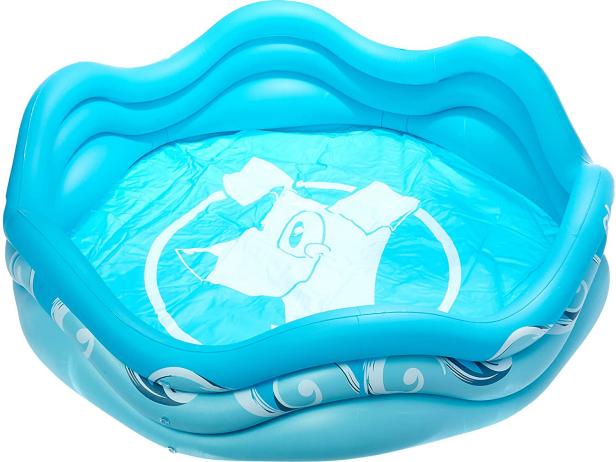 Why should humans have all the fun, right? If you've got a water-loving dog on your hands, spoil them with a pool from Alcott. Made from extra-tough PVC, it'll stand up to sharp teeth and nails, and it even has rounded edges and low dips for easy entry.
Buy It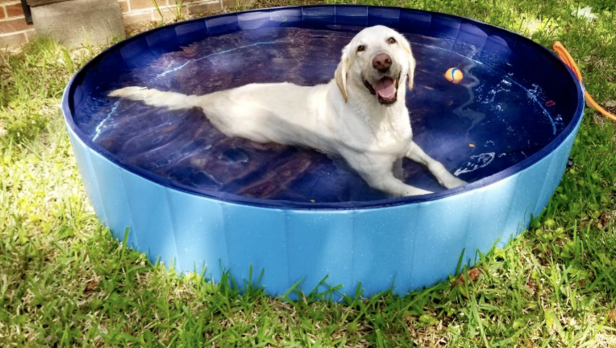 Teach your new puppy to swim, give your fur baby a bath or help your sweet senior cool off with this pool specifically designed for dogs. Since it's made out of PVC, which folds up and unpacks in literal seconds, you can trust that it'll last through the seasons.
Buy It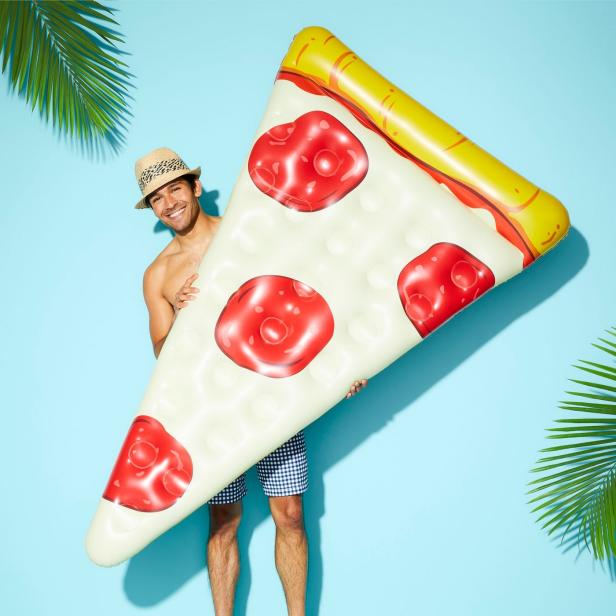 Want to add a little personality to your pool? Look no further than this float shaped like a slice of pizza. The wider end is perfect for sunbathing, while the point is better for paddling and playing in the water.
Buy It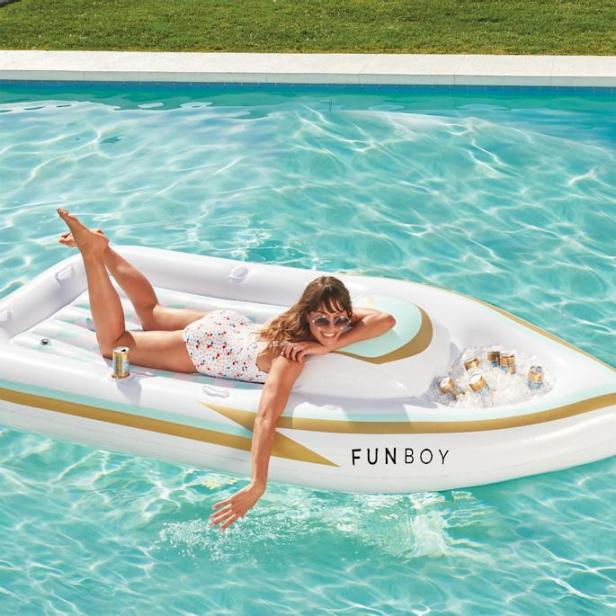 Take a quick cruise around your in-ground pool via this fun float shaped like a luxury yacht. You can keep beverages in the double-reinforced bow, which conveniently serves as a cooler, and stretch out along the middle. It's definitely more of a splurge, but something tells me that everyone in your family will get great use out of it.
Buy It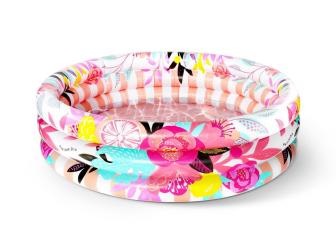 SET FOR SUMMER
SET FOR SUMMER
Kick back and relax in one of these colorful inflatable Minnidip pools.