The Votes Are In: This Is Your Favorite Color for Spring 2017
Twenty popular hues went head-to-head in our Color Vs. Color competition, but only one can be declared the winner.
The latest edition of Color Vs. Color was unlike any we've previously done. We featured more colors than ever before — 20 in four different categories — and since voting opened at the beginning of May, thousands of you have combed through the palettes and selected your favorite shades.

For those who may have missed out on voting or just learning about our battle of the hues, let me explain how this competition works. Collaborating with HGTV.com editors and design experts, I selected 20 on-trend spring colors and grouped them into categories (delicate, dramatic, historic and radiant). Voting opened earlier this month and after three weeks, a winner was chosen by HGTV fans.
Whether you enjoy bright, bold colors (tomato red, cobalt blue), soft neutrals (toasty tan, pink mist) or even historic colors with ties to the past (colonial blue, ash gray), Color Vs. Color featured a wide variety of hues. Spring is all about rebirth and we're confident these colors will bring new life to any room in your home.

After carefully counting the votes, your favorite color of the season is…

HGTV fans know what they like. Powder blue was also last spring's winner, and this popular hue can't be beat once again. The light shade of blue has a calming effect and works with most color palettes while allowing design elements to take center stage. Take this living room for example, pair powder blue with tan, a darker shade of blue and white to create a fresh and inviting space.

Jump on the powder blue bandwagon, and browse creative ways to use it in your home in the galleries below.

Layers of Blue
This small living room was enhanced by covering the walls, trim and ceiling in various shades of powder blue tones.
Pretty Backdrop
With its black-and-white stripes, the nightstand steals the scene in this soft, powder-blue bedroom. This modern piece proves that powder blue can provide the perfect backdrop to virtually any color combo.
Light and Bright
Powder-blue walls provide a soft backdrop in this transitional dining room. A vintage Sputnik glass chandelier hangs above the dining table with a mix of bench seating, simple orange chairs and neutral slipcovered armchairs.
Cool Blues
Cool blue tones flow from the artwork above the mantle, inspiring this laid-back palette.
Clean and Serene
Powder blue, brown and gray wash over this serene bedroom, creating a fresh, clean and neutral palette. To add dimension, the designers layered in different fabrics on the bed and window treatments.
Dreamy Americana
By layering indigo and powder blue, a unique mix of patterns and classic style, this guest bedroom puts a cool, casual spin on Americana.
Swimming in Blue
David Hockney's 1978 artwork "Swimming Pool With Reflection" inspired this California-cool bathroom. Watery-blue glass mosaic tile spills down the shower wall and out onto the concrete-gray tile floor, appearing to puddle. The custom back-painted glass vanity floats on the powder-blue walls and is anchored by a chrome faucet, adding a modern sophistication to this fun space.
Romantic Style
A simple palette of powder blue and white with small, romantic details like the herringbone throw and vase of white roses makes this master bedroom feel relaxing and inviting.
Luxe Spa
A transom window draws the eye up toward the vaulted ceiling detail in this luxurious master bathroom. Marble tiling is used on both the floor and backsplash for a cohesive look, and soft blue tones evoke the view of the ocean and sky outside.
Sweet Baby
Soothing powder-blue walls and a soft sheepskin rug create a calm space for a new baby. Graphic blue-and-white storage bins on the floor are an attractive and handy place to stash toys, diapers and books.
Cottage Accents
A soaking tub adds a contemporary touch to this powder-blue cottage bathroom. Plaid curtains, an antique wood stool and a painted lantern-style pendant light bring a homier feel to the space.
Eclectic Palette
Powder blue and fire-engine red create a show-stopping color palette in this spacious eclectic master bathroom. Elegant patterns and textures create a luxurious feel topped off with a relaxing, spa-style bathtub.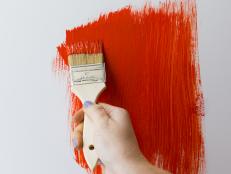 Personality traits play a major role in the colors we choose to wear and decorate with. Take our quiz and find out which on-trend hue from the spring edition of Color vs. Color you match with, then learn how to use it throughout your home.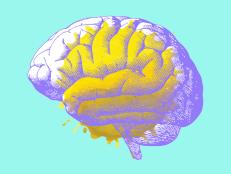 Different colors can impact the way we think, what we buy and even our design choices. Find the perfect shade that fits your aesthetic with this helpful guide featuring 18 popular hues.