See Why People Are Obsessed With the HGTV Smart Home 2016 Kitchen
The pictures are out, and the reviews are in. What do you think of this super smart kitchen?
HGTV Smart Home 2016 is here, and we couldn't be more excited! The kitchen alone is a work of art with its stylish patterns, jaw-dropping colors and so many impressive design details that it will, no doubt, take the winner several days to become accustomed to their swanky new cooking space. But if you're looking for the inside scoop now, check out some of our favorite details of the space.
The island stools are super comfy with plush seating in a bold, graphic pattern that's accented by a delicate nail-head trim. Can't you just see having breakfast (not to mention brunch, lunch and dinner…) in one of these gorgeous stools?
Antique brass is huge right now, so of course, we're in love with these stunning pendants. Even better? The home's smart system makes it possible to control the lights with your phone!
Remember when double ovens were the envy of all cooks? Well, hold onto your seat. This kitchen features a 30-inch electric oven, a seamless convection microwave with a drop-down door and a 30-inch warming drawer. Making dinner never felt so right.
Beautiful bronze drawer pulls bring a mood-lifting warmth to the space that blends perfectly with the soft gray-blue cabinetry. This smart kitchen also includes a docking drawer to keep devices fully charged and out of the way.
The showstopper in this kitchen is undoubtedly the colorful backsplash that features hand-painted tiles in a fun but relaxing color palette. According to designer Tiffany Brookes, the bold backsplash "gives somewhat of an updated Spanish feel to the kitchen." We couldn't agree more.
Aside from a monster pantry (we'll get to that later), this kitchen is packed with storage. Even the island houses extra cabinets that would be perfect for the stuff you don't use every day.
Impress guests with a convenient beverage station that makes mixing cocktails or making coffee a breeze. It even features a pass-through window that leads to the porch. And as if that wasn't enough, a second sink makes it extra easy to quickly wash fresh fruit or your favorite coffee mug.
And speaking of coffee, built right into the fridge is a fully automated stainless steel coffee machine. Basically, this feature alone would make for a dream kitchen, and it's just one of many in this amazingly-smart space.
And now what you've all been waiting for: the pantry. For anyone who ever felt like they needed more space in the kitchen, this pantry is nothing short of a beautiful dream in which you hope to never wake up. It features tons of cabinet space, shelving that extends all the way to the ceiling and even a desk area for keeping life organized.
Oh yeah. The spacious pantry also includes an adorable mudroom with a sitting nook and plenty of spots for shoes, coats and pet supplies. Basically, this pantry has it all.
Are you ready to enter for a chance to win this sophisticated Southern home in Raleigh, N.C.?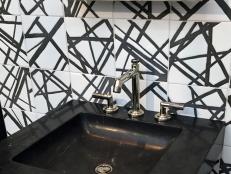 Tired of neutrals? Our trend expert shares her favorite eye-catching pieces for the kitchen and bath.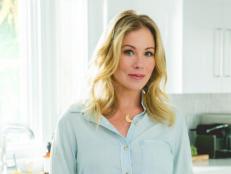 Get an inside look at actress Christina Applegate's easy and affordable kitchen makeover with Laurel & Wolf.