Rise to the challenge of designing for the smallest of small kitchens, from the RV to the urban apartment.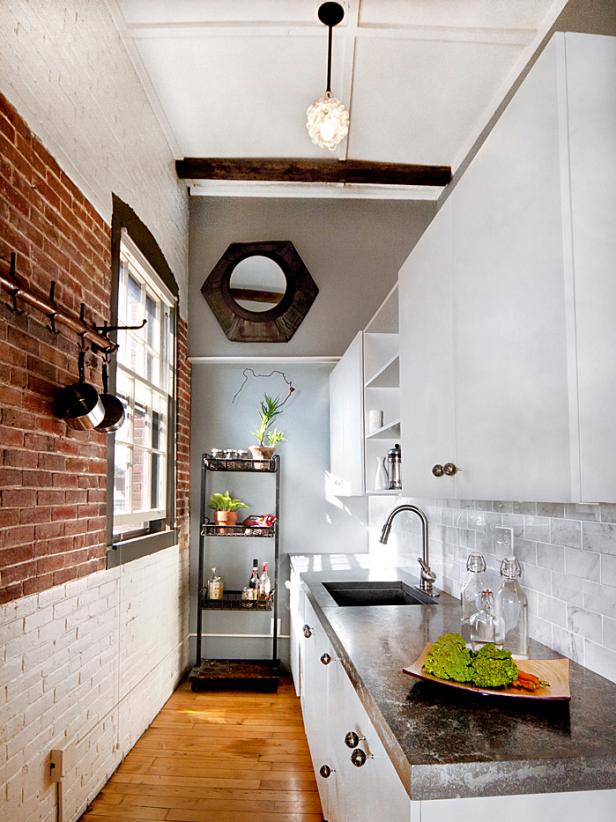 Rustic Modern Loft Kitchen
Designer Tyler Karu added a bright paint stripe on the brick wall so that the exposed brick doesn't feel too overwhelming. The rustic mirror is from Portland Architectural Salvage, and he chose a marble subway tile from Home Depot for the backsplash.
When it comes to very small kitchen ideas, "small" is a relative term. In this case, we're talking about the New York City apartment, college dormitory, retro airstream trailer and RV variety of small kitchens.
The commonality between very small kitchens isn't just their limited square footage, which is generally 70 square feet or less. It's their shared distinction of being minimal, orderly and hardworking all at once. Here's a blueprint for rising to the challenge of a very small kitchen.
For the owners of modestly-sized kitchens, the first key is to think like a minimalist and edit your culinary collection down to the bare necessities. Whether your kitchen is 20 square feet or 200 square feet, it's a healthy habit to eliminate the non-essentials in your home. Among the keepers, of course, are the appliances. Great solutions for a tight space include petite European models, an under-counter refrigerator and freezer drawers and a wall-mounted faucet.
Now that you've pared down to those things you really need, it's time to arrange them efficiently. Toss out those gadgets that never get used or knick knacks that aren't necessary. As the hub of your household, a kitchen easily attracts clutter; this tendency is heightened in very small kitchens.
Introduce organization by investing in a custom cabinetry system with features such as concealed storage or a tall, narrow silhouette for added stock space. Alternatively, open shelving grants the illusion of more space to kitchens with a small footprint.
Paramount to a kitchen's efficiency is its layout. When space doesn't even allow for a galley-style floor plan, a one-wall kitchen becomes the ultimate space-saving solution. Because this single wall will house your countertops, cabinets and appliances, it's smart to consider the most efficient order for placing each item, like installing the sink next to the dishwasher and taking advantage of the entire wall real estate by installing floor-to-ceiling cabinets.
Everything in a very small kitchen must earn its keep! Instead of serving one purpose, elements are needed to work double-duty. For example, cabinets can house hideaway nooks for appliances, spice racks can easily attach to the inside of cabinet doors, and the wall can be used to mount necessities like a paper towel holder or a pot and pan rack. Carefully consider a product's multiple purposes before bringing it into your cramped quarters.
Not only will these changes make your very small kitchen live larger, but they instantly propel your small space toward a tidy, modern and sophisticated culinary headquarters.
Inspiration for a Small Kitchen