Reasons to Choose Ceramic Tile
Ceramic tile is a smart choice for floors, countertops and walls because of its durability, beauty and endless design choices.
Ceramic tile is one of the top choices for the kitchen and bathroom walls and floors. It's impervious to moisture, stands up to stains and won't absorb bacteria or odors. It's a great choice for spaces that gets a lot of traffic. Ceramic tile comes in a wide range of colors and designs for a sleek, luxurious look. Tile sizes range from tiny mosaic to large format and come in just about any shape imaginable. Choose from almost any installation pattern, and incorporate trim pieces, borders, and inlays to accentuate decorative elements. Mix and match colors and sizes for visual interest, or repeat the same styles on the floor, countertop or backsplash for a cohesive look.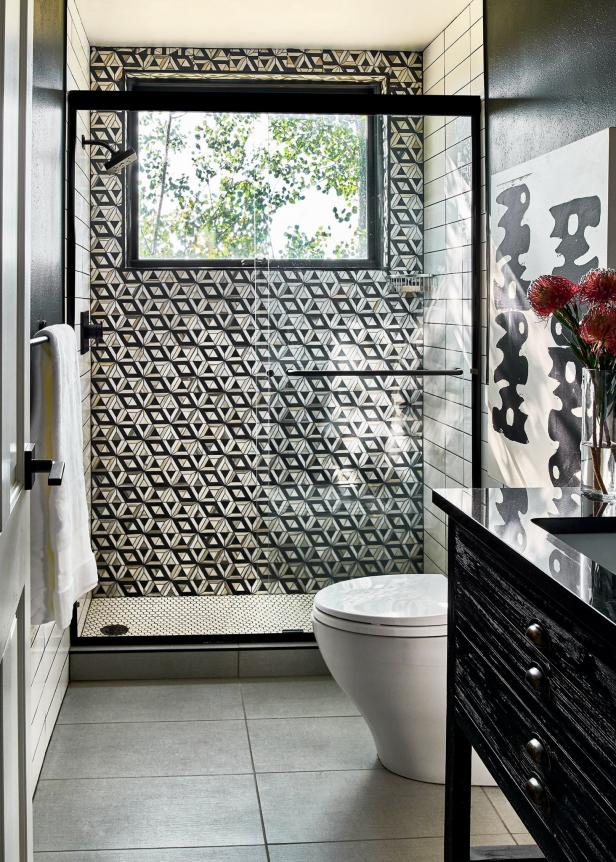 Geometric Black and White Tiled Bathroom
This midcentury modern, black and white bathroom features an artful and geometric mix of shower, wall, and floor tile alongside a chic black vanity and bold artwork.
David Patterson, Mountain Architecture Design Group, Timberline Contracting
When choosing tiles for a bathroom, consider how wet the room will get. Moisture-prone rooms require tiles that are impervious to water and safe to stand on with bare feet. Shiny, glazed tiles add glamour to walls and countertops but they can be slippery when used as flooring. They might be best for a half bathroom that doesn't have a shower or tub. Tiles with a matte or textured finish provide traction and are safer for wet feet.
Manufacturers are introducing tile options that incorporate recycled materials, for a more eco-friendly product. For the ultimate indulgence, install radiant in-floor heat to warm up bare feet.
You can also get grout that has enhanced moisture resistance and antimicrobial properties.
Learn all about the different types of tile and slabs that can be used on floors, walls and countertops including ceramic, porcelain, cement, marble and more. Plus, we'll explain PEI rating, glazing and which tiles are easiest to install.
Considerations When Choosing Ceramic Tile
Tough Enough? Ceramic tile lasts for decades and stands up to the toughest wear you can dish out. It can withstand water and foot traffic.
How to Clean. Ceramic tile is easy to clean. Avoid abrasives such as steel wool and scouring pads lest you scratch the tile surface.
Underlayment. Ceramic tile should be installed on a subfloor that's smooth, flat, rigid and clean. Acceptable surfaces include concrete slab, cement-based backer board, underlayment-grade plywood, and existing tile (in good condition). Specialty underlayments and membranes are also available; often these can extend the life of the floor, add a moisture barrier, dampen sound, and minimize cracking.
The Lowdown. Ceramic tile is composed of clay, water, and other substances fired at high temperatures. It's resistant to stains, water, bacteria and odors. It also resists scratches and fire, and it's available in a range of shapes, colors and styles. Keep in mind that without radiant heat underneath, ceramic tile can be cold on your feet, and it can be uncomfortable to stand on for long periods. Also, be aware that the tiles can crack and the grout can become stained.
Ceramic and porcelain tiles share many similarities, but they also have noteworthy differences. Learn the pros and cons of each material to help you decide which is the better choice for your home project.