Plan a Small-Space Kitchen
Create a small-scale, smooth-functioning hub with savvy space planning and chic style.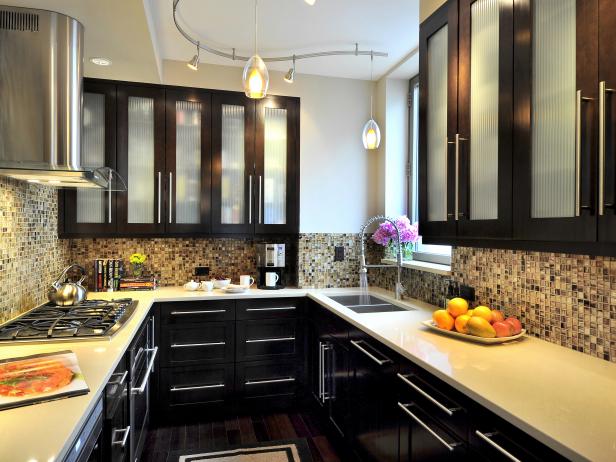 Stylish Small-Space Kitchen
In a small New York City apartment reflective glass mosaics create an appealing focal point, distracting the eye momentarily from the size of the space. Design by Jason Landau; photography by Peter Krupenye
In a small New York City apartment reflective glass mosaics create an appealing focal point, distracting the eye momentarily from the size of the space. Design by
Jason Landau
; photography by Peter Krupenye
Kitchens have morphed into multifunctional hubs where families gather to cook, entertain, pay bills, plan schedules, do homework and watch TV. But not everyone has enough square footage to serve all those functions and circulate comfortably.
Some kitchens, particularly those in walkable urban locations, may be long skinny galleys or tiny boxlike rectangles. That doesn't mean you can't cook together, house favorite equipment, sit, eat and make your space look stunning. You just have to do so on a smaller scale with smart planning and prioritizing. Here's how:
Choose the right-sized equipment. Appliances occupy the most space in any kitchen and represent a hefty outlay, second only to cabinets. Choose according to your cooking needs, but know that many manufacturers are designing smaller-sized appliances that function as well as their bigger counterparts, just without some bells and whistles. You can find 18" rather than 24" dishwashers, 24" rather than 30" wall ovens, 24" instead of 30" or 36" refrigerators, and sinks smaller than the standard 30".
Prioritize choices based on your space and cooking style. If you love to entertain, go for a bigger range and refrigerator, says Jason Landau of Amazing Spaces, but scale back on counter space and storage. Or go with a big 36" range with big oven and a microwave, but maybe do without a wall oven. You might also consider a 30" single-bowl sink, possibly with integrated drain or cutting board to gain another work surface. In one small 8 ½' by 9 1/2' Los Angeles kitchen, Melissa Salamoff of Salamoff Design Studio gave her clients the standard-sized equipment they wanted but left out a microwave.
Always try to place appliances according to the old-fashioned triangle concept to save steps, whether in a galley, L- or U-shaped layout. In some cases, you may find a spot in an adjacent room or closet for items you want but had no room for in the main area, such as a wine cooler, Salamoff says. Even your garage can house a secondary oven or refrigerator, so it can become a staging area at holidays, says designer Cheryl Kees Clendenon of InDetail.
Budget smartly on cabinets and shelves. Cabinets are key to smart kitchen layouts and happy cooks. But because cabinets represent the biggest outlay of dollars for most remodeling jobs, about 50 percent to 60 percent, you should think hard about how many you want — and really need.
Start by measuring your existing cabinets' linear feet. Decide if you need the same amount, more, or could get by with fewer.
Consider if you can go with some open shelves; they cost a lot less, keep the kitchen looking bigger and more open, but you need to be a neatnik. Clutter makes kitchens seem smaller.
Optimize storage. Having enough room for everything can be tricky with so many tempting gadgets. Here's how to find space:
Give away anything you don't use regularly. Bid goodbye to yesteryear's fondue pot or go smaller with a hand-held rather than stand mixer.
Go vertical with cabinets — as high as you can — and install over extra windows if you have a spot for a skylight. Replace cabinet fronts with glass to make your space look bigger.
Find storage in unexpected places: on a small shelf above a range, in cubby holes that replace a hood, under a sink, on the inside of cabinet doors, or in toe kick recesses.
Save room at the end of a cabinet run for a tall cabinet since most small kitchens don't have space for a walk-in pantry. Install adjustable shelves within for flexibility for tall cereal boxes or tiny jars.
Design pullout shelves in base cabinets, but with adjustable shelves that have been cut back from the face 4", so you can spot quickly what's in the bottom, suggests Clendenon.
Divide a few cabinets so you have room for long, thin, tall items such as cookie trays, muffin tins and extra cutting boards.
Hide smaller appliances in cabinets, but avoid tambour doors that are awkward to flip up and access, Clendenon offers.
Find space for an eating area. Tables gobble up kitchen real estate fast. Be sure to have 3' between a table and base cabinets for circulation. Add a peninsula or island where you can eat, use a rolling island, or knock down a wall between your kitchen and dining room, suggest designers Katie and Ruben Gutierrez of Errez Design.
You may have enough wasted space nearby that can be converted. A small 10' by 10' kitchen in a 1920s Miami house didn't have room for a table, but the Gutierrezes found a 6' by 7 ½' laundry room that could also work with a banquette.
Expand your square footage with color and lighting. Here are a few tips for choosing colors and sufficient lighting to complement a room's size.
Lighter paint, wood and countertop colors expand space. Choose glossier surfaces such as satin rather than matte paint and stone with sparkling flecks. If you want to go dark, limit your palette to a few choices.
Use fewer seams when selecting countertop and backsplash materials. Solid surface Corians and certain granite slabs chop up a room less.
Consider one bold accent wall, with a colorful paint or bold overscaled wallpaper, for an eye-catching focal point, suggests designer Lisa Wolfe of Lisa Wolfe Design.
The more natural and artificial light the better. Layer lighting with recessed cans; light strips under cabinets; decorative and task pendant lights over tables and islands; and lights above cabinets when they don't reach the ceiling. "Uplighting a ceiling adds airiness," says Salamoff. Put lighting on dimmers to change the mood since kitchens now are used for all sorts of purposes.
Include enough outlets and put them in unobtrusive spots: power strips mounted below an overhead cabinet, and outlets including a phone jack in the back of a drawer for phone chargers and even to conceal a phone or two.
Accessorize wisely. Keep countertops clear of "stuff." Heed conventional real estate wisdom by not leaving out more than three items. Integrate a microwave and coffeemaker into cabinetry; mount a paper towel holder and small TV on a wall; stick a knife block or rack in a deep drawer; organize spices in racks on interior cabinet doors; and group utensils on magnetic wall strips that add instant chef cachet.
Arch-Interiors Design Group. Inc.
Many small kitchens can't fit an island but by making it narrow and using an overhang, Christopher Grubb succeeded. Gray tiles laid on a diagonal expand the space visually. Photography by Greg Weiner
Build an island. Your kitchen island should have at least 3' of clearance on all sides to walk around, suggests designer Chris Berry, ASID, owner of brooksBerry & Associates Ltd. For comfort, go with 4 ½' or 5' for stools to be pushed back, if there are appliances or cabinets behind. Most small-kitchen islands aren't big enough to include two levels and also would look out of scale.
If you have room for an island, make it work hard. Add storage on the back side by appliances. Hide outlets with a strip of plug mold that you tuck underneath the countertop overhang or with a flip-down cover, so the island surfaces becomes another work area, says Clendenon. If the top is big enough, maybe, add an extra or even the main sink.
Keep the island in similar colors and materials to the rest of the room to make the room appear less choppy. There should also be fewer bold details: one type of handle on drawers or cabinets, one color or pattern, few distracting embellishments like brackets, corbels or furniture feet. Consider instead a small movable cart that can roll into another room.
Get tips for designing a master bath as luxurious and enticing as those found in the finest spa retreats.