Tour a Sleek Kitchen With Room to Entertain
A reno got a Washington, DC, exec into her kitchen again. Now she's cooking!
Keep in mind: Price and stock could change after publish date, and we may make money from these affiliate links.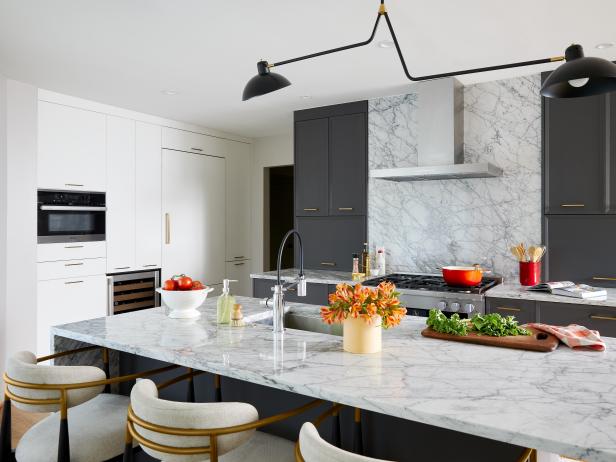 Modern Glam Kitchen in DC
This sleek black-and-white kitchen features a large island, modern light and a marble backsplash and counters.
Liz Daly; Styling: Eddie Ross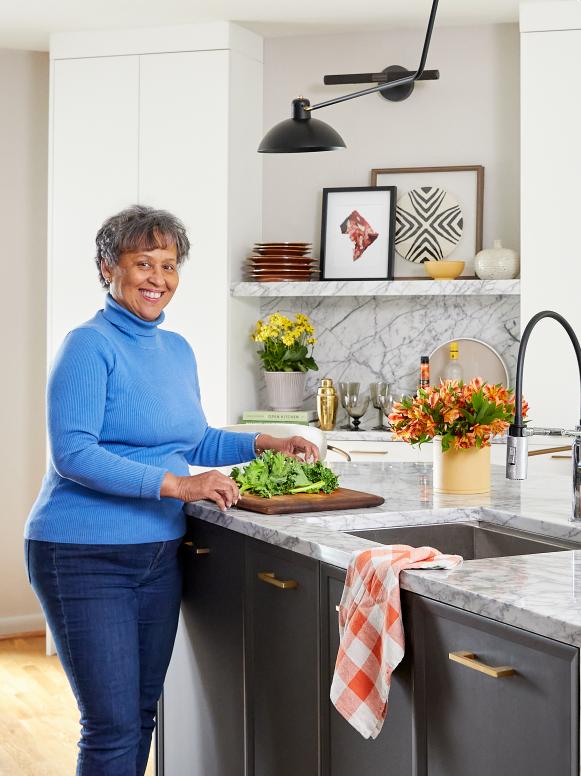 Modern Black and White Kitchen With a Marble Island
This sleek kitchen features a marble island and open shelves.
Liz Daly; Styling: Eddie Ross
Pamela Gibbs admits she wasn't much of a cook — until she overhauled her Washington, DC, kitchen. "It's amazing how much more you want to make things when you have a nice place to do it!" says the homeowner, who went from eating Chinese takeout nightly to searing her own halibut and hosting dinner parties.
She bought the house in 2013 from the original owners, but it didn't look like anything had been updated since the 1960s. "It was hard to move around the kitchen because of the choppy layout," she says. She hired designer Kristen Mendoza to reimagine the space, which involved ditching the dining area in favor of an island big enough to accommodate all her friends, including her entire book club. Now Pamela, who leads a diversity, equity and inclusion program for a federal government agency, will happily spend her whole day in the space she once avoided. "I never wanted to be in my kitchen before," she says, "and now I never want to leave."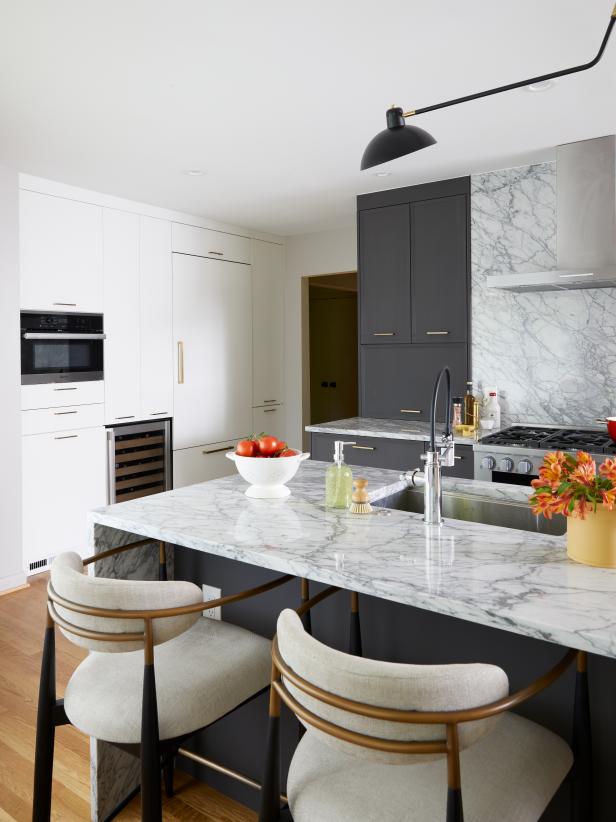 Sleek Black and White Kitchen
This modern kitchen features luxe accents like chic counter stools and marble countertops.
Liz Daly; Styling: Eddie Ross
The nine-foot island gives Pamela plenty of room to prep, eat and entertain. Plus, floor-to-ceiling cabinets from Elmwood provide tons of storage. "There are places to stash everything so that if last-minute company pops over, I can tuck away my clutter," Pamela says. A Monogram wine fridge holds more than 50 bottles. "I keep it stocked because my friends love wine, but I'm a Champagne girl," says Pamela. "Luckily that fits, too!"
"I wanted to keep things clean and simple so it felt relaxing to be in here," says Pamela. The designer used the same Carrara marble on the counters and backsplash — and continued it to the ceiling — to give the illusion of a larger space. Instead of choosing typical pendants, Pamela opted for a single two-light fixture from Lambert & Fils.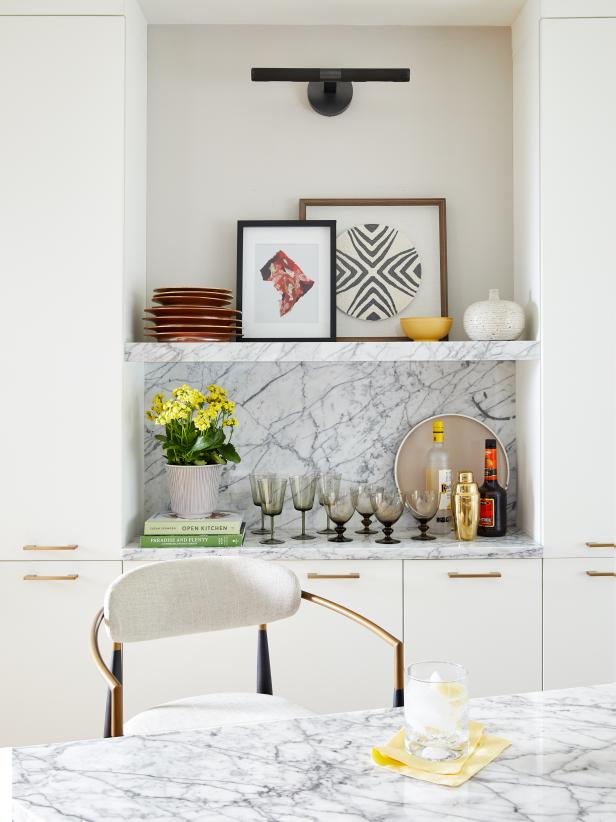 Open Shelving in a Modern Kitchen
This modern white kitchen features marble countertops and open shelves.
Liz Daly; Styling: Eddie Ross
Marble open shelves in the bar area create a luxe background for art and stylish glassware. "I need art everywhere," says Pamela. She outfitted the nook with a picture light from RH, then added some of her favorite pieces, like a collage from a local artist in the shape of Washington, DC. Another chic detail: the brass backs on the Arhaus barstools. "They were a splurge and worth it!" she says.