Pantries for Small Kitchens
Renovate your small kitchen by installing a food pantry. Pantries for small kitchens can consist of a bank of cabinets, a set of deep drawers or even a custom pull-out model.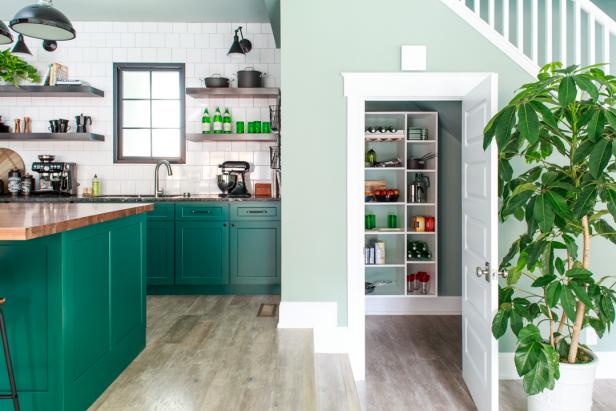 Clever Storage
The spacious pantry under the stairs is a smart design that makes the most of what could be unused space.
Pantries for small kitchens are all about maximizing available space. If your small kitchen simply doesn't accommodate the dream of a luxury walk-in butler's pantry, then it's time to get creative with your snacking storeroom.
The pantry, the ultimate kitchen workhorse, is meant to offer space, convenience and organization for your non-perishables. With minimal square footage on your hands, you have to make every inch of a small kitchen count. Therefore, the most readily-accessible choice for a makeshift pantry is to enlist a row of shallow cabinets.
It's fairly easy to take inventory of what you have (or what needs to be added to the grocery list) from your cabinet pantry without the inconvenience of digging into the dark depths of a large cabinet. If possible, build out a vertical row of cabinets for the pantry near the refrigerator in order to work with the natural flow of your cooking prep routine. Enhance this cabinet pantry setup with removable risers, pull-out trays or a rotating lazy Susan for improved access to things you most commonly reach for. Don't overlook the usefulness of cabinet doors, too. Hang a removable wire rack on the backs of the doors to hold a spice rack, a paper towel holder or other small goods.
Deep cupboards or kitchen drawers can be customized to serve as pullout pantries. Looking down into your pantry offers a great vantage point for convenience in taking inventory and keeping order. This storage solution could be elevated with drawer dividers to maintain a designated space for the various cereals, pastas and snacks. The added benefit of this minimized storage is that your pantry is pared to the bare necessities—no room for expired goods or unwanted foods to lurk!
Ideally, a slim pullout wall pantry installed beside the refrigerator is the ultimate compact pantry system for a cramped kitchen. Taking "easy-to-find" to the next level, a mechanized pantry features exposed shelving that makes every item visible in a sleek design. The various drawer sizes, from shallow to deep, offer room for every pantry essential.
Finally, stand-alone furniture such as a hutch, a baker's rack or an island is a smart choice to serve double-duty as a pantry and kitchen decor. If your small room can accommodate this bulky addition, then let the closed cabinetry conceal your dry goods and bring order to other pantry essentials. Let any exposed shelving house pretty glass-bottled drinking water or linen-filled baskets alongside stemware and dishes.
More Small Kitchen Organization Ideas
Inspiration for a Small Kitchen