Yellow Bathroom Decor Ideas
Gather yellow bathroom decor ideas, and prepare to add a sunny and welcoming design to your bath space.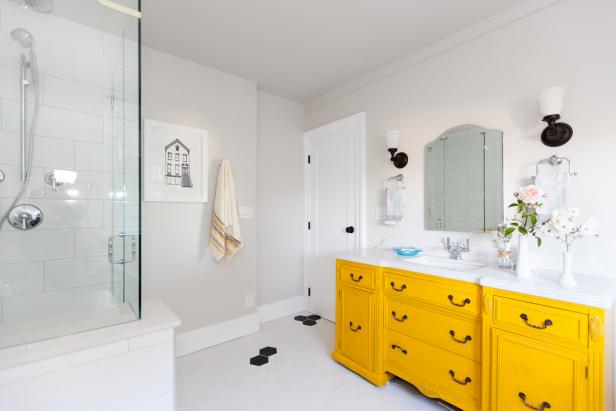 Bright Yellow Cabinets in Contemporary Bathroom
As seen on Love It or List It, Too, designer Jillian Harris converted a spare bedroom that was cramped and dingy into a stunning bathroom, complete with a clawfoot soaking tub and walk-in shower. A bright yellow cabinet pops against the black and white color scheme.
From:
Love It or List It, Too
David Owen Strongman/Getty Images
If you're looking to feature a bright, sunny and bold decor theme in your bathroom design, you may want to explore yellow bathroom decor ideas. Yellow, and the wide palette of yellow adjacent colors, can create a bathroom decor scheme that's at once soothing, eye-opening and visually striking.
Whether it's your goal to create a yellow decor theme that runs throughout your entire bathroom or simply to incorporate a few key yellow decor items, you'll find plenty of options that will help create a bright, warm and welcoming bathroom design.
Yellow bathroom decor can encompass a few key decor items, or it can run throughout the entire bathroom space as an overarching theme. For many homeowners, linens are a great place to begin when exploring a color-based decor theme. Window shades, shower curtains, bath towels, hand towels and bath mats are all available in a wide range of yellow hues; you can obtain them from both online and brick-and-mortar home goods retailers. You'll also have plenty of yellow-centric textures and patterns to choose from as you begin to incorporate them into your bathroom design. You can pair various shades in the design, ranging from soft yellows to bright, almost neon hues. Whether your design features yellow interspersed conservatively throughout the bathroom or as a full color takeover, linens create a great opportunity to carry the bright and sunny theme forward throughout the space.
Yellow can also be featured as a primary or accent color on furniture in your bathroom design. Wooden furniture can be purchased unfinished and painted yellow, and cushions on chairs and benches can feature solid yellow or patterned yellow designs. Gingham, floral, plaid and striped styles may feature yellow as a bold primary element of the design, or they may subtly feature the color throughout, giving you an opportunity to feature these furniture accents alongside more impactful elements like linens but without overwhelming the space.
Wallpaper is another decor element that will provide a great opportunity to incorporate yellow into your bathroom design. Floral or pastoral patterns featuring yellow flowers or birds can be a great choice, adding a natural and soothing element to a more traditional or vintage bathroom design. Yellow accents or primary designs may also be featured designs featuring toile, stripes or geometric patterns.
Another element of your bathroom decor that can feature yellow is wall art. Frames for a series of family photos can all be yellow, or you can choose painted or illustrated art that features yellow as a bold accent or primary focus of its design.
More Bathroom Decorating Ideas
More Bathroom Styles for Your Home