How to Clean Every Nook and Cranny in Your Shower
Scrub-a-dub-dub, it's the perfect time to sanitize that dirty tub.
Think beyond your weekly wipe down and make a plan to deep clean your bathroom shower and tub. We strive to be eco-conscious in our own home and enjoy making our own cleaners. Most of these tips include the use of oxygen-based bleach (hydrogen peroxide, sodium percarbonate or sodium perborate as opposed to chlorine-based bleach), sodium carbonate or white vinegar. Oxygen-based solutions are indeed a safer alternative for indoor cleaning, more eco-friendly, and can be extremely effective. Your next shower will be heavenly – guaranteed.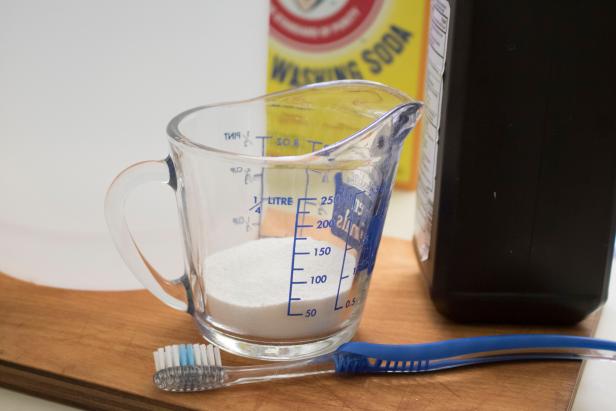 Tips for Deep Cleaning Your Bathroom Shower
Spring cleaning starts with a deep clean your shower and bathtub.
Mold and mildew can grow quickly in any bathroom, and once it's there, it's hard to get rid of it.
You might be accustomed to using a chlorine-based bleach for disinfecting – and sure, it'll help to kill mold and neutralize spores – but a better alternative is to use a mixture of hydrogen peroxide with an oxygenated powder product, such as OxiClean, or my favorite, generic washing soda (not to be confused with baking soda). If you look at ingredients in many of the heavy-duty mold abatement products, you'll spot that hydrogen peroxide is a common ingredient, so it's no surprise that this at-home solution works really, really well.
Combine the washing soda and hydrogen peroxide to form a paste, and add it to mold-prone and mold-affected areas in the shower to treat the spots and spores in a safe way. After it sets for a few minutes, rinse the area and use a cloth to wipe it clean. Mold-be-gone!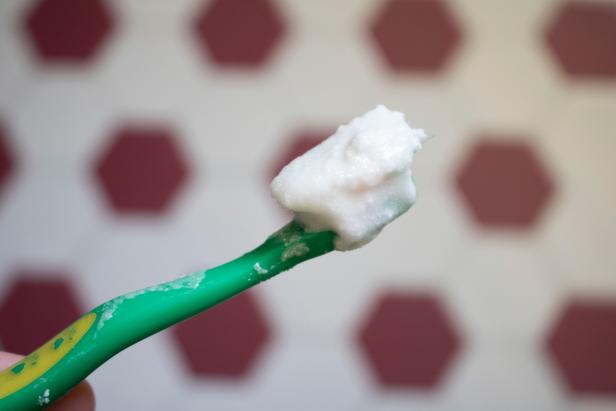 Tips for Deep Cleaning Your Bathroom Shower
Spring cleaning starts with a deep clean your shower and bathtub.
Clean the Grout and Tiled Wall Surfaces
An easy paste consisting of two parts washing soda mixed with one part hydrogen peroxide offers a chlorine-free and bleach-free alternative to whitening and disinfecting grout. Use an old toothbrush to apply it to the grout lines, allow it to sit for a few minutes, and then use the toothbrush again to rinse it away with water. This will brighten dingy white grout and keep mold growth at bay.
When it comes to the tiled walls, the tendency for water droplets to sit and air dry makes water spots and dried streaks nearly unavoidable. Unless you're going to wipe down the shower with a dry towel after every use, you'll need to find a good routine to keep water deposits on tiled surfaces under control.
For most non-porous tile surfaces, that can be done simply using a cloth wet with diluted white vinegar. Follow up with a dry cloth to buff the surface.
For marble or other porous stone surfaces, rely on plain water to buff off deposits, or use cleaning products specifically formulated for stone to avoid damaging the color or finish of your tile.
A few years ago, I applied a tile and grout protectant (the brand was EnduroShield) to keep the floor-to-ceiling tiles in my shower deposit- and spot-free. It worked really well, and caused water droplets to bead up on the surface which seemed to make the tiles both easier to wipe clean, and also kept the grout looking fresh, bright, and free of mold.
Stains aren't uncommon in the bottom of your tub, even though the basin is being soaped and rinsed non-stop. Here are tips to help you clean your tub, depending on material:
Porcelain-Enameled Steel (or Cast Iron) Tubs
To keep enamel-coated tubs clean, the best thing you can do is rinse and dry after every use. When washing to remove soap, dirt, and mineral build-up, opt for hot water, a grease-cutting dish soap, and a microfiber towel. To keep the enamel-free of scratches, avoid abrasive scrubbing cleansers and cloths, and steer clear of acidic cleaners like vinegar. Magic Erasers are surprisingly effective when you need to lift build-up and discolorations from the surface (especially around the drain), and for stubborn stains that really want you to work for the shine, use a piece of cork to provide force without breaking your fingers and hands.
Use gentle cleansers to clean your fiberglass tub. For stains, it's safe to make a paste using baking soda, soap, and water, and wash clean. The appearance of the material will change with age, but to keep it looking like a new bathtub, consider buffing a layer of marine wax (intended for fiberglass) to the surface of the tub to help protect the surface and increase shine.
The non-porous surface of an acrylic bathtub makes it stain-resistant and easy to maintain. Dirt typically washes away easily, but acrylic is easy to scratch and gouge, so it's best to wash using warm water and dish soap. Rinse it completely with water once clean.
Clean the Drain (and Check for Clogs)
Apply a cleaner with an old toothbrush around the edges of the drain to get residual soil and build-up. Depending on your type of bathtub (above) the cleanser may vary.
It's also a good idea to remove the cap of the drain to clean underneath it, and if necessary, remove hair build-up before it affects water drainage.
Already clogged? Get your hands on a drain snake that you can weave down the drain, and pull back upward to extract hairs that may be affecting water flow. I promise, when it's your own hair, it's not too gross! And it's worth it because this remarkably simple chore can save you time and the cost of a plumber.
A regular spritz of white vinegar will help to prevent build-up on your shower head. For a deep clean, remove the showerhead from the wall (for ease of cleaning), and soak it in a 50/50 white vinegar and water mixture, either in a basin or sealed in a plastic bag. The vinegar will help to loosen the residues on the surface (as well as any clogs inhibiting water flow). After an hour, use a sponge to wipe it, and run water through the spout to clear out all vinegar.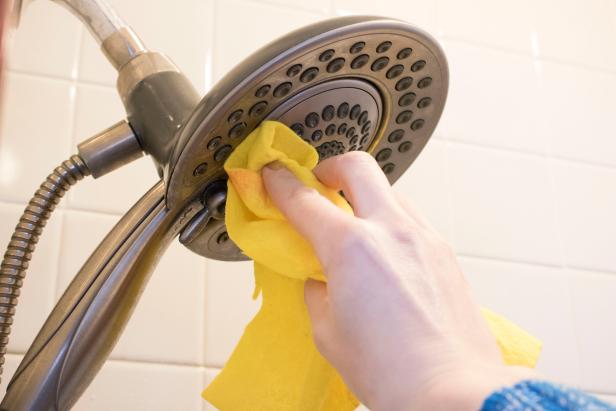 Remember to Clean Your Bathroom Showerhead.
Remember to clean your bathroom showerhead.
When you reinstall the showerhead, be sure to use a new piece of PTFE tape (a.k.a. plumber's tape) between the showerhead and the threaded pipe coming from the wall prevent leaks.
Soap spots, shampoo bottle rings, and hard water build-up are just a few of the things that'll make your caddy look less than new. Look a little deeper – especially into basket corners or mesh pouches. You probably won't like what you see. Wipe all areas clean with soap and water, and if necessary, spray hydrogen peroxide on moldy areas.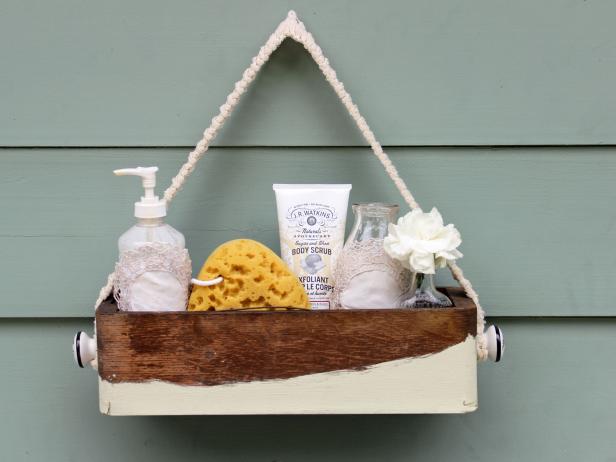 Chic Bathroom Caddy with a Rustic Look
Turn an old wooden box into a caddy for your bath and body essentials, or stock it full of travel toiletries for overnight guests. Hang the finished bath caddy in your bathroom, or the guest bathroom, and fill with a variety of bath and body potions only an arm's length away from the tub or shower.
If your caddy is coated steel, it's common for the paint or coating to chip away over the years. It might be rusty, too! To prolong the life of an old wire shelf caddy, remove it from the bathroom, use sandpaper to remove any loose paint and then apply a fresh coat of spray paint to seal the surface.
Also, do your body a big favor and rotate in a new loofah, too. You deserve it.
Don't overlook the curtain. Remove the shower curtain and plastic liner from the rod. Following manufacturer directions, launder fabric curtain to remove dust, toilet germs and possible mildew. The plastic liner can be replaced for a few dollars, but if you would like to extend its life, lay it flat outdoors, and spray it with a 50/50 mixture of white vinegar and water. Wipe it down, and rinse it clean with the hose. Moldy areas are the bottom of the curtain where it sticks to the tub and never seems to dry completely? Scrub at that with a mixture of washing soda and hydrogen peroxide, and then rinse it away. Chlorine-based bleach may discolor the plastic so it should be avoided.
Another tip: If you trim the plastic shower curtain to just barely overlap the wall of your tub, you can limit the growth of mildew and encourage the liner to dry faster without sacrificing function.
Clean a Glass Shower Door
Glass doors rarely look as spot-free and crystal clear as they do in cleaning commercials, so to say they require a bit of routine upkeep is something of an understatement. To maintain clarity, it's important to dry the door with a squeegee or a cloth – not only on deep cleaning days but every day. Water drips and build-up accrue quickly and can be combatted with a powerful mix of glass (and mirror) cleaner that uses cornstarch, white vinegar, rubbing alcohol, and water to scrub at build-up without threatening to scratch the glass.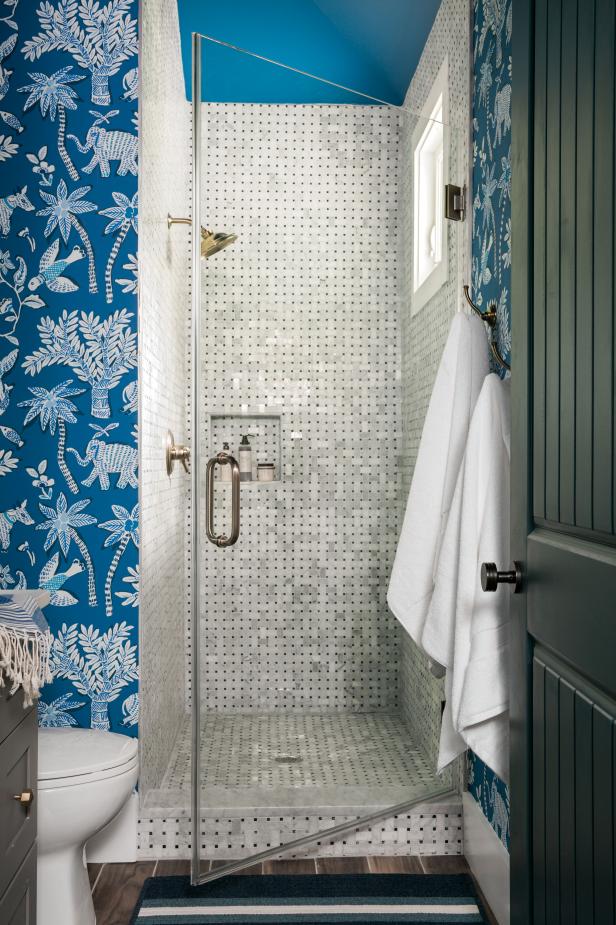 Inviting Shower
The pool bathroom's inviting shower with frameless glass door includes basket-weave marble tiles that add just the right graphic impact.
Robert Peterson, Rustic White Photography
Clean and/or Repair Caulk
A paste of washing soda and hydrogen peroxide can be applied directly to the caulk. Avoid scrubbing it in, though, as it's important that you don't loosen or agitate any in-tact caulking. After the solution sets for a few minutes, rinse it away and dry the area with a towel.
If your caulk is peeling, dried out, or retracted from the surface it is protecting, you'll want to replace it with new, clean caulk.