Fish and Mermaid Bathroom Decor
Explore fish and mermaid bathroom decor ideas, and get ready to add a whimsical ocean theme to your bath space.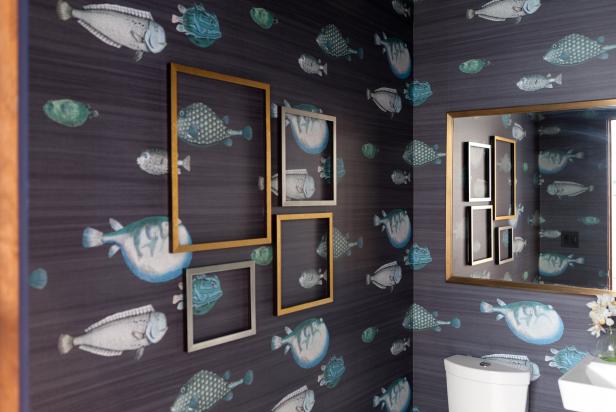 Coastal Bathroom With Fish-Patterned Gray Wallpaper
Blue and green fish swim around this bathroom on the gray striped wallpaper. Empty gold and silver frames arranged on the wall add some metallic flair and decorate the space without disrupting the wallpaper pattern. A mirror on the wall above the toilet reflects the wall design making the room appear larger.
Whether your seaside vacation home is in line for a bathroom install or update, or you're simply ready to add a hint of seafaring style to your landlocked bathroom, you may want to browse some fish and mermaid bathroom decor ideas.
Many coastal bathrooms feature seaside and ocean life themes such as seashell decor, but plenty of homeowners choose ocean-inspired theme for their bathrooms even if they're not located on the coast because these themes can have such a soothing, universal appeal.
Fish and mermaid bathroom decor can run the gamut from a few strategically placed accessories or decor flourishes to a complete thematic takeover of the bath space. When planning your bathroom decor approach, you'll first need to decide how much is enough fish and mermaid decor, and when you might need to "scale" back.
The size and configuration of your bathroom space may help you decide on the extent of the theme. For a particularly small space, you may decide that a more simple and subtle implementation of the fish and mermaid theme is the right approach, sprinkling in a few key decor elements like soap dishes and dispensers, linens and bath mats. For a significantly larger bathroom space, you may want to go big and bold with your fish and mermaid theme, featuring Piscean accessories and mythical mermaids on everything from wallpaper to storage elements, faucet designs to doorknobs.
When you've decided on the scope of your fish and mermaid decor plans, the next step is to figure out how you'll implement them. Your options will only be limited by what you want to feature in your bathroom space, and what you can find that fits the theme. The search for fish and mermaid themed bathroom decor is half the fun, though, and you should have no trouble discovering a veritable ocean's worth of thematic elements that fit this decor style.
Accessories are a great place to start when planning your fish and mermaid bathroom decor scheme. Bath mats, hand towels and bath towels are all widely available with fish and mermaid prints, and they can be a big and bold way to show off the theme. Shower curtains were almost made to display a fish and mermaid theme, and you'll find a wide selection of them featuring ocean and sea life images and themes.
Storage accessories for toiletries and bath accessories can also feature a fish and mermaid theme. Everything from toothbrush holders to the toothbrushes themselves are available in fish or mermaid form, and larger items like baskets for linens or toilet paper can carry the theme as well.
More Bathroom Decorating Ideas
More Bathroom Styles for Your Home