Pink Bathroom Decor Ideas
Gather pink bathroom decor ideas, and get ready to add a romantic and elegant decor theme to your bath space.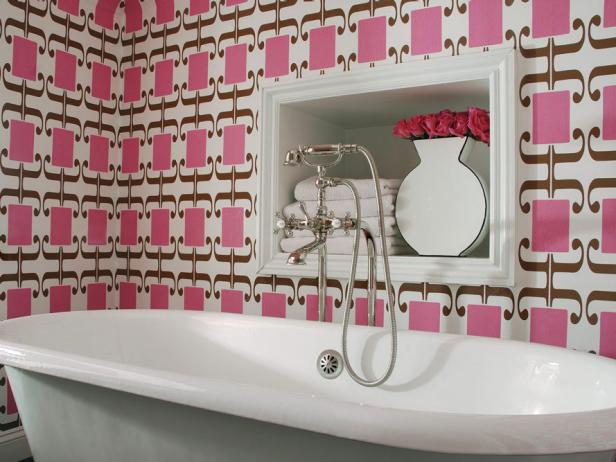 Brighten Up Your Bathroom With Vibrant, Art Deco-Themed Pink Wallpaper
Designer Lisa Flake of Caldwell Flake Interiors has three favorite ways to add color to bathrooms: wallpaper, wallpaper, wallpaper! "I am a wallpaper junkie because baths are often so cold and boring without it," says Flake. By keeping the trim, tub and fixtures in this room neutral, there's room to have fun with bright pink, graphic wallpaper and modern accessories.
Color is one of the most essential decor elements for any bathroom, and if your color palette tends towards the soothing and romantic, you'll want to explore pink bathroom decor ideas. Pink, and a wide range of pink derivative hues, can provide a calming and elegant design for your bathroom space.
Whether you're looking to incorporate pink decor elements into an existing color scheme or determined to create a bathroom that's a full-on pink paradise, you'll have plenty of options to consider as you begin planning your project.
Ideas for pink bathroom decor cover a wide range, from the inclusion of a small selection of accessories to an entire decor theme that covers the bath space. One of the simplest ways to incorporate any color scheme into your bathroom decor is via the bath linens. Shower curtains, bath and hand towels, bath mats and seat cushions are all great candidates for carrying a pink decor theme throughout your bath space. You'll find plenty of shades to choose from at your local home goods retailer—or from any number of online linen specialty or big box stores. From light shades to striking neon pinks, your favorite hue is sure to be represented. If your intent is only to add pops of pink throughout the space, subtle use of a few linens can be a great way to achieve this more understated look, as well.
Furniture can also be a great way to express a color-based decor theme in your bathroom. Benches and chairs can feature cushions boasting pink base or accent colors in solids or prints like toile, gingham and plaid. Cabinets might feature pink accents such as crown molding or hardware. Lighting fixtures can boast pink shades or pulls, or you might find pink bases in painted wood or metal.
Wallpaper is another great way to incorporate pink into your bathroom design. Traditional toile, modern and contemporary geometric patterns, stripes, solids, and prints featuring floral or pastoral designs are all available in a wide selection of pink hues.
Another great way to add the color pink to your bathroom decor scheme is with wall art. Modern or impressionist prints featuring pointillist pink designs or blazing pink sunsets can continue the theme. Collectible items or small statuary in various shades of pink can be arrayed on countertops or windowsills to further satisfy your passion for pink.
Tile countertops and flooring can also be a great place to feature pink in your bathroom design. Stone and marble can often be dyed to feature any color, including pink, or you could consider Formica or other artificial materials in selection of pink shades. Pink tiles can line walls, backsplashes or entire floors in your bathroom design, creating a soothing and romantic bath space.
More Bathroom Decorating Ideas
More Bathroom Styles for Your Home