Girl's Bathroom Decorating Ideas
Gather girls' bathroom decorating ideas, and get ready to create a fun and functional girl's bathroom in your home.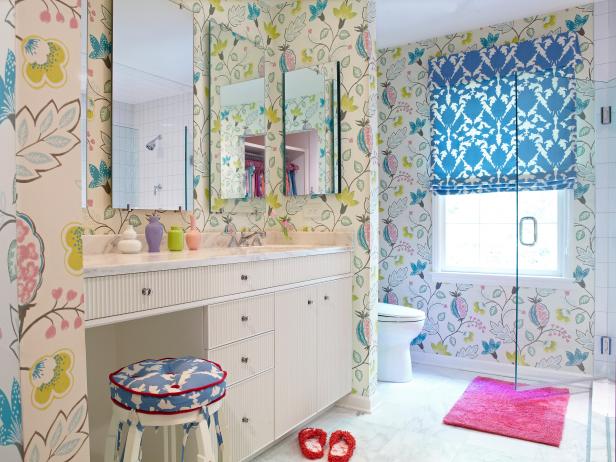 Colorful Floral Girls Bathroom
This girls bathroom has a colorful floral wallpaper that gives this space a lively feel. The bright blue patterned window treatments, upholstered stool cushion and the white cabinets round out the room.
If you're adding or upgrading a bathroom to be used by young girls, you'll want to explore the range of girls' bathroom decorating ideas. From kid-friendly decorations to funky, functional storage, you'll have a plethora of elements to help create a kid's bathroom space that's as fun as it is attractive.
When you're assessing decorations for a girl's bathroom, color is almost always one of the key elements to consider. Gender-specific bathroom designs used to have specific colors that were just about mandatory — blues for boys, pinks for girls, for example — but those old rules don't apply much anymore.
The rainbow will be at your fingertips as you think about colors to use in your girl's bathroom, with the choices you make as likely to be defined by which colors the girls in question prefer as by which ones are appropriate for girls or boys. In general, spaces designed for use by kids often feature bold colors in their design. Pops of red, yellow, blue and green are common, although it's not at all uncommon for funkier neons or softer shades of blue, pink and green to appear.
The age range of the girls who'll use the space can have a major influence as well — bathrooms designed for use by young children often focus on bright and bold primary colors, whereas those for older children may be more subtle and even elegant in their approach to color scheme. Additionally, if the girl or girls who'll use the bathroom the most have a favorite color or colors, you may want to incorporate those into the design as well.
Storage will be a particularly important feature of any bathroom intended for use by children. Since kids commonly struggle with keeping their spaces tidy, organization features in girls' bathrooms can be extremely helpful. Toiletries and accessories can be stored in jars, bins or on racks on the back of cabinets, helping to create a space that's not overrun with items that have been left out or, even worse, lost.
Speaking of accessories, small bathroom items, as well as linens and wall coverings, can be a great addition to any kid's bathroom and provide an opportunity to express some style and personality. Kid-friendly characters and themes emblazon linens, wallpaper and bath accessories available at many home goods retailers. Towels and shower curtains, for example, are widely available in bold, entertaining designs just for kids — underwater and sea-life themes, branded characters and flora and fauna of all types are available to help create a fun and visually interesting bathroom space. Wallpaper is also widely available featuring favorite kid characters, sports and nature themes, and funky patterns can work well in any girl's bathroom. Finally, consider adding a personal touch by incorporating family photos to the design as wall art, or framing some of the child or children's artwork and displaying it as well.
Furniture in girls bathrooms spans a wide range of styles, but many parents choose durable, long-lasting materials for furniture in kids' spaces — plastic chairs and benches in vibrant colors are particularly popular (and much easier to clean than, say, their wooden, upholstered counterparts).
More Bathroom Decorating Ideas
More Bathroom Styles for Your Home