Modern Main Bathroom Retreat
Candice Olson began this amazing makeover by ripping out almost everything, including a wall.
Tonia and Francis have traveled around the world and have lived on three separate continents. But with three young children and a newborn baby, they decided it was the right time to move back "home" and put down roots. They bought a big house near their families that needed a bit of work, and expended all their effort into updating their kids' rooms. But they got stalled when it came to their own space, specifically their main bathroom. The room's awkward layout, grungy tub and peeling wallpaper made it the last place these busy parents wanted to spend any time.
They called me to see if I could come in and give them a place in which they could unwind and relax. Tonia, in particular, was aching for a place where she could happily sink into a bath at the end of a hectic day. So I grabbed my crew and got set to give this hard-working couple a beautiful, spa-like bathroom that would help turn stressful days into soothing nights.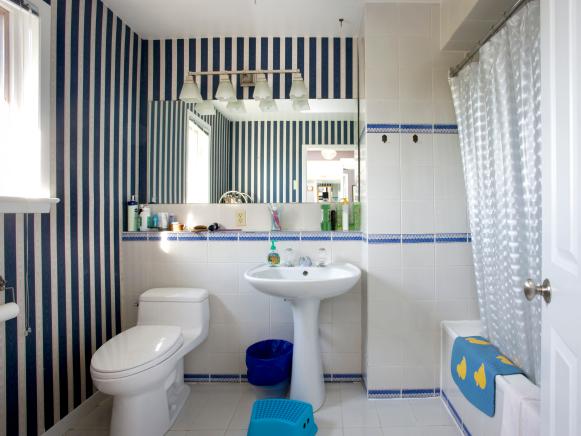 master-bathroom-before
Before: Peeling wallpaper and a grungy bathtub are among the eyesores in this master bath – not exactly the grownup retreat the owners were looking for. See the after picture.
Before: Peeling wallpaper and a grungy bathtub are among the eyesores in this master bath – not exactly the grownup retreat the owners were looking for. See the
 after picture.
The bathroom sat adjacent to a small dressing room that Tonia and Francis never used, so I kicked off the redesign by tearing down the wall between the two rooms and making it into one large space. I got rid of the dated, striped wallpaper and put up a light, fresh coat of paint. I also ripped up the ugly, cracked flooring and put down some large-scale marble tiles with heated flooring beneath.
The feature elevation, which you see as soon as you walk through the door, was what was left once I knocked out the wall. On this wall, I put in a gorgeous mirror, two small windows draped in soft, translucent blinds, and cabinets built out of warm, rich mahogany. Below this installment, I installed a stunning vanity that features a gorgeous white quartz countertop, a contemporary vessel sink and wooden storage cabinets.
On one side of the vanity, I installed a new toilet and on the other a huge, 24-inch soaker tub, which is surrounded by the same white quartz as the countertop. To keep the warmth of the wood flowing throughout the space, I added a cabinet for linens and laundry right beside the tub.
Across from the vanity, I installed a fantastic shower with a frameless glass enclosure. The shower boasts a rain shower, a steam shower, body sprays and a white quartz bench on which to sit and enjoy it all.
I wanted the room to be calm and refreshing, so I chose cool, watery greens for the color scheme. I selected a small, green marble mosaic tile for the steam shower and for the backsplash for the soaker tub and vanity. The tile speaks to the green in the solid glass vessel sink and the painted glass in the luxurious shower.
Then, because this is no ordinary bathroom, I put in extraordinary lighting. In addition to recessed lighting in the ceiling, I also installed two gorgeous sconces on each side of the vanity mirror and put up a brilliant crystal fixture over the tub, so Tonia will have a great view while she is soaking.
This bathroom was, cramped, cluttered and dingy. By adding luxurious fixtures, fabulous finishes and a relaxing color scheme, I turned it into a calm, refreshing oasis in which Tonia and Francis can retreat from the chaos of everyday life. Now that's divine!