Girly Glam Bathroom Update
Designer Naomi Stein explains how she transformed a small, boring bathroom into an all-out glamorous space just for the ladies.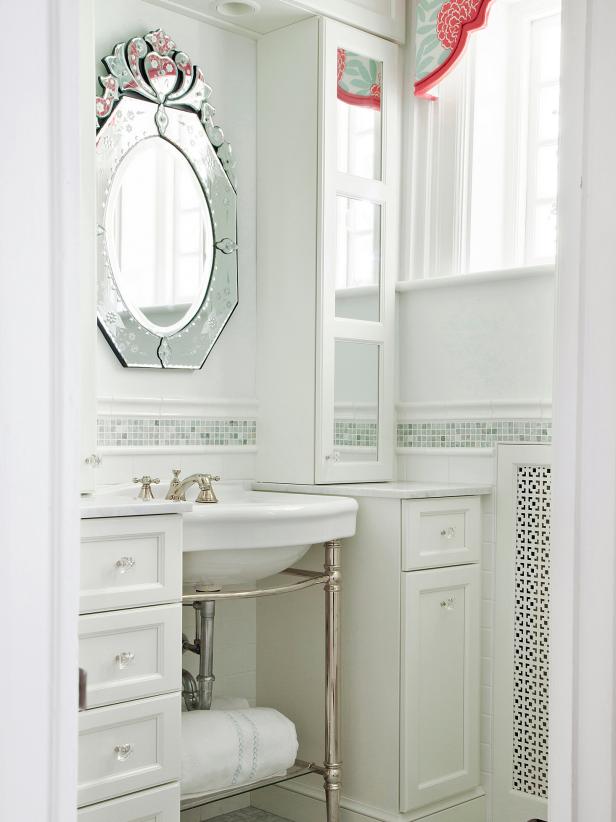 White Updated Girly Glam Bathroom
Task lighting was a necessity around the vanity in this bathroom remodel. Designer Naomi Stein did not have enough room for sconces, so her solution was puck lighting in the paneled soffit.
After completely gutting a 50-square-foot bathroom, Naomi Stein of Design Manifest refashioned the small grooming room to suit the discerning user, a tween girl and bath lover. Two of Naomi's design priorities were to outfit the space with a tub/shower combination and to create good storage for all the toiletries and beauty tools that a young girl collects.
Once the space was reconfigured, Naomi chose white finishes for timeless appeal, introduced doses of sparkle via crystal and mirror, and energized the room with a fun, vibrant fabric. The designer discusses the beautification process.
What was the single largest issue you wanted to address?
The biggest challenge was space. I was really concerned about overcrowding and what we'd have to give up in order to get the desired storage. We went white virtually everywhere to make the space feel as open as possible.
Our custom cabinetry has tall, slender proportions and mirrored doors to make it feel less heavy, and the open sink console is a much more graceful option than a standard boxy cabinet-style sink.
How did you accommodate the homeowners' wish list?
My clients really wanted an updated classic space that would maximize storage, manage clutter and afford their daughter space for a tub. The girl is a bath lover, and the current setup only had a shower.
How does the end result match up with your original vision?
We really thought it out well so not much changed from start to finish. Going white overall and classic on the fixtures allowed us to add some trendier decorative elements. The fun fabric was the perfect dose of personality in this space as were the drippy crystal sconces. I love those sconces.
What lessons did you learn?
I learned that storage can be functional and pretty at the same time and that there are lots of alternative ways to approach it.
Describe the "hidden gems" that made a big impact.
I love the custom fretwork cover that hides the radiator. I love the crystal knobs on the custom cabinets and I also love the Ming-green border we did all around the room.