Girls' Colorful Bathroom Makeover
Designer Rebecca Hawkins uses bright, bold colors, lots of mirrors and abundant storage space in a bathroom design that suits two young sisters.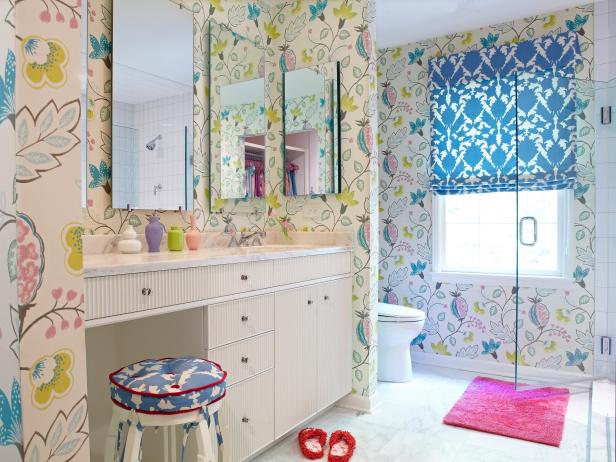 Bold & Beautiful Girls Bathroom
The colors used in this tween bathroom are fresh and vivid and blend together beautifully.
Designer Rebecca Hawkins gave a bathroom shared by two young sisters a sophisticated new look by adding new storage areas, a spa-like, glass enclosed shower and plenty of color that will carry them right through their teen years.
Hawkins shares how she worked with the girls to design a bathroom they could enjoy for years.
What did the homeowners want most from this remodel?
The two girls who share this bathroom are 8 and 9 so they wanted a more open, bright and colorful room with lots of storage.
Did you run into any obstacles during this project?
There were too many doors in the small space so we took out the linen closets on each side of the tub. We placed a long shower in the newly opened space which created a more open, spa-like bathroom. Both girls can now get ready for school at the same time.
What did you learn from this project?
Making the best use of the budget was very important. We selected less expensive tile and put the money that we saved from that into wallpaper, fluted custom cabinets and penny round tile on the shower floor. We saved on one area so we could splurge on the showpieces.