Get all the info you'll need on narrow bathroom layouts, so you can maximize the space in your bathroom.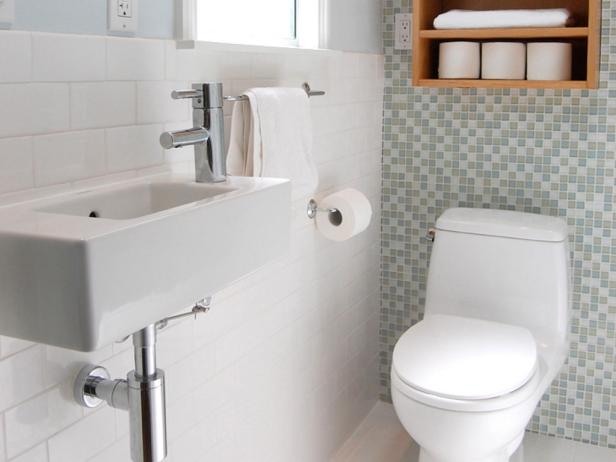 DP_Jennifer-Jones-white-blue-modern-bathroom_s4x3
A cramped floor plan and outdated finishes prompted the remodel of this small master bathroom. Relocating the toilet to the rear wall and adding a wall-mounted sink maximizes the space. The glass mosaic tile feature wall adds movement and draws attention to the high ceilings and skylight.
If you're configuring a bathroom in a small space, you'll want to peruse a range of narrow bathroom layouts for ideas on how to maximize the efficiency and comfort of your bathroom.
Since the area itself isn't going to expand, you may want to first consider a few design elements that can create the illusion of greater space. Try adding mirrors to the opposite ends of the room to open it up visually. If possible, make sure to add as much window space as possible, to make the room feel less cramped.
Next, build up, not out. By installing a punched-tin or otherwise ornate ceiling design, you won't sacrifice any space, but you will draw the eye up instead of allowing guests to focus on the constrained space.
To further expand the space visually, consider light colors like white or light yellow. Darker colors will shrink the space, so you'll probably want to steer clear of that side of the spectrum.
If you can, try to keep visual flow going by using glass where it makes sense. For example, if you have a choice between a solid, enclosed shower and a more open glass design in a narrow bathroom, the glass design will definitely contribute to a more spacious feel.
Lastly, to open up your design even more, go big and bold with the centerpiece mirror in a narrow bathroom. Combined with other reflective surfaces, this style touch will do wonders to open up the space.
More Bathroom Styles for Your Home