Explore your options for small bathroom layouts, and get ready to create an efficient and comfortable bathroom in the smallest of spaces.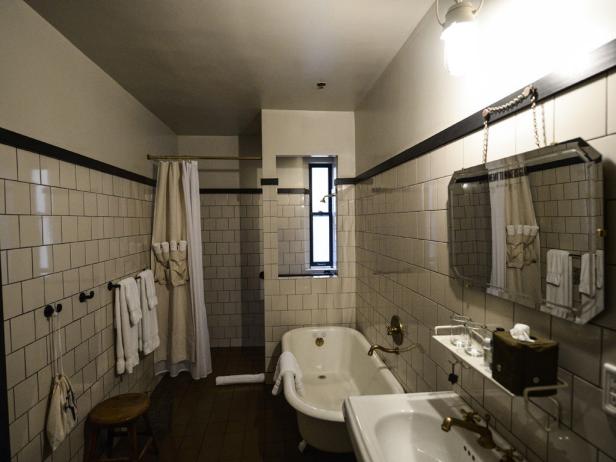 Original_Robert-Stolarik_Ace-Hotel-bathroom_s4x3
"We were interested in a slightly punk rock approach, while still using a traditional language," says Robin Standefer, one of the two designers who created the Ace Hotel's distinctive look. "When we deal with materials and languages that are historical in nature, we try to approach them with a new originality, a new life," she told Wallpaper magazine. Here, they've combined classic white subway tile with black wooden trim, dark grout, a claw-foot tub with brass faucets and period furniture to give the feel of an Edwardian-era men's club.
Redesigning or installing a bathroom in a small space can be a challenge, but luckily, a wide variety of small bathroom layouts can be found to help guide your design.
The first suggestion when it comes to small bathroom layouts is to build up, not out. Use as much wall space as possible for shelves and storage cabinets. This way the small amount of available floor space won't be infringed by necessary storage elements.
When planning for a sink, scrap the idea of a floating pedestal sink if space is an issue. While this design technically takes up less space than a sunken sink in a cabinet, you'll be wasting precious storage space on an airy design.
Focus on storage in a small shower, as well, by adding hanging racks wherever possible, so shower accessories can be easily stored and accessed.
Let the light in—consider adding a skylight if possible, to create the illusion of more space and ensure that the bathroom will always receive adequate natural light.
Finally, stay on top of lighting. When it comes to light fixtures, go low-profile and elegant instead of big and bold so the light fixtures don't overwhelm the small space.
More Bathroom Styles for Your Home