Explore the different types of bathroom layouts, and determine which layout is best for your bathroom space.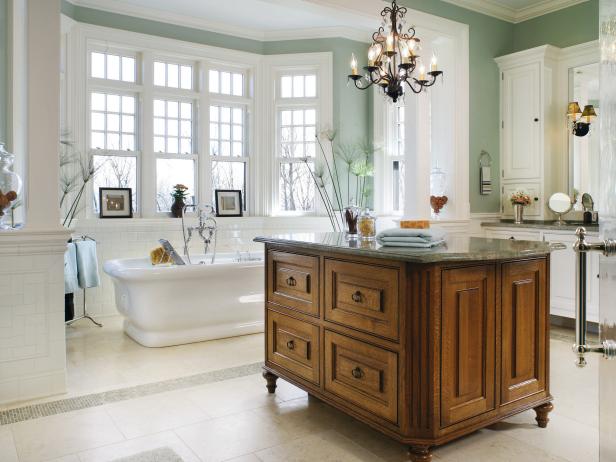 Large Green and White Transitional Bathroom With Island
This large transitional bathroom has an elegant ambiance thanks to soft sage-green walls and crisp white wall tile and cabinetry. A freestanding white tub sits beneath windows, while a vanity island with a marble countertop offers extra storage space.
Whether you're planning to install a brand-new bathroom or update an existing one, understanding the different types of bathroom layouts is a key first step.
The first question to ask when considering bathroom layouts is, "whose bathroom is this?" There are several different types of bathrooms, each with unique layout challenges—and determining what combination of family members and guests will use the bathroom is an important starting point.
For a master bathroom, combining efficiency, elegance and comfort is often the goal. Two people will normally be using the space, and there will need to be enough storage space for their respective accessories. Additionally, master bathrooms often have a unique design element: because they're frequently located inside or adjacent to a master bedroom, they often mirror the design of the bedroom. This isn't a requirement, but a departure that's too radical can have a jarring effect. Other important considerations for master bedrooms include tub or shower size and placement (a too-big or too-small tub is a common mistake, so pay special attention to this element), and the configuration of double sinks and cabinets (this is a key consideration—you don't want to be climbing over each other for the toothpaste).
Guest/family or half bathrooms may be used frequently by multiple family members and guests alike, so efficient use of space is often the chief consideration. Design-wise, if the guest bathroom is "standalone" or located in a hallway, it won't need to follow the lead of a bedroom, and it can be a good place to experiment with unique design approaches, from bold colors and patterns to eclectic fixtures and furniture.
More Bathroom Styles for Your Home