Upcycled Art: Embroidered Tennis Racket Wall Hanging
Make a unique piece of art with yarn and some upcycling know-how. All you need is a quick trip to the thrift store.
Whether shopping at the World's Longest Yard Sale, a thrift store or an estate sale, vintage tennis rackets are a common find. That's why HGTV Handmade's Liz Gray decided to repurpose this no-longer-serviceable racket for a clever new use: wall art!
vintage tennis racket
graph paper
scissors
plastic yarn needles (7cm and 9.5 cm)
crochet hook
yarn (various colors and widths)
wool roving
marker
low-temp hot glue gun
hot glue sticks
cardboard
By using the racket's strings as a loom, she created a chic, "embroidered" design with trendy Swiss crosses, a tassel and pom-poms. Get the steps and watch the video below for the full how-to so you can make your own tennis racket art.
Count the number of squares on your tennis racket. Mark a piece of graph paper with the same number of squares (Image 1). Plot out your design in the squares (Image 2). Using a marker, mark the parameters and design outline on the tennis racket squares (Image 3). (Don't worry, the yarn will cover up the markings.) For the design, start with a Swiss cross at the center point of the squares and build out the design from there with lines and additional crosses.
Fill in the racket squares with different yarns according to your design. To wrap the squares with yarn, thread the yarn through a large needle (Image 1 + 2). Once you get started, tie off the ends to pull the yarn tight (Image 3 + 4). Remember to use the same number of threads per square to keep the design even and symmetrical. If you're having trouble threading the plastic needle with a chunky yarn, try wrapping the end of the string with a small piece of tape.
In addition to wrapping the racket squares, you can also thread yarn through the squares to create a woven effect. A thin string is best for this technique. Using the smaller needle, weave the yarn between the rows of the racket, pushing down as you go. For a super-thick yarn, you can mimic the same woven look by using a crochet hook to push wool roving through the squares. Save this technique for last to avoid the wool getting frizzy or flattened. If needed, use hot glue to secure the wool in place rather than tying it in the back.
We're sorry, there seems to be an issue playing this video. Please refresh the page or try again in a moment. If you continue to have issues, please contact us here.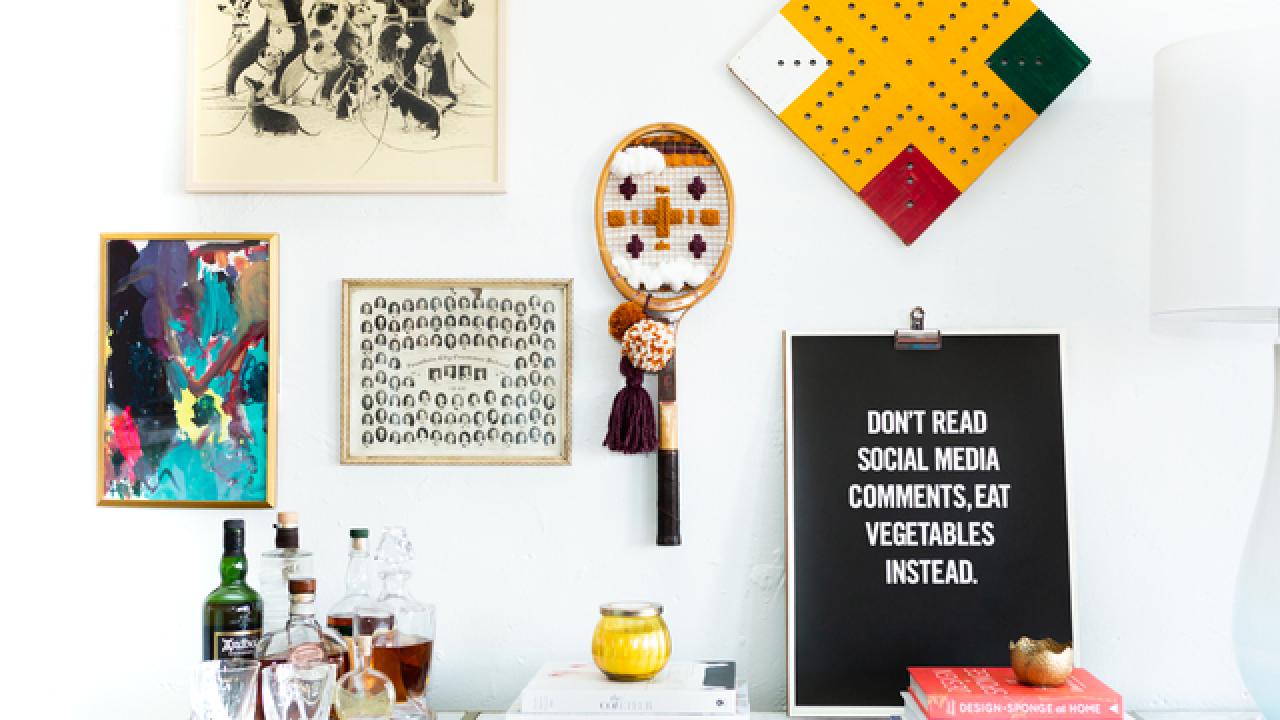 Show off those succulents with a few basic supplies and a quick trip to the thrift store. Plus, learn how to care properly for those delicate little desert plants.
Put your feet up with this upcycled, rolling ottoman created from a fruit crate found for less than $20 at the World's Longest Yard Sale.
Old baskets find new upcycled life thanks to HGTV Handmade. Pom-poms, tassels and craft paint are used to dress up three different baskets with unique style. Upcycling has never looked so chic.