How to Frame a Vintage Tea Towel
Vintage tea towels and other small hand-embroidered linens are not only beautiful, they're often a sentimental reminder of a beloved ancestor. Honor your family's history or just creatively upcycle a favorite thrift store find by framing the linen's embroidered details.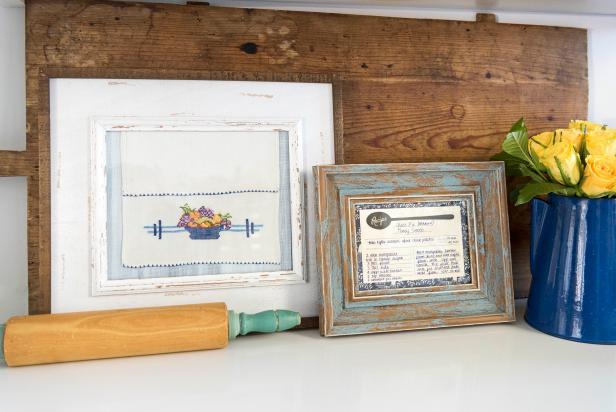 Charming Blue-and-White Cottage-Style Kitchen
Give your kitchen a big boost of cozy cottage style by inexpensively lining the shelves with gingham shelf paper and framing family recipes and a hand-me-down tea towel as art.
Sarah Busby; Styling by H. Camille Smith
vintage tea towel (or similar small embroidered linen)
frame (that's just a bit larger than the embroidered portion of the linen)
glue stick
scissors
coordinating card stock (or scrap piece of pretty paper)
Note: Before starting this project, first properly clean the fabric. Don't worry if there are holes or resistant stains on areas that won't be visible — for this project, we're focusing on showcasing just the linen's embroidered design. For vintage linen collecting and cleaning tips, check out this article.
Cut Card Stock, Then Attach Back of Linen
Using the frame's included glass as a template, cut a section of card stock or decorative paper to back the linen. Using a glue stick, cover the area of the paper that will be covered by the tea towel, then center the fabric and press in place.
Because our linen had an embroided stitch at both the top and bottom (and these areas were in good shape), we folded the top embroidered edge down to determine placement, then folded it back and added more glue where this portion will be attached.
Use sharp scissors to cut off the excess fabric. Note: If this linen has great personal meaning and you don't want to cut it, skip this step and instead tuck the excess fabric inside the frame when you add the backing.
To ensure that the fabric stays centered and unwrinkled when you place it in the frame, use the glue stick to tack down any loose edges.
Pop in a Frame and Display
First, thorougly clean the frame's glass, then place the card stock and fabric in the frame and add the backing (Image 1). Proudly display your ancestor's handiwork (or thrift store score!) in the kitchen, powder room, bedroom or anywhere you'd like to add a timeless touch (Image 2).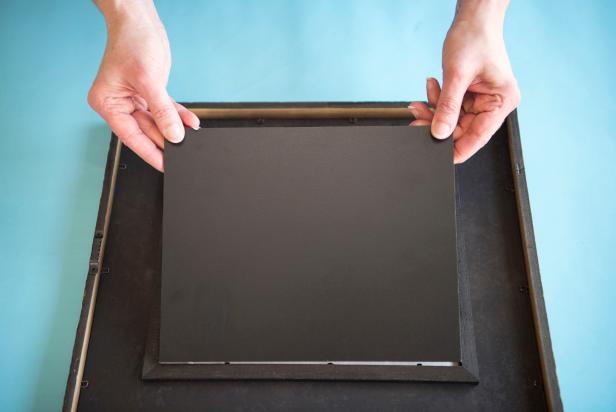 Sarah Busby; Styling by H. Camille Smith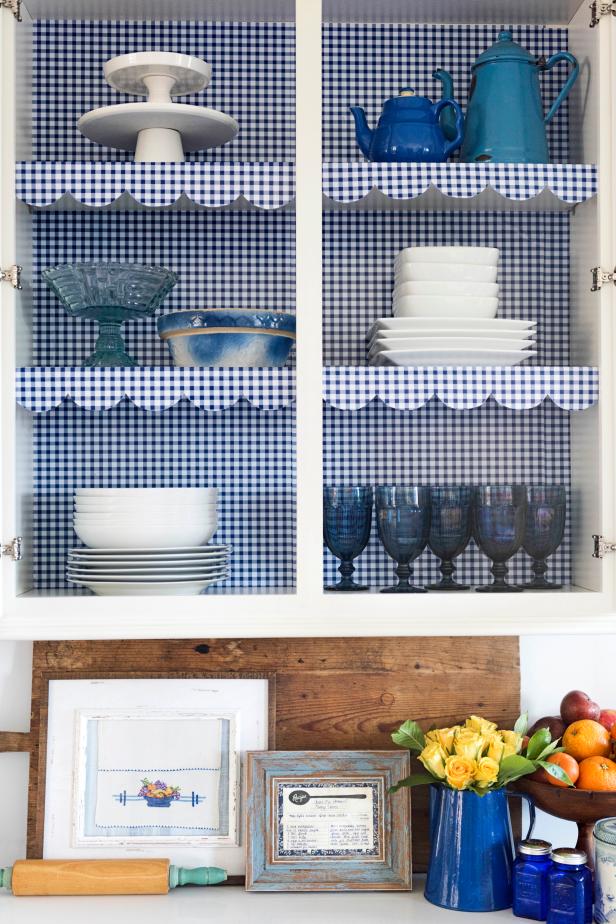 Sarah Busby; Styling by H. Camille Smith